the Grand Tour
Hiking and Backpacking the Canyon
with Joe Hudson
Please allow us, the Grand Canyon Junkies, to show you around
the greatest backpacking place on the planet.
Beware: It's a mile deep, so the going isn't always easy. Even so, once you enter,
you could become hooked on the place for life. Kind of like us.



To get to know the Grand Canyon, it's best to immerse yourself in it. Hike to the bottom; spend a week or so there; get the canyon's red dirt under your fingernails, in your eyes, on your teeth and in your veins. Lie at night beside 2-billion-year-old rock as you gaze into the eternity of the heavens. Backpacking in the canyon is a journey of body and mind, so if you're lucky you'll come out both a little more lean and a little more wise.
---

The canyon beckons. Are you ready to
get down?
Here is the table of contents. Just click on an item and you're there. Or, simply scroll down the page. Either way, when you see an iconized image, click on it to get the full-size JPEG version.
This page is the project of Joe Hudson, an editor at the Denver Post who has just one other obsession besides the canyon. Long may they reign!
Early morning in Grapevine Canyon. March 1995.
Why backback the canyon?
Well, why not? Just a few of the things you will do if you go:
Get stabbed in the shin by an agave plant. Lose the trail. Scrub your Sierra cup clean with sand. Pop a blister. Dig a hole and defecate. Watch the bats flit around at dusk. Worry about those clouds rolling in. Take an afternoon nap beside a stream. Wonder how you'll ever make it back to the top. Watch little lizards scurry about. Check under rocks for scorpions. Wonder how bad you smell. Tell stories at night. Run out of liquor halfway through the trip. Get sunburned. Eat more dried fruit than you thought possible. Hike by moonlight. Crave a cheeseburger, or a Coke. Reorganize your pack, again. Smell the sagebrush. Smell a skunk. Look for water. Pump water. Boil water. Drink water. Ignore the book you brought. Marvel at a twisted old juniper. Slide off your sleeping pad in the middle of the night. Study the habits of a pair of ravens. Explore a side canyon. Get rained on. Flick ticks off your clothing. Put off getting up to pee at night. Watch for rafters, who might give you a beer. Wish for a patch of shade along the Tonto Trail. Wonder if you're lost. Lay your gear out to dry. Look and listen for rattlesnakes. Eat cheese that has turned greasy. See cactuses in bloom. Get sand inside your camera. Wade in the cold, cold river. Watch the stars come out. Hear and owl hoot and a coyote howl. Forget that you really live somewhere else.
(Scroll onward, or return to table of contents.)
---

Jessica, age 10; Lloyd; Barb; and Stan at Hance Rapids. March 1990.
Meet the Grand Canyon Junkies
It all started in August 1972 when, fresh out of high school, I hiked to the bottom of the canyon because a buddy of mine wanted to. Three and a half years later, I returned with a different friend, Jim. The next year, Jim returned with his friend Stan. The year after that, Jim, Stan and I all went, and this whole thing was already snowballing.
Backpacking the canyon is now an annual spring rite for several of us. Stan has done it 16 times, even though he has never lived within a thousand miles of the place. I am not far behind, with 13-rim-to-river hikes. There are others who are just as hopelessly hooked. Some of the regulars:
Stan. Periodontist and hockey player in Eugene, Ore. Deft hands are good for tying knots and rolling cigarettes for others in group. Eats alfalfa pellets to help his arthritic right hip.
Barb. Dental hygienist and speed-skater in Eugene. Became Stan's wife in ceremony on South Rim in 1993. Entertains group by reading cowboy poetry and old trail journals.
Marlene. Dental hygienist and runner in Eugene. Former GI; hikes in her old Army boots with new Vibram soles. Wants to hike Zion next year instead of the canyon -- say what?
Lloyd. Insurance agent and triathlete in Aurora, Colo. Brother of Stan and dedicated father of four girls, one of whom hiked the Escalante Route with us when she was just 10.
Loretta. Dental assistant and mom in Eugene (yes, a whole lot of flossing goes on when this group gets together). Most-improved hiker in 1995 -- we ate her dust on the Tonto Trail.
Jim. Educator in Lincoln, Neb., and Junkie emeritus. Hasn't hiked with us since '86 but was a key force in early years. Founded annual University of Nebraska canyon trip in '78.
(Scroll onward, or return to table of contents.)
---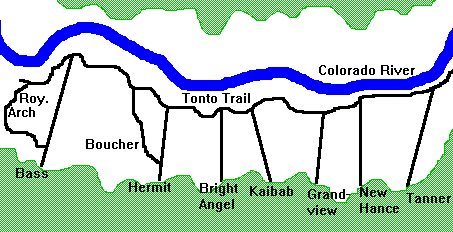 Trailside scenes and notes
South Bass-Royal Arch Route
The Royal Arch; the blue speck is Barb. March 1994.
It takes a four- to six-night trip in order to comfortably complete this 45-mile loop. Two factors make this a tricky route: the often-impassable road west to the South Bass trailhead, where this route begins, and the need to rappel during your descent. Your reward, though, is the spectacular lower Royal Arch Canyon, one of the most beautiful places in the canyon we've been.

Unlike most other canyon routes, this one does not make a beeline down to the river. That was a relief for our aging muscles and joints when Barb, Stan and I did this route in March 1994. You descend the South Bass Trail for only about 1,200 of vertical descent, then exit onto the level and scenic Esplanade trail and head west to Royal Arch Canyon. The map that comes with the Backcountry Trip Planner shows where the trail enters Royal Arch Canyon. Be sure you mark the spot on whatever map you carry with you. We didn't, and we wasted 90 minutes trying to descend the wrong arm of Royal Arch Canyon.

The trail down Royal Arch Canyon generally stays in the dry streambed, but the route is indistinct and difficult. You're boulder-hopping, not hiking, much of the way, and finding a safe passage often took extra time. At several points we had to stop to hand down each other's packs. Then we hit the really dicey part -- one we weren't expecting. The route description from the backcountry office says that "a large drop blocks the way. This can be passed on the left side via a trail with some exposed climbing. A belay may be desirable."

"May be desirable"? Unless you can cling to rock like a lizard, you should instead take the advice someone scratched in the rock at this point: "No gear -- Don't go." One slip, and you fall 30 feet straight down. After much discussion, we got out the ropes we'd brought for the next day's scheduled rappel and did an unscheduled one here. Someone's going to die at this point unless the Park Service revises its route description. We've brought this up with the backcountry office, to no avail.

Colorado River at Royal Arch Canyon. March 1994.

A few hours farther down, the trail leaves Royal Arch Canyon about two miles short of the Colorado River. A huge cairn marks the eastward exit. But don't leave Royal Arch Canyon just yet: A side hike down to the arch is a must. Follow the drainage about three-quarters of a mile. Just short of the arch, the canyon narrows and the creek emerges from the ground, creating a lush, green oasis where you'll want to stay awhile. The arch is not far from the river and Elves Chasm, but a 200-foot dropoff blocks the way. So back up the drainage you must go to the exit point.

The trail climbs out of Royal Arch Canyon and onto the Tonto Plateau. A rappel of less than 20 feet is required in the cliffs on the way down to the river. The trail reaches the river at the Toltec drainage, which is a good camping spot. An extra night here will allow you an easy day hike west to the pools and waterfalls of Elves Chasm, which is off-limits to camping. It's about an hour-long hike each way. Wear gloves to protect your hands from the jagged travertine limestone boulders you come in contact with along the way. And take a water bag to stock up on creek water; unless it has rained recently, you'll probably be drinking river water at Toltec.

The Tonto Trail east of Garnet Canyon. March 1994.

The hike east to Bass Canyon is typical Tonto Trail hiking: into a side canyon, then out onto the plateau. Side canyon, plateau; side canyon, plateau; over and over again. The plateau, with its broad vistas and stunning views of the Colorado River more than a thousand feet below, is as rewarding as the side canyons are grueling. Eventually, you reach Bass Canyon for the climb back up to the South Rim. Pray that it hasn't rained up top during your stay, because the road through Pasture Wash can swallow up jeeps when it's muddy.
South Bass-Garnet-Elves Chasm
Elves Chasm. March 1994.
This is another way to reach Elves Chasm, and you don't have to rappel. The minuses: You won't see the Royal Arch area, and the hike is an out-and-back instead of a loop.

This route is basically the second half of the Royal Arch Route (described above), done in reverse. One stop worth adding is Bass Rapids, where marooned in the rocks for the last 80 years has been a metal boat believed to have been built by legendary riverman Bert Loper. When we camped there in spring of 1978 and 1980, creek water trickled down the tall cliff beside the river.

This stretch of the canyon used to be home to many wild burros, descendants of animals brought in by prospectors and miners. Their loud nighttime baying was a pleasure to hear, but they also caused trouble by competing for habitat with the native species and creating trails that led unwitting hikers far off the Tonto Trail. The Park Service removed the burros from the canyon in the early 1980s.

Wild burros on the Tonto west of Bass. April 1978.

West of Bass, we have found seasonal water in Copper and Garnet canyons in March and early April. But one year we had to search long and hard in Copper to find any. Garnet has the more reliable supply, though its taste is a little salty.

Garnet Canyon could serve as your base camp for a day hike west to Elves, but it's probably two and a half hours each way, making it a very long day of hiking. Instead, consider camping farther west at Toltec drainage -- just an hour from Elves.
South Bass to Boucher/Hermit
Matt near the Boucher Trail below Yuma Point. March 1992.
Stan, Roger and I hiked this 38-mile route in March 1987. Stan returned a year later and did the route again, with Barb. It was her first canyon hike, and she suffered sunburn, nosebleeds, blisters, everything but a scorpion sting, but she's been back every year since. And she and Stan got married -- at the canyon, of course -- in 1993.

Just for the record, this route includes the stretch that Colin Fletcher, the "man who walked through time," hiked naked.

After the South Bass descent comes a 22-mile stretch of Tonto Trail that we had all to ourselves in March of '87. We went five days without seeing another human, but we did have some company: a small herd of desert bighorn sheep just east of Turquoise Canyon. There were plenty of water sources along the way: seasonal streams in Serpentine, Ruby, Turquoise and Slate, plus the permanent stream in Boucher. The camp at Turquoise was heaven: we slept on a large outcropping about 15 feet above the streambed. A spring trickled out of the ground just a few yards away. A hummingbird occasionally buzzed by.

Slate Canyon has a giant, shade-making boulder to camp next to. A side trail follows the streambed down to the river, where if you're lucky you'll see rafts shooting the notorious Crystal Rapids. Slate Canyon is where, in 1992, we were wakened just before dawn by what sounded like a train rumbling through. In an instant we realized it was an earthquake -- 4 on the Richter scale, we later learned. Marlene's constipation was suddenly a thing of the past.

Descending the Boucher Trail. April 1979.

At Boucher Creek, prepare yourself for a most strenuous ascent to the rim. It's doable in a day, but we usually spend a night partway up, on the scenic promontory below Yuma Point. This is a dry camp except for possible water pockets in the rock, so you'll probably need to haul water up from Boucher Creek, making the 2,400 feet of vertical gain even more of a grind.

The Boucher Trail ends at Dripping Springs trail near the top of Hermit Canyon. You turn left and soon reach Hermit Trail, which takes you to the rim.

Another way to approach this area of the canyon is to start on the Hermit Trail, easily reached at Hermit's Rest. The Boucher Trail descent is the most unnerving one I've done in the canyon. Poor footing and steep terrain through the Supai formation make it downright dangerous when going downhill. An alternate route: Stay on Hermit all the way to the Tonto Trail and head west.
Tanner-Escalante-Grandview
Camp near Tanner Rapids. March 1990.

The Tanner Trail starts at Lipan Point, about two miles west of Desert View on the east end of the park. The trail to the river is long (eight miles) and dry, and at the bottom there is only river water to drink. This part of the canyon is noticeably wider and more open at the bottom than points farther west, giving it a distinctive feel.

From the river you hike west on the Escalante Route, an extension of the Tonto Trail. The Tonto doesn't officially start until Red Canyon, a two-day hike from Tanner. Some people find that a 20-foot rope comes in handy at two points along the way: For lowering packs where the trail dips into the narrow and steep-walled drainage of Seventy-five Mile Canyon, and for lifting packs during a climb through rockface just west of Popago Creek.

View from north end of Horseshoe Mesa. March 1990.

There are plenty of places to camp at Red Canyon, where you can see the Tonto Plateau emerge from river level and rise westward. If you don't want to drink river water, creek water can be found -- in springtime, at least -- about a mile and a half up Red Canyon.

Farther west, Horseshoe Mesa and the Grandview Trail -- the way out -- can be reached via either Hance or Cottonwood canyon. Both canyons have plenty of water in early spring. The climb to the mesa is probably more interesting via Hance: an abandoned copper mine and a year-round spring are trailside attractions.

Ice and packed snow can make the upper portion of Grandview very treacherous in winter and early spring. And even when the trail is dry, it can break your heart. Many a hiker has been fooled into thinking he was almost at the top when there actually was nearly an hour yet to go. The trailhead, at 7,400 feet, is the South Rim's highest.
New Hance (Red Canyon) to Kaibab
Rainbow over upper Red Canyon. March 1995.
The upper part of the New Hance Trail is frustrating: constant twists, turns, switchbacks, protruding pine branches, boulder-hopping, etc., and hardly anyplace you can really stride out until the base of the Redwall. We covered this route in March 1995 and started out in a cold, drenching rain and wind gusts that could knock a person over. About four hours later, things had really changed: We were in T-shirts as the sun beat down on the canyon's desert interior. But that wouldn't last long, either: At nightfall at camp down by the river, the rain started again -- and didn't stop until the next morning. We found out later that the storm had caused landslides and floods in other parts of the canyon, forcing the closure of the Bright Angel and Kaibab trails and knocking out the water line that supplies the South Rim. We were lucky all we got was a little wet.

The Tonto Trail west from Red Canyon goes through Hermit and Cottonwood canyons, mentioned in the previous section. Then comes Grapevine Canyon, with its springtime creek forming dozens of pools in the slickrock streambed. There actually were two creeks this year, in adjoining arms of the canyon. Luckily, this was where we had scheduled a rest day, and we were glad to spend the extra time there.

About three and a half hours west of Grapevine is Lonetree Canyon, another pleasant spot with seasonal water. Unfortunately, four of us -- Lloyd, Marlene, Loretta and I -- overshot Lonetree and hiked all the way to Cremation Canyon, our next day's destination. So Stan and Barb had Lonetree all to themselves. Meanwhile, the four of us stayed at Cremation, which is nearly as desolate as the name suggests.

From Cremation, it's about three hours to the rim via the Kaibab Trail. Lloyd did it in two and a half hours -- not bad for a guy who turns 50 this year.
Kaibab and Bright Angel
Bob and Dennis on the Kaibab. August 1972.
The Kaibab and Bright Angel are the two main tourist trails -- well-maintained, wide, practically impossible to get lost on. These crowded trails are not most backpackers' idea of getting away from it all. But if you can't get an overnight permit and you're intent on making it to the bottom, this route is probably your only option: with enough energy and daylight, you can go down the Kaibab all the way to the river and up the Bright Angel in a day. That's what I did on my first canyon hike, in 1972, even though the Park Service strongly discourages it.

The accompanying photo is from that first hike. Bob (left), Dennis and I, in our canvas sneakers, took turns lugging that partly filled five-gallon water jug the whole way. Why we didn't have individual canteens I can't recall. At lunchtime at the bottom, Bob lost a stocking in the river and had to hike all the way out with one foot sockless. I don't believe he's ever returned to the Grand Canyon.

In 1977, Stan did his first canyon hike: down and up the Kaibab with Jim. They didn't carry enough water on the way out, so they got a bit delirious. In their extreme thirst, they resorted to munching on trailside snow -- including the stuff turned yellow and green by the park's pack mules.
(Scroll onward, or return to table of contents)
---
What to do before you go
Permits & Planning
Get caught camping in the canyon without a permit, and you'll be kicked out and fined. So start out several months beforehand by sending for a backcountry trip-planning packet, which includes a permit request form. The packet is free, and the address is:
Backcountry Reservations Office
Grand Canyon National Park
P.O. Box 129
Grand Canyon, AZ 86023

Included in the packet are a map and the lowdown on the rules and regulations you must abide by. For instance, the canyon has four official usage zones (Corridor, Threshold, Primitive and Wild), and you cannot camp outside established camp areas while in the Corridor and Threshold zones.
1995-07. EMOL.org / Arizona Entertainment Magazine.net / AZentertain.com. All rights reserved.