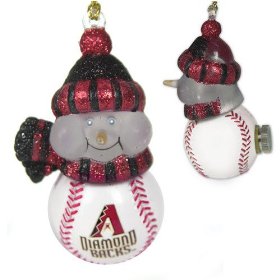 The new 2008 Arizona Diamondback Christmas tree ornaments are now available to buy online. The 2007 Boston Red Sox ornament balls are also available, but are limited in quantity. Red Sox gear sells out early in the holiday buying season.
We have been featuring links to collectibles for several years. Our statistics show that sports-team related Christmas ornaments sell out usually before December. The 2007 Red Sox balls sold out in November. These prices can't be beat and they're great collectors items, especially with the 2001 win.
All of the Arizona Diamondback Christmas ornaments and collectible products are officially licensed MLB Baseball items to make sure you are purchasing the finest quality ornament. Great holiday gifts or for your own tree!
Buy directly through amazon.com and find more Official Arizona Diamondback merchandise. Hang your Diamondback balls all year 'round!.
More AZ Diamondbacks news
© 2004-2008 EMOL.org Boston Entertainment Magazine. All rights reserved.