Entertainment Magazine: Arizona: Timeshares
Arizona time shares now marketed as packages
In today's economy there are few discount timeshare presentations in Arizona, except for newer companies like Diamond Resorts.
Time share vacation promotions were a great way to experience a destination location while making a property decision.
Hotels and resorts that once brought time shares to a new way to share ownership, now offer cheaper discount packages for short-term get a ways at a portion of the price of a timeshare.
The popular resorts, Wyndham and Marriott have web-only deals that gives customers the chance to browse all properties, check details and rates without the gimmicks or time share presentations.

Current Arizona Mini-Vacation & Time Share Offers
---
Southwest Airlines Vacations combines air travel and hotel bundled packages to Arizona. Exclusive promotion codes and web-only discounts from Southwest Airlines Vacations mini-vacation deals.
The Marriott Vacation Club provides nearly 400,000 owner families with a lifetime of unforgettable
vacation memories at resorts across North America, Europe, Asia and the Caribbean. Come discover your own world of unforgettable vacations with Marriott Vacation Club. Choose from more than 50 resorts in some of the most desirable beach, golf and ski destinations worldwide. Discover a world of unforgettable vacations with Marriott Vacation Club.
Marriott Vacation Club Specials:
VRBO (Vacation Rentals by Owner) is one of the World's largest vacation rental-by-owner websites. Established in 1995, VRBO has been in the vacation rental business for over 15 years. In fact, VRBO was founded by vacation rental owners who self-manage their second homes. Find out more and search listings from VRBO - Vacation Rentals By Owner.
Sedona's red rocks a lure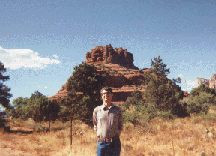 Arizona in the summer is not as severe as imagined. Most people golf in the morning, lounge inside in the afternoons (the malls, the pool, etc.) and spend the evenings out on the town.
Sedona, Arizona is well known for its mystic aura and red rock mountains. Sedona is fast becoming a hot spot in the northern part of the state where the weather is milder. Sedona timeshares are more affordable than higher end Scottsdale.
Scottsdale is an upscale community just west of Phoenix. Scottsdale is one of the state's most popular vacation destinations. The Scottsdale time share market has also largely become a vacation rental instead.
In Southern Arizona, Tucson is a more affordable vacation destination with many resorts offering better promotions than timeshare obligations.
Sedona by Travelocity

© 1995-2015 EMOL.org Arizona Entertainment Magazine. All rights reserved.