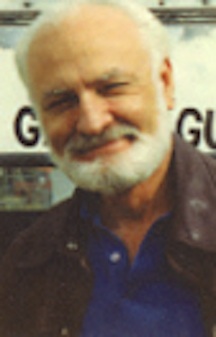 This manuscript recounts the wild adventures my brother Chuck and I had during our odyssey across the deserts and barren mountains of Southern Arizona near Tubac, Tumacacori and Arivaca.
We camped out for two years while treasure hunting, exploring and living a life few would undertake today. We met some of the most colorful characters imaginable fighting the harsh environment and gaining two lifelong friends, Roy Purdie and Walt Fisher. We heard tales from old Indians and Mexican vaqueros— some bordering on the "Twilight Zone."
Some of my articles have appeared in various publications including Arizona Highways, Southern Arizona Trails, Fate magazine and a number of newspapers. The Tucson Citizen, a local newspaper, ran several stories about our adventures.
Ron passed away on August 30, 2016 in Tucson, Arizona. He was 83. Read more about Ron Quinn's life.

"Dedicated to my brother Charles Quinn,
Walter Fisher and Roy Purdie."
---
Now available from Amazon
Paperback & Kindle eBook

Treasure hunting in Southern Arizona with Ron Quinn, brother Chuck, and good friends and partners, Roy Purdie and Walt Fisher is a fun read and a great book for novice or seasoned treasure hunters.

Searching for hidden treasures few have ever heard of, we had discovered places that have never been visited by others to this day. Each day was a new, exciting adventure finding strange Indian caves, ancient stone walls and lost Spanish settlements. These two wonderful years would become the most adventurous times of our lives.

The four of us finally unearthed a medium-size treasure south of Tucson, Arizona, which consisted of 82 pounds of Spanish gold bullion. Other trips were made throughout the years, but none as lengthy as our first two year odyssey.
List Price: $19.99 suggested retail
Size: 8.5" x 11" (21.59 x 27.94 cm)
Pages: 304
Published by Robert Zucker and BZB Publishing, Inc
ISBN-13: 978-1939050403
ISBN-10: 1939050405
---
Other Books by Ron Quinn available from Amazon
By Ron Quinn
There are many strange stories that just cannot be explained. This is a collection of reported mysterious disappearances, odd happenings, sightings of little people and very strange, unexplained tales.
Paperback: 202 pages
Publisher: BZB Publishing, Inc. (December 30, 2013)
Language: English
ISBN-10: 1939050049
ISBN-13: 978-1939050045
Though well known in Upstate New York, few of us outside of the region have heard the tales and legends of the Little People of the Catskills. Ron Quinn brings you the wondrous stories of these intriguing and mysterious folk. Illustrated with Ron's clever and humorous drawings, these stories are guaranteed to entertain and delight. Have you ever seen one of these wee folk?
Paperback: 148 pages
Publisher: Galde Press, Inc., September 1, 2006
Language: English
ISBN-10: 1931942250
ISBN-13: 978-1931942256
Photos: (Top) cover of Treasure magazine, Vol. 17, No. 8, August 1986. (Bottom) Ron Quinn.