Entertainment Magazine: Arizona: Renaissance
The Pleasure Feast!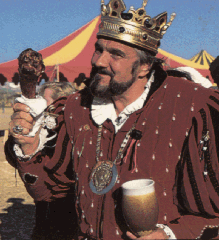 The Arizona Renaissance Festival hosts the Fairhaven Feast Hall, the home of "The Pleasure Feast!"
Feast guests are treated like royalty as the chef's kitchen crew and the Feast Master's boisterous serving wenches and tavern knaves dish up a roaring good time.
This is a five course, 1 1/2 hour, dinner and comedy show that promises to become the most exclusive event within the larger festival entertainment program. With Feast Hall seating at 12 Noon and 2:30PM, only 200, of an average daily attendance of 12,000, will be able to partake of the two special feasts each festival day.
Food and a roaming feast throughout the elaborate 30-acre European village has always been an integral part of the Renaissance Festival appeal. With a growing demand for Renaissance weddings and private parties, the event staff determined to rearrange the Village Green, (an existing park within the park), adding a wedding chapel, a reception tent for outdoor events, and the new manor hall for the Medieval Feasts.
Savor five courses of fine foods and ample drynk, served with a side order of live entertainment and Festival souvenirs! Be treated like royalty as the King's kitchen and the boisterous serving wenches dish up a roaring good time! Limited seating twice daily makes this the most exclusive event at the Festival!
All of the courses are accompanied by ample drink and a side order of live music and raucous variety entertainments. The two-hour production concludes with a gourmet dessert while the Feast Hall Staff continues to dish up their emphasis on play acting as well as cooking.
The Pleasure Feast ticket includes Festival admission for all events, the one and a half-hour dinner and show, and a souvenir limited edition toasting tankard. Reservations are recommended and can be made by calling 520-463-2600.
The feast menu can be found on the Web at www.arizona.renfestinfo.com.
For more information visit the Pleasure Feast Page at the Arizona Renaissance Festival web site.
Purchase Pleasure Feast Tickets
---

Copyright © 1995-2016, Arizona Renaissance Festival/EMOLorg. All rights reserved.