Mayor Villaraigosa Launches 'Visit Hollywood 2010'
New Hollywood Attractions, New and Renovated Hotels and Restaurants Plus Key Anniversaries for Celebrity Landmarks Inspires 'Visit Hollywood 2010' Program and Discounts
Los Angeles Mayor Antonio Villaraigosa, joined City Council President Eric Garcetti, City Councilmember Tom LaBonge and leaders of the Hollywood hospitality and tourism industries, and launched the new "Visit Hollywood 2010" program.
"Visit Hollywood 2010" celebrates some landmark Hollywood anniversaries
the opening of new attractions in Hollywood
the introduction of new and remodeled Hollywood hotels
and the introduction of two new websites offering discounts and special offers to visitors
"Hollywood is one of L.A.'s great gems and for generations it has been a magnet for visitors from all over the world,'' said Los Angeles Mayor Antonio Villaraigosa. "With the recent resurgence of this timeless locale, there has never been a better time to visit Los Angeles and experience all the attractions Hollywood has to offer.''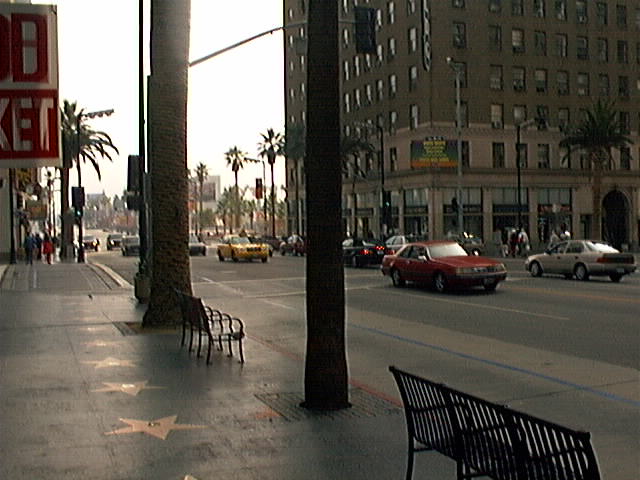 Photo above: Hollywood and Vine area at the Hollywood Walk of Fame where the Stars line the streets. Photo above: The famous Hollywood Sign. Photos by Robert Zucker.
"With the addition of the new W Hotel, Madame Tussauds, and so much more, now is the perfect time to visit Hollywood," said Council President Eric Garcetti, who represents parts of Hollywood.
"There's something for people of all ages here, and we invite everyone to come check it out."
This summer at Universal Studios Hollywood hearts will pound and survival instincts will go into overload as visitors are caught in the middle of a terrifying struggle between a giant T-Rex and the 8th wonder of the world - King Kong. "King Kong 360 3-D" Created by Peter Jackson is the largest, most intense 3-D experience on the planet. Coupled with the re-imagined Universal backlot, featuring new and newly reconstructed sets for a new generation of moviemakers, the studio tour is now in high definition and offers a once-in-a-lifetime entertainment experience.
The Hollywood Walk of Fame celebrates its 50th anniversary, the Hollywood Chamber of Commerce has plans for a yearlong series of celebrations. The idea of creating the Walk of Fame was first conceived in 1953 and seven years later construction began on February 8, 1960. Today it is recognized around the world as a monument to the entertainment industry and draws scores of visitors each year who walk the Walk, taking photos of their favorite stars. Installation ceremonies offer visitors an opportunity to see the entertainment world's most famous personalities in person.
Numerous fashionable bars, clubs, and popular retail businesses have opened in the area, returning Hollywood to its place as the center of nightlife in Los Angeles.
Hard Rock Cafe on Hollywood Boulevard, scheduled to open Summer 2010, will be a state-of-the-art facility encompassing more than 20,000 square feet of premier dining and live concert space.
Continue reading about Visit Hollywood 2010 and some of the upcoming specials.
The Boundaries of Hollywood
Many historic Hollywood theaters are used as venues and concert stages to premiere major theatrical releases, and host the Academy Awards. It is a popular destination for nightlife and tourism, and home to the Walk of Fame.
Although it is not the typical practice of the City of Los Angeles to establish specific boundaries for districts or neighborhoods, Hollywood is a recent exception. On February 16, 2005, Assembly Members Goldberg and Koretz introduced a bill to require the State to keep specific records on Hollywood as though it were independent. For this to be done, the boundaries were defined by the California Legislature (AB 588).
This bill was unanimously supported by the Hollywood Chamber of Commerce and the LA City Council. Assembly Bill 588 was approved by the Governor on August 28, 2006, and now the district of Hollywood has official borders. (from wikiepdia.org)