By Lynn Marie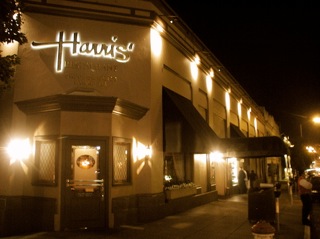 Are you a foodie? A wine connoisseur? A cocktail lover? How about just a steak lover?
Does San Francisco indulge your taste buds every visit? Then do I have the restaurant for you!

San Francisco boasts one of the most beautiful coastlines in the world and when it comes to fine dining in this fabulous city they set the bar high.

Harris' Steakhouse is no exception and sets the stage for this exemplary steak house experience. Just inside this big Victorian building, you'll find a display case filled with Midwestern Angus beef, dry-aging to excellence.

The bar/lounge shows off a enchanting clubby atmosphere, accompanied by live jazz nightly in the Lounge. The dining room offers a comfortable, luxurious setting with curved leather booths, high ceilings, stately chandeliers and a 35-foot pastoral mural painted by a local artist.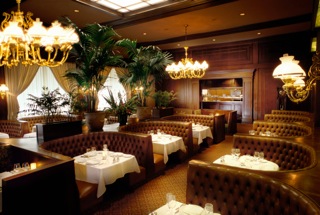 Live Maine Lobster or a Thick, Bone-in New York Steak will leave you wavering about your main entree choice, how could it not? Some other menu highlights include; Oysters on the half shell (Pointe Reyes Miyagi) old fashioned chocolate cake (white dark chocolate fudge frosting and chef's choice of ice cream; the evening I dined it was cookies and cream); Mocha baked Alaska served with a Bailey's chocolate sauce.

So if you are ready to enjoy, relax and unwind for an evening! Swirl, sip and savor on a choice of over 800 wine selections, make your next night out on the town at Harris' Steak House.

Harris' Steak House, 2100 Van Ness Ave., San Francisco, CA, 415.673.1888, Open weekdays, 5:30-9:30pm; Saturday, 5-10pm; Sunday, 5-9pm. Banquet rooms and valet parking available. Major credit cards accepted. www.harrisrestaurant.com.
---
---
© 2013 EntertainmentMagazine.net. EMOL.org