TV Land Honors the Life of Iconic Hollywood Actor Eddie Albert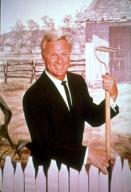 TV Land celebrated the life and work of late actor Eddie Albert -- who passed away on Thursday, May 26 2005 in Southern California at the age of 97.
Each episode featured in the two hour block was handpicked by TV Land and features some of Albert's most signature moments in his portrayal of "Oliver Wendell Douglas."
"We are deeply saddened by the death of Eddie Albert," said Larry W. Jones, President, TV Land and Nick at Nite. "Eddie had a wonderful career, providing laughter and entertainment for generations. He will truly be missed."

Born in Illinois and raised in Minneapolis, Eddie Albert started his career by working in the circus on the flying trapeze.
In the summer of 1936, he made the switch to entertainment and appeared on television -- years before TV was introduced to the public -- in RCA/NBC's first private live performance for radio licensees in New York City.
He then went on to star in his first film role in "Brother Rat" in 1938. Since then, he has appeared in dozens of films -- including the original version of The Longest Yard in 1974, which was just remade and released this Friday.
Over the course of his film career, Mr. Albert received two Oscar nominations: one for best supporting actor in William Wyler's "Roman Holiday" (1953) and another best supporting actor nod for "The Heartbreak Kid" (1972).
Although he was acknowledged for his film work, Mr. Albert was most recognized for his starring role as "Oliver Wendell Douglas" in Green Acres opposite Eva Gabor. The series lasted six years (1965-1971) but will forever be remembered.
TV Land and all related logos and titles are trademarks of Viacom International Inc.

Now seen in over 85 million U.S. homes, TV Land's program mix features popular dramas, sitcoms, westerns, Retromercials and a TV-referential interstitial environment, all programmed with a specific audience in mind -- the first generation of Americans to grow up watching television and features all-time Classic hits like "All in the Family," "I Love Lucy," "The Andy Griffith Show," "The Carol Burnett Show" and "Bonanza."

MTV Networks, a division of Viacom International Inc. (NYSE:VIA) (NYSE:VIA.B) , owns and operates the following television programming services -- MTV: MUSIC TELEVISION, MTV2, mtvU, VHI, NICKELODEON, NICK at NITE, COMEDY CENTRAL, TV LAND, SPIKE TV, CMT, NOGGIN, MTV INTERNATIONAL and THE DIGITAL SUITE FROM MTV NETWORKS, a package of 12 digital services, all of which are trademarks of MTV Networks. MTV Networks also has licensing agreements, joint ventures, and syndication deals whereby all of its programming services can be seen worldwide.
Source: TV Land
NEW YORK, May 27, 2005 /PRNewswire/ --
Photo above: Eddie Albert. (PRNewsFoto) NEW YORK, NY USA 05/27/2005
---
---
2005-2017 EMOL.org. Entertainment Magazine.