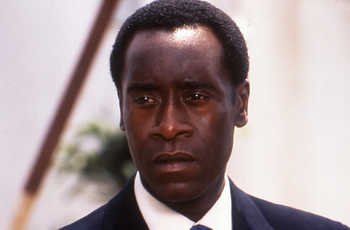 Performance by an Actor in a Leading Role, Don Cheadle, "Hotel Rwanda"
DON CHEADLE (Paul), since being named Best Supporting Actor by the Los Angeles Film Critics for his breakout performance opposite Denzel Washington in Devil in a Blue Dress, has consistently turned in powerful performances on the stage and screen.
Cheadle has a slate of films opening in the coming months. First, he appears in Brett Ratner's comedic heist After the Sunset.
Next he will reprise his role as Basher Tarr in Steven Soderbergh's Ocean's Twelve. Cheadle produced and co-stars in the ensemble cast of Crash, and in The Assassination of Richard Nixon he makes a cameo appearance as Sean Penn's best friend. Cheadle will soon make his directorial debut with Tishomingo Blues, a feature adaptation of the Elmore Leonard novel. He will also star in the film opposite Matthew McConaughey.
Cheadle's previous feature roles include Ocean's Eleven and the Academy Award®-winning Traffic, both directed by Steven Soderbergh, with whom Cheadle first worked on Out of Sight. He played the memorable role of Buck in Paul Thomas Anderson's serio-comic look at the porn industry in Boogie Nights.
He also starred in Volcano, Bulworth, Swordfish, and Mission to Mars. Cheadle received an NAACP Image Award nomination for his work in John Singleton's Rosewood. He also delivered a memorable comedic cameo for director Brett Ratner as a guardian angel in Family Man. Cheadle has embraced independent features such as the all-digital Manic and The United States of Leland. His powerful performance in Alison Anders' Things Behind the Sun garnered him Emmy and Independent Spirit Award nominations.
Cheadle is also well recognized for his television work. He received a Golden Globe award for his remarkable portrayal of Sammy Davis, Jr., in HBO's The Rat Pack, and was also nominated for a best supporting Emmy. That same year he received a lead actor Emmy nomination for his starring role in HBO's adaptation of the criticallyacclaimed bestselling novel A Lesson Before Dying.
He also starred for HBO in Rebound: The Legend of Earl "The Goat" Manigault, directed by Eriq La Salle. Well known for his two-year stint as District Attorney John Littleton on David E. Kelley's critically-acclaimed Picket Fences, Cheadle's other series credits include a guest starring role on ER (a performance that earned him yet another Emmy nomination), a series regular role on The Golden Palace, and a recurring role on The Fresh Prince of Bel-Air.
Cheadle was also part of the stellar cast of the thrilling live CBS television broadcast of Fail Safe in which he starred opposite George Clooney, James Cromwell, Brain Dennehy, Richard Dreyfuss and Harvey Keitel.
An accomplished stage actor, Cheadle originated the role of Booth in Suzan-Lori Parks' Pulitzer Prize-winning play "Top Dog Underdog" at New York's Public Theatre under the direction of George C. Wolfe. His other stage credits include "Leon, Lena and Lenz" at the Guthrie Theater in Minneapolis; "The Grapes of Wrath" and "Liquid Skin" at the Mixed Blood Theater in Minneapolis; "Cymbeline" at The New York Shakespeare Festival; "'Tis a Pity She's a Whore" at Chicago's Goodman Theater; and Athol Fugard's South African play "Blood Knot" at The Complex Theater in Hollywood. Born in Kansas City, Missouri, Cheadle later relocated to Lincoln, Nebraska, and Denver, Colorado, before he finally settled in Los Angeles.
He attended the prestigious California Institute of the Arts in Valencia, California, where he received his Bachelor's Degree in Fine Arts. With the encouragement of his college friends, Cheadle auditioned for a variety of television roles while attending school and landed a recurring role on the hit series Fame. This led to feature film roles in Colors directed by Dennis Hopper, the John Irvin-directed Hamburger Hill opposite Dylan McDermott, and Meteor Man directed by Robert Townsend.
A talented musician who plays saxophone, writes music and sings, Don Cheadle is also an accomplished director, with the stage productions of "Cincinnati Man" at the Attic Theater, the critically-acclaimed "The Trip" at Friends and Artists Theater in Hollywood, and "Three, True, One" at the Electric Lodge in Venice, California, on an already impressive resume. Cheadle resides in Los Angeles.
All images Copyright © Academy of Motion Picture Arts and Sciences.
2005 Entertainment Magazine / EMOL.org