STARRLIGHT
Gary Cooper
By Steve Starr
Entertainment Magazine
The tall handsome actor dove into his car on the 20th Century Limited which he was boarding to Chicago as the bullets from his violent lover's gun rushed past him, narrowly missing his head. The beautiful, tempestuous shooting star known in her films as "The Mexican Spitfire" swore loudly about her lack of marksmanship while she quickly stormed out of the station.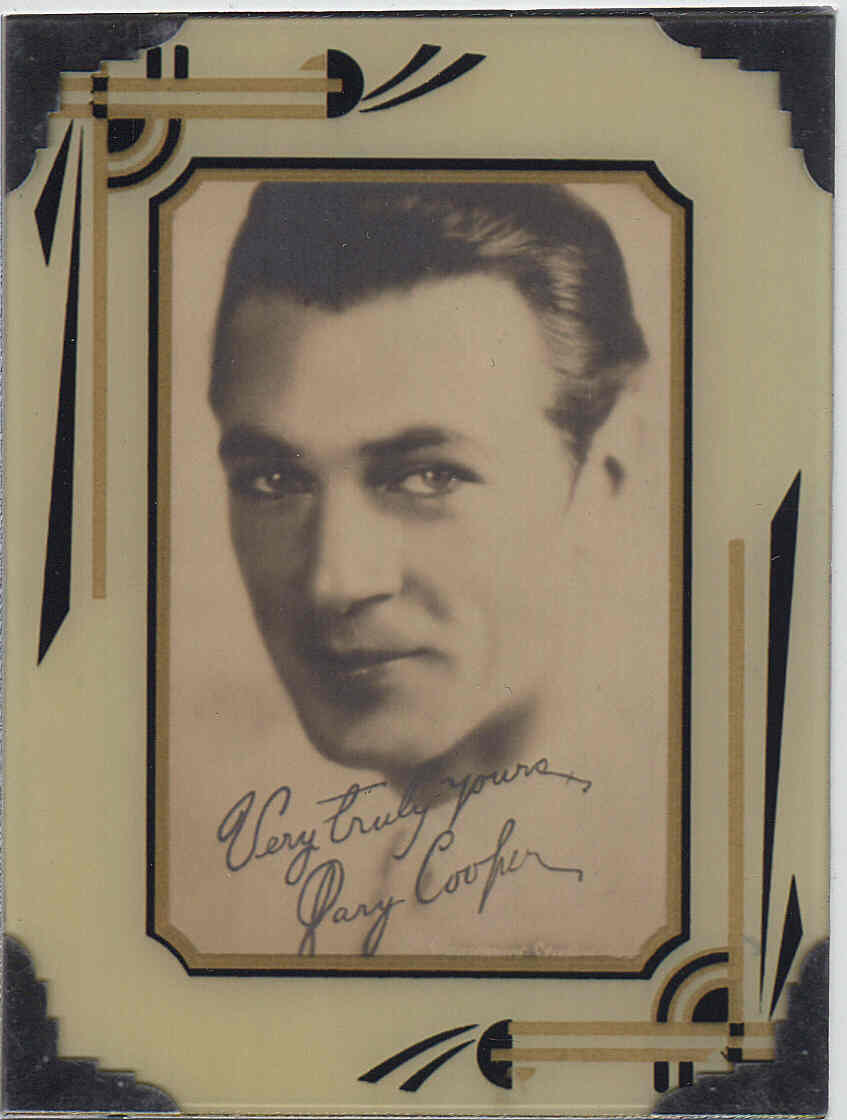 Frank James Cooper was born May 7, 1901, in Helena, Montana. When he was five, his wealthy father, who served as a Montana Supreme Court Justice, settled his family on a sprawling 600 acre ranch, named the Seven-Bar-None. There, little Frank learned about horses and wildlife.
When he was nine, he and his older brother Arthur accompanied their ill mother, who never took to the rustic farm life, and who was advised to take a long sea voyage for her health, to England where they attended the Dunstable School. There, at age thirteen, Frank was badly injured in an automobile accident and returned to the United States to his father's ranch to recuperate, where his doctor advised him that riding would help heal his damaged hip. Frank spent many hours learning to expertly handle a horse and feed over 450 head of cattle, while becoming good friends with ten-year-old future movie star Myrna Loy, who lived nearby. Later, he attended Grinnell College where he studied art and worked a few seasons as a ranger at Yellowstone National Park.
In 1924, after his father retired from the Court, 23-year-old Frank moved to Los Angeles with his family, intending to become a political cartoonist and commercial artist. Three months later, unsuccessful in his endeavor and taking on a few casual jobs, including one as a baby photographer, he ran into a group of dusty and bruised Helena friends in cowboy gear who told him of their work as movie extras at the small William Fox studio. They suggested Frank join them and put his masterful knowledge of horsemanship to good use in the wildly popular western movies of the time. Soon, Frank rode, roped, and took dives off horses for $10 a day, and, later, $10 a tumble. Cooper appeared on a horse in approximately fifty films during this time, including his role as a Cossack in The Eagle (1925) starring Rudolph Valentino. The pay seemed like good, easy money to Frank until he learned that star Tom Mix was making $1,700 a week for comparable work. Decking himself out in full and fancy Western regalia, Cooper tried to impress a producer by galloping up to him on his horse, unintentionally wreaking terror in the man and havoc on the film set. Then Frank hired an agent who suggested he change his name to Gary, after her home town in Indiana,
The 6' 3" tall, lanky, blue-eyed, and excessively handsome man produced and directed his own screen test, hauled it around Hollywood, and won his first starring role in The Winning of Barbara Worth (1926) in which his death scene became particularly convincing when he fell asleep under the hot lights. In 1927 Gary was chosen by the infamous star Clara Bow to appear in a smart part as a reporter in her famous film "IT"(1927). Clara was quite taken with the man and gave him a lead role in her next film Children Of Divorce (1927). Cooper also had a minor but noteworthy part in her film Wings (1927), which won the Oscar for best picture. Clara had an affair with Gary and insisted he be given a part in all of her movies. Cooper began to be known around Hollywood as the "IT" boy, a term he despised, and soon tired of being just another guy in party girl Clara Bow's sizable throng of men who were often lured, reportedly along with the entire University Of California football team known as the "Thundering Herd" that included Marion Morrison who was the future John Wayne, to her Chinese red "loving room."
Cooper's liaison with the tempestuous Lupe Velez, his co-star in Wolf Song (1929), who once gifted him with a pair of live wildcats, drove the already thin actor to lose forty pounds and suffer a nervous breakdown after she shot at her lover as he boarded the Twentieth Century train to Chicago. Despondent and suffering from severe attacks of jaundice and flu, he took off to Rome to recuperate. There, he met the Countess Dorothy Di Frasso, a decade his senior, who enticed Cooper with the lifestyle of the "International Set," soon leaving him broke.
Cooper returned home and was given a lucrative $125-a-week contract by Paramount Studios, and rose in popularity with his first talking picture The Virginian (1929), in which he, unlike girlfriend Clara Bow, made an easy transition to sound film. The next year, Cooper made movie history when he appeared as a Legionnaire opposite the sultry Marlene Dietrich in the lusty Morocco (1930). Great films that followed include A Farewell To Arms (1932) with Helen Hayes, Lives of a Bengal Lancer (1935), Mr. Deeds Goes To Town (1936), The Plainsman (1936), Meet John Doe (1941), Sergeant York (1941) for which he won his first Oscar, Ball Of Fire (1942) with Barbara Stanwyck, and Pride of the Yankees (1942). In 1939, the U.S. Treasury named Gary Cooper as the highest paid wage-earner in the United States.
In 1933, Cooper married socialite Veronica Balfe, nicknamed Rocky, with whom he remained married the rest of his life, though his union was punctuated by a serious, intense three-year affair with actress Patricia Neal, with whom he starred in The Fountainhead (1949).
Cooper won his second Oscar for High Noon (1952), co-starring Grace Kelly, and he began another run of successful films that included Vera Cruz (1954) with Burt Lancaster, Friendly Persuasion (1956), Love In The Afternoon (1958) co-starring decades younger Audrey Hepburn, 10 North Frederick (1958) with famed model Suzie Parker, The Hanging Tree (1959), and The Wreck of the Mary Deare (1960).
On May 13, 1961, six days after his 60th birthday, and only six months after his contemporary Golden Age idol Clark Gable died a few months before his 60th birthday on November 16, 1960, the heartthrob of countless women and men around the world, who was a cigarette smoker prone to illness and freak accidents throughout his life, died of lung cancer. Just one month earlier, Cooper had been awarded an honorary Academy Award for services to the industry, accepted on his behalf by Jimmy Stewart who, overcome with emotion on stage, accidentally let the audience know the seriousness of Cooper's condition, whose last film The Naked Edge (1961), was released posthumously.
Gary Cooper was an actor who radiated integrity and sincerity. A strong, gentle, and shy nature enhanced his already formidable good looks, endearing him to everyone. Ernest Hemingway once wrote of him, "Coop is a fine man; as honest and straight and friendly and unspoiled as he looks. If you made up a character like Coop, nobody would believe it. He's just too good to be true."
Sources:
Great Lovers of the Movies by Jane Mercer
Encyclopedia of Film Stars by Douglas Jarvis
The Great Movie Stars -The Golden Years by David Shipman
Hollywood Hunks by Jacqueline Nicholson
Gary Cooper websites
Steve Starr is the author of Picture Perfect-Art Deco Photo Frames 1926-1946, published by Rizzoli International Publications. A photographer, artist, designer, and writer, he is the owner of Steve Starr Studios, specializing in original Art Deco photo frames and artifacts, celebrating its 39th anniversary in 2006. Steve Starr's personal collection of over 950 gorgeous Art Deco frames is filled with photos of Hollywood's most glamorous stars.
STARRLIGHT- Starr's column on movie stars of the 1920's, 1930's and 1940's, appears in various publications that include Entertainment Magazine Online, the Windy City Times, and the Chicago Art Deco Society Magazine.
STARRGAZERS-Radiant Photography by Steve Starr is available for portraits and events, For further information phone 773-463-8017
Visit www.SteveStarrStudios.com where you can enter THE STARRLIGHT ROOM and view a portion of Starr's frame collection, read Starrlight Stories, and enjoy photos, autographs and letters he has received from some of his favorite luminaries.
Photo of Steve Starr in Chicago, September 2, 2006, by Patrick Hipskind