Dolores Costello
By Steve Starr
Entertainment Magazine
The technicians who applied the makeup that enhanced the startling beauty of the woman known as "The Goddess of the Silent Screen" did not know that they were ravaging and deteriorating her delicate skin condition, destroying her luminous face, and later forcing the star to abandon Hollywood and hide away alone on an avocado farm for the rest of her life.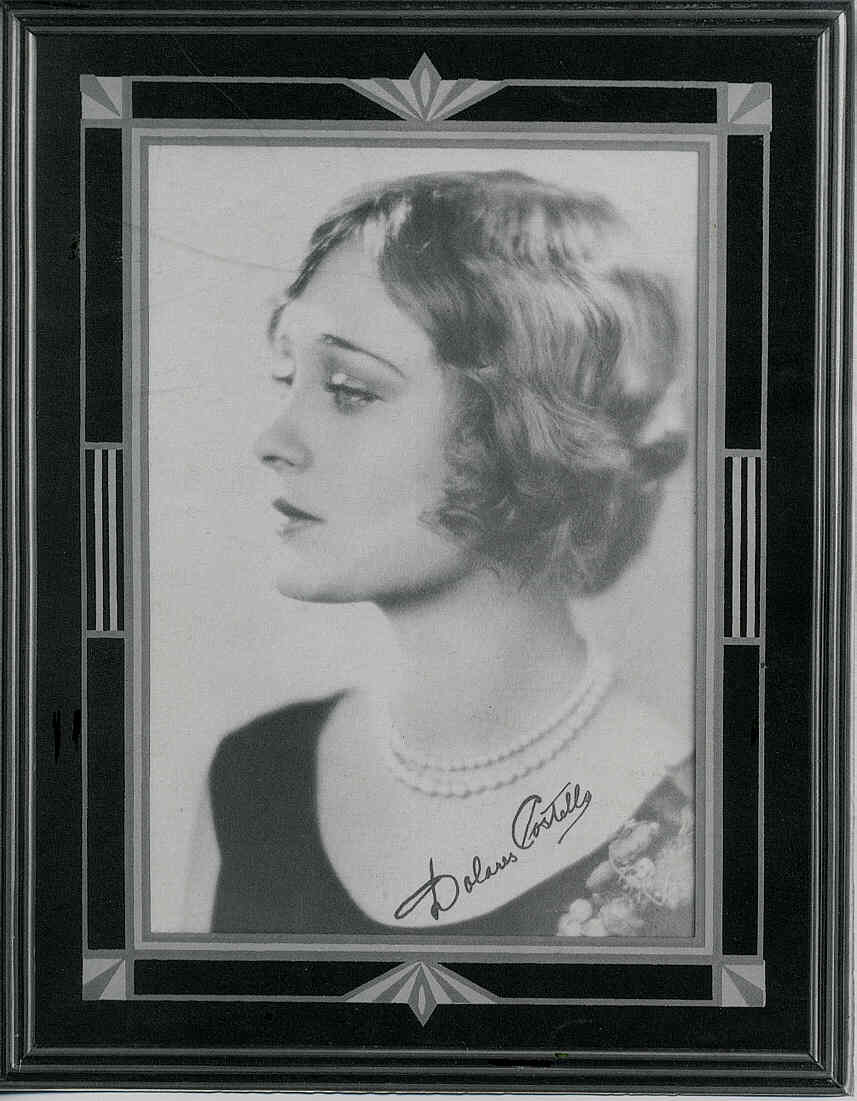 Dolores Costello was born September 17, 1905, in Pittsburgh, Pennsylania. Her father, Maurice Costello, was a theatrical star for 15 years before becoming a famous and extremely popular matinee idol of the young silver screen, appearing in dozens of films on the East Coast at the Edison Studios, and then at Eastern Vitagraph Studios.
When a small child was needed in one of his movies, Maurice, who was publicized as the "Dimpled Darling," made sure his daughter Dolores or her younger sister Helene got the role. In 1908, when Dolores was three, she made her film debut at Edison playing a little boy, and a year later she played a fairy in A Midsummer Night's Dream (1909).
Later, Dolores won roles in twelve Vitagraph films between 1911-1914.
Dolores spent the rest of her childhood in a private school, but once in her teens, the ethereal, stunning blonde left home for modeling school in New York City. She soon posed for renowned fashion designer James Montgomery Flagg, who turned her into the most sought after and celebrated model of the time.
Eventually, Helene followed her sister to New York and in 1924 they both became chorus girls on Broadway, dancing together in the famed George White's Scandals. While the show was on tour in Chicago, both sisters were signed to a movie contract with Warner Bros. Studios, and the whole family relocated to Hollywood, where Mother Mae diligently chaperoned her "poor angels."
In 1925, Dolores appeared in a few average films for Warner Bros. before making the acquaintance of John Barrymore, who, 15 years her senior, became enamored of the beautiful starlet. When the great star, known as "The Great Profile," first saw his future wife wandering around the lot he remarked that she was "…the most preposterously lovely creature in the world, a charming child, slender and shy and golden-haired. Never saw such radiance. My God! I knew that she was the one I had been waiting for. Waiting all my life. Just for her."
Barrymore dumped his girlfriend, movie star Mary Astor, and Dolores became John's leading lady in the 1926 silent version of Moby Dick, re-titled The Sea Beast (1926). During one of their lengthy kissing scenes, Costello fainted, and the intriguing image of her lifeless expression and swinging arms were captured on celluloid and kept in the movie.
In 1927, Costello starred with Barrymore again in When A Man Loves. That same year, Mae divorced Maurice, and Dolores won the lead role in Old San Francisco (1927), a movie dealing with race relations during the great 1906 earthquake. The following year, her sister Helene appeared in the first all talking picture, Lights of New York (1928). Helene's voice was deemed inadequate for sound films, and she quickly faded from view while Dolores, who had worked for two years with a speech therapist to correct her severe lisp, became one of the first stars in talking pictures at Warner Bros. Studios. Helene died in 1957.
Dolores Costello married John Barrymore in 1928. They had two children, John Drew and Dede. The star promoted his wife's career relentlessly. She in turn put up with the public exploits of her famous, alcoholic, and abusive husband. Barrymore stated, "Why is it that such a lovely girl as Dolores has to have a mother?"
Mae died in 1929. That year Costello starred in Noah's Ark (1929). The special effects in the movie are still spectacular today. During the filming of one violent and uncontrolled scene, six extras drowned and Costello contracted pneumonia after hours of wading in cold water. Other films she starred in were Show of Shows (1929), and Second Choice (1930). After appearing in Expensive Women (1931), she took time off to raise her children.
In 1935, Costello divorced Barrymore, and the next year she returned to her career in Little Lord Fauntleroy (1936). In 1939, she married her obstetrician Dr. John Vruwink, who John had accused her of having an affair with during their marriage. Also that year, her widowed father Maurice, who had attempted various comebacks through the years but was now long forgotten in the film world, sued both his daughters for support, and the sixty-two year old performer married thirty-year-old Ruth Reeves, who filed for a Tijuana divorce two years later citing him as "unreasonably and insanely jealous."
In 1940, the once rich and famous Maurice Costello took a role as an extra for $12.50 a day in the musical film Tin Pan Alley (1940), starring Alice Faye and Betty Grable. He died in retirement in 1950, after four years at the Motion Picture Country House where his estate was valued at under $100.
In 1942, the same year John Barrymore visited Dolores to tell her he was "sorry" not long before he died of a combination of pneumonia and cirrhosis of the liver, Dolores was cast as Isabel Amberson in one of the great films of the 20th century, Orson Welles' The Magnificent Ambersons. It was her last big role.
The lovely Dolores Costello was blessed with a very fair, perfect, and delicate complexion, and she developed severe reactions to the harsh makeup then used in her movies. The skin on her cheeks began to deteriorate, and artists found her condition impossible to hide. Her beauty ravaged, poor Dolores was forced into retirement after her final film, a musical, This Is The Army (1943).
She divorced Vruwink in 1950, the same year her father died, and moved away from Hollywood to live alone on an avacado farm in Fallbrook, a town twenty miles outside San Diego. In 1977 her life was reported in the book Damned in Paradise: The Life of John Barrymore, by John Kobler. Appearing very old and haggard, Costello agreed to various interviews during this time, and she was chronicled in a British miniseries, Hollywood, released in 1980.
Dolores Costello, who made 32 Hollywood films, and was the grandmother of actress Drew Barrymore, died from emphysema, after a long illness, at age 73, March 1, 1979.
Sources
The Stars by Richard Schickel
They Had Faces Then by John Springer and Jack D. Hamilton
Stars of the Photoplay by Photoplay Magazine
Classics of the Silent Screen by Joe Franklin
The New York Times Directory of The Film
Dolores Costello websites
Maurice Costello Biography website by Robert S. Birchard
---
---
Dolores Costello DVDs
Little Lord Fauntleroy
(1936) (B&W) (1936)
Starring: Freddie Bartholomew, Dolores Costello Director: John Cromwell
• Plot Outline An American boy turns out to be the long-lost heir of a British fortune. He is sent to live with the cold and unsentimental lord who oversees the trust.
• Plot Synopsis: After the death of Cedric ('Ceddie')'s English father, he and his mother live together in Brooklyn. Cedric's grandfather, the Earl of Dorincourt, had disowned Cedric's father when he married an American. But when the Earl's remaining son dies, he accepts Cedric as Lord Fauntleroy, his heir, and the Earl sends for Cedric and his mother. Cedric uses the first of his newly found wealth to do some favors for his old friends, and then heads to England, where he must try to overcome the Earl's dislike for Cedric's mother.
The Magnificent Ambersons (1942)
Starring: Joseph Cotten, Dolores Costello Director: Orson Welles
• Tagline: From the Man who Made "The Best Picture of 1941"
• Plot Synopsis: The young, handsome, but somewhat wild Eugene Morgan wants to marry Isabel Amberson, daughter of a rich upper-class family, but she instead marries dull and steady Wilbur Minafer. Their only child, George, grows up a spoiled brat. Years later, Eugene comes back, now a mature widower and a successful automobile maker. After Wilbur dies, Eugene again asks Isabel to marry him, and she is receptive. But George resents the attentions paid to his mother, and he and his whacko aunt Fanny manage to sabotage the romance. A series of disasters befall the Ambersons and George, and he gets his come-uppance in the end.
This is the Army (1943)
Starring: George Murphy, Joan Leslie Director: Michael Curtiz
Plot Synopsis: In WW I dancer Jerry Jones stages an all-soldier show on Broadway, called Yip Yip Yaphank. Wounded in the War, he becomes a producer. In WW II his son Johnny Jones, who was before his fathers assistant, gets the order to stage a knew all-soldier show, called THIS IS THE ARMY. But in his pesonal life he has problems, because he refuses to marry his fiancée until the war is over.
• Studio: Delta
• DVD Release Date: February 12, 2002
• Run Time: 115 minutes
---
Steve Starr is the author of Picture Perfect-Deco Photo Frames 1926-1946, published by Rizzoli International Publications. A photographer, designer, artist, and movie star historian, he is the owner of Steve Starr Studios, specializing in original Art Deco photo frames and artifacts and celebrating its 40th anniversary in 2007.
Steve Starr's column, STARRLIGHT on movie stars of the 1920's, 1930's, and 1940's appears in various publications including Entertainment Magazine Online at EMOL.org/reporters/Starr, the Chicago Art Deco Society Magazine, and the Windy City Times.
---
---