STARRLIGHT
Veronica Lake
By Steve Starr
Entertainment Magazine
In 1961, during a conversation over fried clams and coffee in an all night cafe, merchant seaman Andy Elickson asked the barmaid he had met earlier that evening, "Have you always been a waitress?" "Nope, she replied, I was a movie star."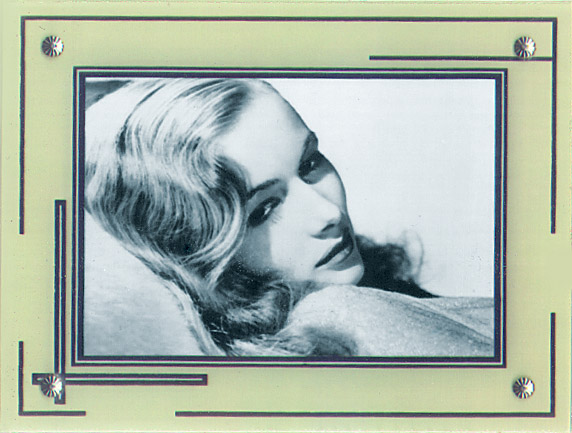 Constance Frances Marie Ockelman was born in Brooklyn, New York, November 14, 1919. When Connie was 13, Mr. Ockelman, a ships's master for an oil company, died in an on-board explosion.
A year later, Connie became Constance Keane when her mother remarried. Mr. Keane developed tuberculosis, and the family moved to Montreal for treatment. There, Constance attended Villa-Maria High School for two years where the Mother Superior predicted she would become a nun, until her strange behavior had her expelled, and doctors diagnosed the young girl as a paranoid schizophrenic.
In 1937, the family moved to Miami, Florida, where it was felt the climate would improve Mr. Keane's health. In 1938, Mrs. Keane decided to relocate her family once again, packed up everyone into their Chrysler Airflow and took the long drive across the continent to Hollywood, California.
Once in the movie capital, pretty Connie, who had won the Miss Florida contest and lost the title when it was discovered she was still underage, began to daydream about acting. Her mother took the daydreams seriously and enrolled Connie in the respected Bliss-Hayden School for Acting at the Beverly Hills Playhouse. There, she practiced her diction and balanced books on her head.
One day Connie accompanied a friend to an audition for a bit part in the film Sorority House (1939) and they both ended up winning roles in a crowd scene. Billed as Constance Keane, she sought and won other bit roles, which lead to a small part in MGM's Forty Little Mothers (1940), directed by the great Busby Birkeley, and starring Eddie Cantor. That year, she married her first husband, MGM art director John Detlie, and they argued constantly. The couple had a daughter, Elayne, whom Lake quickly lost interest in, and a son, William, who died a week after birth, having been injured in the womb when his mother tripped over a lighting cord on a movie set. The Detlies divorced in 1943.
Soon, Constance landed a screen test for a big role in I Wanted Wings (1941). During the test, her very fine long blonde hair kept falling in her face and obscuring one eye. The problem was infuriating her, and she was sure her chances at the part were ruined. Instead, the producer gave her the leading role and a luxurious new name, Veronica Lake. The movie, starring William Holden, Ray Milland and Constance Moore, was a big hit, and Lake emerged a beautiful, talented and well-liked star. She made a string of good movies in the 1940's, in particular the classic Sullivans' Travels (1942), with Joel McCrea.
The pretty, diminutive four-foot-eleven blue-eyed blonde Lake was perfectly cast opposite the tough, diminutive five-foot-six blue-eyed blonde Alan Ladd in six extremely popular films that included This Gun For Hire (1942), The Glass Key (1942), and The Blue Dahlia (1946), and Lake & Ladd became the most popular film couple of the 1940's. Lake received critical praise for her work in I Married A Witch (1942) during which her cocky on-set behavior induced costar Fredric March to refer to the film as "I Married A Bitch." Years later the movie was the inspiration for the television show, Bewitched. Lake followed this success with another highly praised performance in So Proudly We Hail (1943), and Life Magazine named her the Top Female Box Office Star.
In 1944, she married volatile director Andre de Toth, and they had a son Michael, and a daughter Diane. In 1948, Mrs. Keane, who never gave her daughter the love she needed or made sure she was treated for her schizophrenia, sued her for support, and won $500 monthly due to a legal agreement they signed years before, when she helped make her a star. The stress of the lawsuit, and being dropped by Paramount Studios the same year prompted an increase in Lake's consumption of Vodka. Lake had been seeing psychiatrists for years, but de Toth disapproved, and once suggested that she should just spend the money on a new hat. Manipulative de Toth, who she divorced in 1952, spent Veronica's money freely, nearly bankrupting them both.
Lake's blonde mane was constantly reported on from coast to coast, revealing how many hairs she had, how they fell, and how long they were from front to rear. So many fans copied the "Lake Look" that eventually the federal government asked Lake to cut off her long hair to inspire safety concern among the nation's female defense factory workers who sometimes got their hair caught in machines. Near the end of the war, Lake complied, but her patriotism seemed to doom her. Shorter hair was unbecoming to Lake, and her choice of hairstyles was even more unfortunate. Her career declined steadily, and after a series of film roles chosen for the money, she left Hollywood.
Lake moved with her children to Greenwich Village where she met and married Joe McCarthy Jr., a songwriter she got along well with as long as they were both drinking. The pair divorced in 1959. Alimony did not cover the bills, and Lake was evicted. Her child Elaine got married, and Diane attended a boarding school in Switzerland near her father. Lake put Michael in a boarding school and joined a touring company. Making little money, Lake suffered another drawback when a dancing partner fell on her leg and broke it. In a cast for months, she ran out of money and depended on friends for food and necessities.
In 1959, Lake moved into the Martha Washington Hotel for Women in New York City. In order to pay rent, she took a job there in the lounge as a barmaid, where, in 1961, she met her adored fourth husband, seaman Andy Elickson. Eventually, people found out who the likeable woman was, and so did the press.
Lake was asked to appear as a hostess on the Festival of Stars television show, talking about Hollywood, and introducing old movies, sometimes her own. During this time, she also played an aging movie queen in an off-Broadway production of Best Foot Forward, and Elickson died in an accident. Lake financed two cheap films for herself, Footsteps In The Snow (1966), and her final movie, Flesh Feast (1969), which was advertised as "ghastly," "revolting," and "nauseating," and found to be true to its promotion.
During the filming of this horror, Lake published her popular, acclaimed autobiography, Veronica. On the last day of her promotional book tour, Lake was given a party by columnist Rona Barrett. A large number of Hollywood celebrities that included Lucille Ball and Mae West, and dozens of photographers showed up to see the once gorgeous, stout star with rotted, separated teeth and puffed eyes. Her informative book sold well, leading to roles in plays in England: Madame Chairman and A Streetcar Named Desire. Critics gave Lake acceptable reviews, kindly avoiding any mention of her faded beauty. In London, she met and married her fifth and final husband, English sea captain Robert Carleton-Munro.
Lake soon filed for divorce and returned to New York, where she was immediately hospitalized. No family or friends visited her, and after being released, Vodka loving Lake was often drunk, bloated, and broke. It is reported by author Kristian Gravenor that Lake traveled to Montreal to live in a cheap apartment where she enjoyed soap operas while laying in a cloud of gin, and died there from acute hepatitis, July 7, 1973.
A good friend of Lake, Nat Perlow, the hardboiled, cigar-chomping editor of the famed Police Gazette, knew that she wanted to be buried in New York. He took her corpse, doused it in her favorite perfume, the cobalt-blue-glass bottled Evening in Paris, and propped it up in the back seat of his car with a Spanish lace doily over her face.
When stopped at the then low security border, an American customs official peeked into the car and saw the unrecognizable Hollywood star, once the fascination and focus of millions of people throughout the world. The driver warned, "Shhh, she's sleeping. " Newspapers reported that Lake died while spending her final days in Burlington's Vermont Medical Center, where she signed autographs and enjoyed her notoriety, and other reports stated she passed away while staying with friends in Vermont.
Lake's son, Mike, flew in from Hawaii to arrange his mother's funeral. None of her four living husbands, or her two daughters attended, and Lake remained in a crypt as they all avoided the funeral bill for days. Not one of Lake's Hollywood friends, who had once showered her with mounds of love and attention, showed up. Only 30 mourners sat in the small chapel, offering their respect to one of the screen's most unique and fascinating stars.
Lake was cremated and her ashes remained at the funeral home for three years until a friend, Donald Bain, the ghostwriter of Lake's autobiography, retrieved them by paying the $200 storage fee. Then, most of the ashes were scattered by his associates off the Florida coast, though they kept a portion of them. In a bizarre twist, the ashes were discovered in 2004 in the Mystery Spot Antique Store in Phoenicia, New York. There they remained, publicized as a small spectacle and the center of a look-a-like Lake contest, while stored in a Roseville vase made in 1919, the year Lake was born.
Actress Bette Davis once described Veronica Lake as "the most beautiful person to ever come to Hollywood."
Sources
The Decline and Fall of the Love Goddesses by Patrick Agan
Hollywood Goddesses by Michael Moellering
Veronica by Veronica Lake
Montreal Crypt Tales by Kristian Gravenor
Peekaboo:The Story of Veronica Lake by Jeff Lenburg
Veronica Lake websites
Steve Starr is the author of Picture Perfect-Art Deco Photo Frames 1926-1946, published by Rizzoli International Publications. A photographer, artist, designer, and writer, he is the owner of Steve Starr Studios, specializing in original Art Deco photo frames and artifacts, celebrating its 39th anniversary in 2006. Steve Starr's personal collection of over 950 gorgeous Art Deco frames is filled with photos of Hollywood's most glamorous stars.
STARRLIGHT- Starr's column on movie stars of the 1920's, 1930's and 1940's, appears in various publications that include Entertainment Magazine Online, the Windy City Times, and the Chicago Art Deco Society Magazine.
STARRGAZERS-Radiant Photography by Steve Starr is available for portraits and events, For further information phone 773-463-8017
Visit www.SteveStarrStudios.com where you can enter THE STARRLIGHT ROOM and view a portion of Starr's frame collection, read Starrlight Stories, and enjoy photos, autographs and letters he has received from some of his favorite luminaries.
Photo of Steve Starr in Chicago, September 2, 2006, by Patrick Hipskind