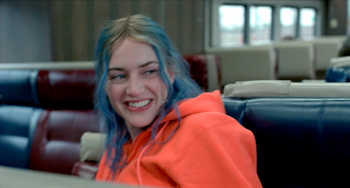 Kate Winslet has thrice been nominated for Academy Awards (becoming the youngest actress ever to be nominated multiple times) and also Golden Globe Awards.
These nominations were for her performances in Ang Lee's Sense and Sensibility, Richard Eyre's Iris, and James Cameron's Titanic. The latter continues to hold the world record as the highest-grossing film of all time.
The English-born actress grew up in a family of actors, and began performing for U.K. television when she was 13. At age 17, she attracted international attention for her starring role in Peter Jackson's Heavenly Creatures. Then, her performance opposite Emma Thompson in Sense and Sensibility brought her BAFTA and Screen Actors Guild Awards.
Ms. Winslet next starred opposite Christopher Eccleston in Michael Winterbottom's Jude, and as Ophelia in Kenneth Branagh's Hamlet. She then took the lead female role in the epic Titanic (opposite Leonardo DiCaprio), which brought her a Screen Actors Guild Award nomination.
Kate Winslet's subsequent films have included Gillies Mackinnon's Hideous Kinky, Jane Campion's Holy Smoke, Philip Kaufman's Quills (for which she received a Screen Actors Guild Award nomination), Michael Apted's Enigma, Alan Parker's The Life of David Gale. For her performance as the young Iris Murdoch in Iris, she was honored by the Los Angeles Film Critics Association.
Ms. Winslet will next be seen starring with Johnny Depp and Dustin Hoffman in Marc Forster's J.M. Barrie's Neverland.
2007 EMOL.org. Celeberity Entertainment Magazine. All rights reserved.