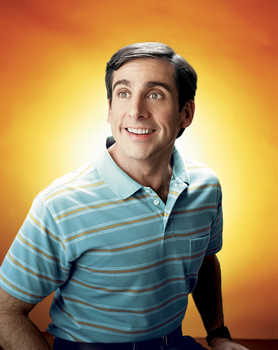 STEVE CARELL (Andy Stitzer / Writer / Executive Producer) is well known for his contributions as a correspondent on the Emmy award-winning Comedy Central television program The Daily Show, but with back-to-back breakout performances in the hit feature comedies Anchorman: The Legend of Ron Burgundy, opposite Will Ferrell, and Bruce Almighty, opposite Jim Carrey, he is refreshingly poised for leading-man status.
Carell is next set to star in a slew of upcoming film projects, including most notably starring as secret agent Maxwell Smart in the Warner Bros. feature adaptation of the popular television series Get Smart. He is currently filming the black comedy Little Miss Sunshine opposite Greg Kinnear and Toni Collette and simultaneously voicing the lead character in the DreamWorks animated feature Over the Hedge.
Carell recently co-starred in Woody Allen's Melinda and Melinda and was most recently seen reprising the character of Uncle Arthur in Columbia Pictures' feature adaptation of Bewitched.
Carell currently stars in the American adaptation of the acclaimed British television series The Office, which debuted this past spring on NBC and is slated to continue this fall. Carell's other television credits include co-starring opposite Julia Louis-Dreyfus on the NBC series Watching Ellie and The Dana Carvey Show, which he co-wrote with Carvey.
Carell began his career in acting at the age of six in his first grade Thanksgiving play. After graduating from Denison University in Ohio, he contemplated a career as an attorney and then quickly chose a career as an actor. A veteran of The Second City Theatre group in Chicago, Carell was twice nominated for a Joseph Jefferson award.
Born in Concord, Massachusetts, and raised in nearby Acton, Carell now resides in Los Angeles with his wife, actress Nancy Walls (NBC's Saturday Night Live), whom he met while at Second City and who also frequently appeared on The Daily Show. He is the proud father of a four-year-old daughter and a one-year-old son.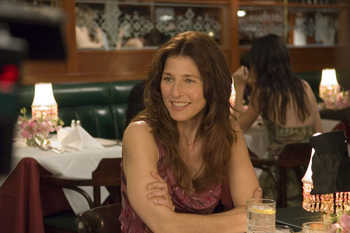 CATHERINE KEENER (Trish) is an actress with an innate ability to be both a potent force and a grounded presence in her films, whether comedy or drama. She most recently co-starred in Rebecca Miller's The Ballad of Jack and Rose, starring Daniel-Day Lewis, which premiered at the 2005 Sundance Film Festival, and Sydney Pollack's political thriller The Interpreter, with Sean Penn and Nicole Kidman.
She will next appear in United Artists' Capote, starring Philip Seymour Hoffman, and in Nicole Holofcener's Friends with Money, opposite Jennifer Aniston, Frances McDormand and Joan Cusack. The project marks her third outing with Holofcener; they previously collaborated on Walking and Talking and Lovely & Amazing, for which Keener received a nomination for a 2003 Independent Spirit Award for Best Actress.
Keener received an Academy Award® nomination for Best Supporting Actress for her performance in Spike Jonze's Being John Malkovich. Her diverse roster of film credits include Jonze's Adaptation, Andrew Niccol's S1m0ne, Steven Soderbergh's Full Frontal and Out of Sight, Danny DeVito's Death to Smoochy, Neil LaBute's Your Friends & Neighbors and the screen adaptation of Sam Shepard's Simpatico. She also appeared in four films by Tom DiCillo: Johnny Suede, Living in Oblivion, Box of Moonlight and The Real Blonde.
For television, Keener co-starred in HBO's critically acclaimed anthology If These Walls Could Talk, directed by Nancy Savoca, and made a notable guest appearance on Seinfeld.
On stage, she starred opposite Edward Norton in the Signature Theatre Company's critically acclaimed off-Broadway revival of Lanford Wilson's Burn This.
PAUL RUDD (David) is a talented actor who continues to surprise audiences with his widely diverse performances and effortless charm on stage, screen and television. Rudd recently starred in Adam McKay's Anchorman: The Legend of Ron Burgundy, opposite Will Ferrell and Christina Applegate, and Dylan Kidd's romantic comedy P.S., opposite Laura Linney and Topher Grace.
Rudd also starred in Neil LaBute's feature adaptation of the critically acclaimed stage production of The Shape of Things, opposite Rachel Weisz. Rudd appeared in that play's New York run at the Promenade Theatre, earning a 2002 Drama League Award nomination for Outstanding Performance by an Actor. In addition, the play was nominated for a 2002 Drama Desk Award for Best Play.
Rudd's other film credits include Jesse Peretz's semi-improvisational film The Château, opposite his Virgin co-star Romany Malco; Wet Hot American Summer, opposite Janeane Garofalo; Lasse Hallström's Oscar®-nominated The Cider House Rules, opposite Tobey Maguire and Charlize Theron; The Object of My Affection, opposite Jennifer Aniston; Amy Heckerling's Clueless, opposite Alicia Silverstone; and Baz Luhrmann's William Shakespeare's Romeo + Juliet.
On television, Rudd guest-starred on NBC's hit series Friends for the last two seasons, including the final episode.
On stage, Rudd has starred opposite Paul Newman and Joanne Woodward in Ancestral Voices at the Westport Country Playhouse. He made his West End debut in the London production of Eugene O'Neill's Long Day's Journey into Night, opposite Jessica Lange. In addition, he starred opposite Calista Flockhart and Ron Eldard in both the New York and Los Angeles productions of Neil LaBute's critically acclaimed Bash, which also aired on Showtime. Rudd's other stage credits include starring opposite Helen Hunt and Kyra Sedgwick in Nicholas Hytner's production of Twelfth Night at Lincoln Center Theater (with a special performance that aired on PBS' Great Performances) and in Alfred Uhry's Tony Award-winning play The Last Night of Ballyhoo.
ROMANY MALCO (Jay) most recently co-starred in the independent film Churchill: The Hollywood Years, opposite Neve Campbell and Christian Slater, and in the action comedy The Tuxedo, opposite Jackie Chan and Jennifer Love Hewitt. His other feature film credits include Jesse Peretz's comedy The Château, opposite his Virgin cast mate Paul Rudd, and The Prime Gig.
Malco began his career at the age of seven, when he picked up a microphone and started rapping, calling himself Kid Nice. As a teen, he formed the rap group R.M.G. and moved to Los Angeles, where they were signed to a record deal by Virgin Records and changed their name to College Boyz. Their first big hit, "Victim of the Ghetto," went to #1 on the rap charts.
Originally from Baytown, Texas, Malco was working as a music producer on feature comedy The Pest, starring John Leguizamo, when the actor, impressed by Malco's gift of gab, encouraged him to pursue acting.
Malco's rapping background came in handy when he landed the lead in the VH-1 telepic Too Legit: The MC Hammer Story. He is set to co-star in the new Showtime comedy series Weeds, opposite Mary-Louise Parker, Elizabeth Perkins and Kevin Nealon.
SETH ROGEN (Cal), who also serves as a co-producer on The 40 Year-Old Virgin, is a talented comedic actor who previously worked with the film's director/writer/producer, Judd Apatow, on the critically acclaimed television series Undeclared and Freaks and Geeks.
Rogen began his career at the age of 13, performing standup comedy in Vancouver, Canada, where he was born and raised. He moved to Los Angeles in 1999 to work on Freaks and Geeks.
Rogen's feature film credits include roles in Donnie Darko, starring Jake Gyllenhaal, and the Judd Apatow-produced comedy, Anchorman: The Legend of Ron Burgundy, starring Will Ferrell, Christina Applegate and Paul Rudd.
Rogen recently received an Emmy nomination for Outstanding Writing for a Variety, Music or Comedy Program for his work on the hit HBO comedy Da Ali G Show, on which he has also appeared. He is currently writing projects for Universal, 20th Century Fox and Paramount.
ELIZABETH BANKS' (Beth) natural talent, striking presence and undeniable energy are quickly earning her a reputation as one of the most promising young actresses in Hollywood. Banks was most recently seen in Spider-Man 2, the sequel to Sam Raimi's live-action action-adventure blockbuster, Spider-Man. Banks reprised her role as Betty Brant, which director Sam Raimi created for her in the first installment. She is also slated to reprise the role in Spider-Man 3.
In June 2005, Banks was seen in the Merchant Ivory-produced feature Heights, opposite Glenn Close and James Marsden. She will next be seen in the dark comedy Daltry Calhoun, with Juliette Lewis and Johnny Knoxville; the independent feature Sisters, an adaptation of Anton Chekhov's drama The Three Sisters, with Maria Bello, Mary Stuart Masterson and Erika Christensen; the romantic comedy The Baxter, with co-stars Michelle Williams and Justin Theroux; and writer/director James Gunn's sci-fi horror film Slither, opposite Nathan Fillion.
Two years ago, Banks was seen in Universal's Oscar®-nominated feature Seabiscuit, opposite Tobey Maguire, Chris Cooper and Jeff Bridges, and co-starred in Ken Kwapis' independent feature Sexual Life, which premiered at the 2004 IFP/Los Angeles Film Festival. She also appeared in Steven Spielberg's/DreamWorks' critically acclaimed Catch Me If You Can, starring Leonardo DiCaprio and Tom Hanks.
Banks' additional feature credits include roles in Guy Ritchie's Swept Away, with Madonna, Jeanne Tripplehorn and Bruce Greenwood; John Singleton's Shaft, with Samuel L. Jackson; and Wet Hot American Summer, starring Janeane Garofalo and David Hyde Pierce. She has also appeared in several independent features, including The Trade and Ordinary Sinner, which won the Best Film Award at the 2002 Slamdunk Film Festival in Park City, Utah.
On the small screen, Banks has appeared in several guest roles, including a highly acclaimed performance in Law & Order: Special Victims Unit, HBO's Sex and the City and NBC's Third Watch.
Her extensive theater credits include roles in American Conservatory Theater's productions of Hurly Burly, Bethlehem, A Midsummer Night's Dream, A Woman of No Importance and Uncle Vanya, as well as the Guthrie Theater's production of Summer and Smoke, directed by David Esbjornson.
Originally hailing from Massachusetts, Banks received her bachelor's degree from the University of Pennsylvania and her graduate degree from the American Conservatory Theater. Banks currently resides in Los Angeles.
LESLIE MANN (Nicky) has been seen in some of the most successful comedies of the last decade, playing hilarious, memorable characters. Mann will be seen next in Paramount Pictures' adaptation of Charlotte's Web, slated for release in 2006. Mann's additional feature credits include roles in Orange County, with Jack Black and Colin
Hanks; Time Code, for famed director Mike Figgis; Big Daddy, with Adam Sandler and Jon Stewart; George of the Jungle, with Brendan Fraser; and The Cable Guy, with Jim Carrey and Matthew Broderick.
A native of San Francisco, Mann now resides in the Los Angeles area with husband Judd Apatow and their daughters Maude and Iris.