Entertainment Magazine: Film: Batman
A Batman for all Generations!
By Fred Grandinetti (with previous research by Joel Eisner)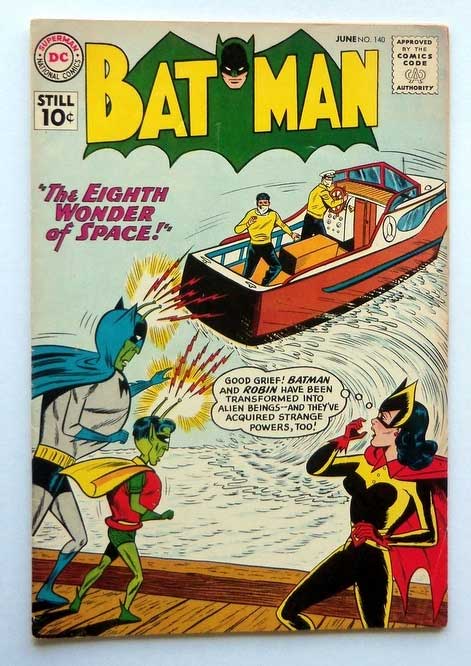 On many occasions I have witnessed a young child grabbing the latest Batman related comic book.
If the child is accompanied by a parental figure, I inform them that The Dark Knight has not been a children's character for quite a while.
For the past decade Batman's stories have been filled with gruesome scenes depicting torture, blood, decapitation and death.
This is in contrast to the latest Batman action figure, sitting on a toy store's shelf, eagerly waiting to be played with by a young child.
Many parent's memories of Batman harkens back to the live-action television series.
Often comic book historians have few good things to say about the series claiming it turned Batman into a joke with its campy portrayal of the Caped Crusader.
In truth it was the series' popularity, which saved the comic book Batman from cancellation.
Batman was created in 1939 by Bob Kane and made his debut in Detective Comics # 27.
His alter ego was playboy, Bruce Wayne, who adopted a ward, Dick Grayson who later became Robin the Boy Wonder. Bizarre villains would be added to the series such as The Joker, Penguin, Catwoman, Riddler and Mad Hatter.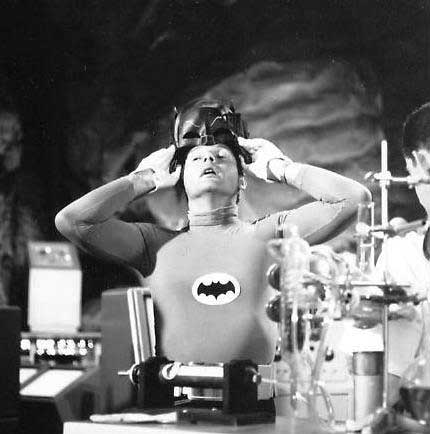 Batman comic books were huge sellers but when stories began depicting him battling aliens from space the series was headed for cancellation. In 1964 a new editorial team was assigned to give a more realistic edge to Batman's adventures. Around this same period the third placed ABC network wanted to bring either Superman or Dick Tracy to the television scene.
However these properties were not available and producer William Dozier chose Batman. Dozier recalled, "I had the simple idea of overdoing it, of making it so square and so serious adults would find it amusing. I knew the kids would go for the derring-do, the adventures, but the trick would be to watch it with their kids or to hell with the kids and watch it anyway."
The series pilot, produced by Twentieth Century Fox, was shot during the summer of 1965. The first choice to portray Batman/Bruce Wayne was actor Ty Hardin. Hardin was unavailable and Adam West won the role.
Dozier said of West, "I explained to him it had to be played as though we were dropping a bomb on Hiroshima-with that kind of deadly seriousness-that he wasn't going to be Cary Grant, full of charm, but, just had to play a very square, hard-nosed guy. He got it right and understood what we were trying to sell."
Adam West said, "Batman must be played with utter conviction. There is a thin line which I must follow, between satirizing the character and playing it dead serious." Burt Ward, who had no previous acting experience, won the role of Robin/Dick Grayson. Established actor Neil Hamilton played Commissioner Gordon and Stafford Repp was Police Chief O'Hara.
The pair was a wonderful comedic team often acting as all would be lost if not for Batman and Robin. Bruce Wayne's loyal butler, Alfred, was played by Alan Napier and Dick Grayson's dotty Aunt Harriet by Madge Blake. Rumors still persist Aunt Harriet was created exclusively for the series to add a woman's presence in an all-male household. The character first appeared in the comic book series in 1964 when Alfred was believed to be dead.
The television series debuted on January 12, 1966 and is a day remembered in our household. My brother and I were audience members on our local Bozo the Clown program. My mother still recalls how we pestered her on the train to make sure The Dynamic Duo had two more viewers that evening. The January 31, 1966 edition of Broadcasting magazine reported "in its first week Batman scored a 27.3 Wednesday and a 29.6 Thursday in the Trendexes."
Batman aired its first part on Wednesday evenings with the conclusion the following night. Celebrities were calling the producers begging to play villains for the Caped Crime fighters to battle.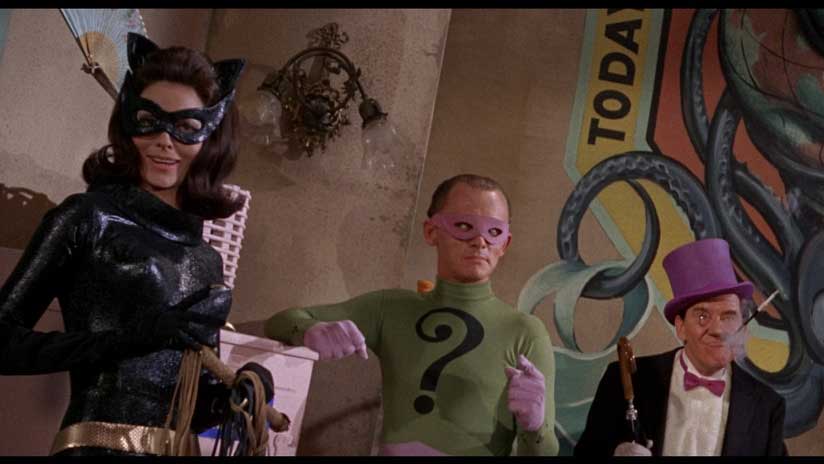 The most successful were Frank Gorshin (later John Astin) as Riddler, Cesar Romero as Joker, Burgess Meredith as Penguin, Julie Newmar and Eartha Kitt as Catwoman, Vincent Price's villainous Egghead and Victor Buono's King Tut. Gorshin's Riddler was nominated for an Emmy award during the series' first season. Cesar Romero said of his role, "It was actually a very easy character to play. You just whooped it up and laughed, it was a ball."
Burgess Meredith stated, "There has been such tremendous impact from the early appearance I did. My own children are looking at me with new respect, new awe." The St. Joseph News-Press reported on March 30, 1966 Meredith spread goodwill with his villainous counterpart stating "One of Batman's arch enemies, The Penguin, has proven he's not such a bad guy after all.
Burgess Meredith, who portrays the Penguin in the television series, visited an 11-year old Batman fan yesterday in a hospital in Cleveland." Otto Preminger took on the role as Mr. Freeze to please the Preminger twins age six at the time of filming. The most popular villain was Julie Newmar's Catwoman. It should be noted, due to the comics' code, Catwoman had not appeared in a Batman comic book adventure since 1954. It was Newmar's popularity in the role, which revived the character in the print medium.
The series was shot in color and took full advantage of comic book style graphics. The fight scenes were well choreographed although it was obvious when a stuntman took the place of both West and Ward. By the end of 1966 Batman's image was everywhere, from pajamas, candy, dolls, posters, bed sheets, costumes and jewelry. Seventy five million dollars of Batman merchandise flooded the marketplace.
When the first season was completed a feature film version was rushed into production to help sell the series overseas. The March 15, 1966 edition of The Leader Post reported Dozier stating about the feature, "We'll give them scope, a love story and a fabulous chase on the water. No, Batman won't be walking on it; he'll drive his bat boat which is jet propelled like the batmobile." In the movie Batman and Robin battled Riddler, Penguin, Joker and Catwoman.
Gorshin, Meredith and Romero reprised their popular roles from the series. Although early press reports stated Julie Newmar would return as Catwoman, a back injury made her unavailable. Former Miss America Lee Meriwether won the role and also played Russian journalist Miss Kitka. Some critics have stated Meriwether was an "unlikely" choice for the part and was a "wholesome" Catwoman. In my opinion Meriwether's Catwoman was a felonious aggressive seductresses. In one scene, in order to escape Batman and Robin, Catwoman threatens to kill a woman. So much for the theory that Meriwether's portrayal of Catwoman was "wholesome."
Unfortunately when the series returned for its second season the delicate balance between comedy and drama was lost. More emphasis was put on jokes with a wink to the audience and new criminals created for the series were not overly impressive. One of the highlights from the Batman's 1966-67 season was a viewer seeing more of Julie Newmar's Catwoman. Newmar said of the series, "It was brilliantly written, brilliantly cast. It was perfect."
For the third season, with ratings down, the producers decided to add a new character to the television series: Barbara Gordon alias Batgirl. The Dominoed Daredoll was becoming quite popular in the pages of Batman comic books. Yvonne Craig was an excellent choice to play the daughter of Commissioner Gordon.
Unfortunately the all-male writers did not allow Batgirl to capture any crooks on her own. She would arrive in a criminal's lair bursting with confidence only to end up grabbed or being knocked out. Batgirl did have her moments but this televised version was a far cry from the one on the printed page. In the comic books Batgirl had a brown belt in judo and easily defeated her opponents. The television producers wanted Craig's portrayal to remain very feminine and judo was out of the question. It became apparent mid-way through the third season the writers had trouble-incorporating Batgirl into the plots. Having Batgirl captured appeared to be the easiest solution to remedy this situation.
A highlight of the third season was Eartha Kitt's ferocious portrayal of Catwoman. Her introduction to the series and the three-Catwoman situation was covered in the December 9, 1967 edition of The Schenectady Gazette, which stated, "Julie Newmar created the role in the series' first year. A minor injury kept her from playing Catwoman in the "Batman" feature picture, however, and lovely Lee Meriwether stepped in as her fetching replacement.
Last season Miss Meriwether was in the regular cast of "The Time Tunnel" series and Julie Newmar returned to "Batman" to reclaim the part. But earlier this season when "Catwoman's Dressed to Kill" was scheduled for production, Julie was tied up on a movie filming in Europe. Eartha Kitt became her successor, a stroke of casting that could be called purrfect." Kitt said in the article she had never seen Julie Newmar and was not trying to be like her or unlike her. "I'm approaching Catwoman in my own way", the actress-singer said.
The show was now airing only on Thursday evenings and despite the initial media interest in Batgirl ratings continued to slide. Clearly by 1968 the massive Batman fad was over and the series was being sold into syndication before its official cancellation.
The February 7, 1968 edition of Variety reported the series was already sold in 18 markets to begin airing in September. In addition the 120 episodes were being sold abroad. On March 14, 1968 Batman and Robin rescued Batgirl one final time and quietly went off the ABC Network. Thankfully the series continues to air and has earned a cult following while providing a younger audience with a Batman whose actions parents do not have to fear.
---
Top photo: The cover of Batman # 140 (1961) featured Batwoman and two aliens wearing Batman and Robin's costumes.
2nd Photo: Adam West is beloved by audiences the world over for his role as Batman.
3rd Photo: Lee Meriwether as The Catwoman, Frank Gorshin as Riddler and Burgess Meredith as The Penguin from the 1966 feature film.