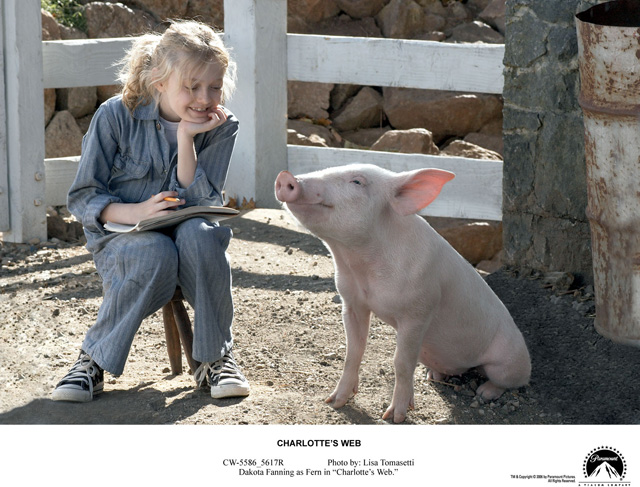 Dakota Fanning (pictured) as Fern in "Charlotte's Web." Paramount Pictures and Walden Media present a Kerner Entertainment Company / Nickelodeon Movies Production "Charlotte's Web." Directed by Gary Winick from a screenplay written by Susannah Grant and Karey Kirkpatrick based upon the book by E.B. White, the film is produced by Jordan Kerner. Executive Producers are Edgar M. Bronfman, Julia Pistor, Bernie Williams, and Paul Neesan. The film is rated G for all audiences. © 2006 Paramount Pictures. All rights reserved. Photo by: Suzy Wood
"SOME PIG" COMES TO THE BIG SCREEN
"When kids read the book, it becomes their introduction to the cycle of life," says Dakota Fanning, who stars on-screen in the live-action adaptation of Charlotte's Web. "There are so many messages to the book and the movie. I'm honored that I got to bring Fern to life."
"I remember my old hardcover edition of the book, with the etching of Fern and Wilbur on the cover," says Julia Roberts, who brings voice to Charlotte, the spider that saves Wilbur's life. "It's a classic story and I'm excited to bring it to a new generation in this way."
"Charlotte's Web" began its journey to the screen when producer Jordan Kerner, previously the producer of such hits as "Fried Green Tomatoes," "The Mighty Ducks," "George of the Jungle," "Inspector Gadget," and many others, read E.B. White's book to his young daughters. Kerner's mother had read the book to him as a child, and he remembered it fondly.
While reading it to his children, "One of my daughters asked me, 'Why did Fern leave Wilbur at the fair before she knew he was going to be safe?'" Kerner recollects. "That's when I knew that this was a movie that had to be made. All of the questions that flood into us when we're three or four years old – questions of life and death, how long we're going to live, and what's going to happen to those we love – stay with us and resonate even more strongly as we age and have children of our own."
Moreover, the story champions the kind of bedrock values that appeal to audiences of all kinds: young and old, individuals and families. "The story is enduring because of its ideas – selflessness, friendship, and the creation of family where there was none before," says Kerner, noting that these are issues anyone, young or old, can relate to. "We really wanted to make this movie for all audiences, not just families," he says.
Kerner wrote a 28-page outline with executive producer and Kerner Entertainment production head Paul Neesan. In addition to finding inspiration from the book, Kerner and Neesan spent a great deal of time researching E.B. White at the English department of Cornell University, from which White graduated and where his papers and other personal archives are kept. As a result, says Kerner, "throughout the movie there are many references to E.B. White's life, and we've used much of his own dialogue," says Kerner.
One example of a change from the book that is drawn from Kerner's and Neesan's research is the opening. White had labored over eight different drafts of the book; in his final version, he decides upon opening the morning after the pigs are born. Fern is setting the table for breakfast with her mother when she asks, "Where's Papa going with that ax?"
The filmmakers chose an earlier draft for its cinematic and dramatic qualities: John Arable, Fern's father, is in the barn and sees that his sow has given birth and that there are too many piglets for the mother to feed. Fern also wakes to the noise and runs out to the barn; seeing her father with the ax, she stops him from killing Wilbur.
With their story in place, the filmmakers' focus turned to the script. The producers knew that they wanted to stay fundamentally true to White's novel. Kerner had admired the work of screenwriter Susannah Grant, specifically "Erin Brockovich," which earned Grant an Oscar nomination. "She wrote a beautiful screenplay," he says.
To add a little humor and edge to the characters, the producers turned to Karey Kirkpatrick, who has contributed to such films as "Chicken Run," "James and the Giant Peach," and "Over the Hedge."
"Karey gave tremendous life to the barnyard characters, and also added the comedic touch," praises Kerner.
Achieving the right balance of comedic elements was essential. "We knew we couldn't make the humor cultural or topical, but we wanted to make it smart. Yet we had to appeal to the young kids, while still preserving White's sophistication," adds director Gary Winick. "Karey was just amazing at writing this kind of material."
Both Kerner and the studio wanted a fresh approach to the novel, which hadn't been adapted for the screen since the 1973 animated film, also from Paramount. "We looked at a lot of independent filmmakers," says Kerner of their search for a director. "We wanted the movie to have sentiment, but not be sentimental in any way. We also wanted a director who could bring out the great humor and emotion in the script."
In 2004, Kerner attended a preview screening of a movie called "13 Going On 30," directed by Gary Winick. In that film, Kerner says, Winick had successfully balanced many complicated elements. "The emotion was without sentimentality, and the character-driven humor had nothing false about it," says the producer. "Gary had maintained a beautiful tone in that film. And I thought, 'Here's a guy who can do 'Charlotte's Web.'"
Winick began his career as an independent filmmaker, eventually forming a company in the summer of 1999 with producer/lawyer John Sloss called InDigEnt (for "Independent Digital Entertainment"). The company was inspired by Dogme 95 (the Danish filmmaking collective) and vanguard filmmaker John Cassavetes.
Though these eclectic influences seem like a far cry from the Arables' quaint New England farm, and the scale of "Charlotte's Web" was beyond anything Winick had attempted previously, he says that the nature of the story made him a perfect choice to direct. "When I went back and re-read the book – the first time I'd read it since I was a child – I knew it was a project that I wanted to make," he says. "This is a big event movie, but at the same time it's a small, intimate story."
"Charlotte's Web is one of the most wonderful stories about friendship," adds Winick. "Even though it's between a spider and a pig, I just treated it like any other relationship."
Winick notes that the commitment to the book's emotional center is displayed not only in the film's screenplay, but also in the way the movie was made. Most of the animals in the film are NOT computer generated, but live-action – after photography, a team of very talented computer animators used cinema magic to enhance the movie. "Certainly, there's a visual effects element – animals talk. But the emotional heart of the book is also the heart of our film," he says. "That's what drew all of us to this project."
At the same time, "Charlotte's Web" takes advantage of the very best that visual effects have to offer; this story could never have been told before in live-action until computer-generated effects made it possible. Whole sequences that could never have been fulfilled before come to life: for example, the camera follows Templeton down his rat-hole to his lair. Obviously, the only way to give audiences this rat's-eye view was in the computer.
ASSEMBLING A "TERRIFIC" CAST
The filmmakers were faced with an array of casting decisions – they had to cast live actors, actors who would provide voice talent, and live animals.
With respect to the voice talent, "We thought outside the box," explains Gary Winick. "We knew we could be eclectic, so we totally went for it. We threw out all kinds of names.
"What's great is because of the way the film is scheduled," the filmmakers could be flexible and work around a star's availability, says Winick. "You have access to almost anyone."
Oscar winner Julia Roberts leads the voice cast as Charlotte, the nurturing spider whose friendship with Wilbur is the central focus of the book. Roberts had just given birth to her children, so the project seemed like a good fit for her.
"This was exactly the right time in her life for Julia to be playing a character like this," says Jordan Kerner. "Charlotte needed to be very strong, and stubborn, and tough, and wise, and loving, and Julia embodies all of those traits to perfection."
Winick was impressed by the rich voice that Roberts lends to Charlotte. "It's amazingly warm and gentle, yet stern and direct," says Winick. "There's wisdom there."
Roberts, embarking on her first vocal performance of an animated character, understood the importance of her portrayal of the adored arachnid.
"I was intimidated by the character at first," admits the actress. "You want to capture her essence, which is so complicated and interesting, and yet she really is a spider. So it was definitely tricky."
Still, Roberts loves the idea that a new generation of children will be introduced to this classic tale.
"The book is about the most timeless concepts of our lives: fairness, compassion, understanding, and a willingness to stand up for what you believe in," says Roberts. "Even Templeton, the most rotten of the bunch, can't help but participate in what's right.
That's what sustains a story like this; those themes resonate forever."
Dakota Fanning plays spirited farmgirl Fern Arable, who saves Wilbur's life on the night he, the runt of the litter, is born. Kerner explains that Fanning was the first and only choice for the role.
"Dakota was always the lead in this movie. There was never anyone that we wanted more," he adds. "It was such a perfect combination of role and actor.
"Dakota combines great wisdom with youthful glee," he continues. "She has the wisdom, sensibility, and the feeling of the ages in her, but somehow she's also able to run around and laugh and play and be a regular 12-year-old. It turns out that she had read the book and felt that it was important that she play the part, and I know we felt the same way."
When it looked like Fanning's commitment to act in another film – Steven Spielberg's "War of the Worlds" – might keep her from joining the cast of "Charlotte's Web," the studio and the filmmakers agreed to work around it.
"She wanted to do it, and we wanted her to do it," says Gary Winick. "It was so worth it to wait for her. Dakota is just an amazing girl."
Fanning was equally delighted that a scheduling conflict wouldn't prevent her from portraying a favorite character from a book she loves. "There are so many messages in the book and the movie. I'm honored that I get to bring Fern to life," she says.
The young actress was attracted to the role of strong-willed Fern, "who is just starting to grow up," she continues. "She begins as a tomboy, and when she finds Wilbur, she becomes mothering and nurturing. Then, when the time is right, she brings him to the barn and lets go a bit, letting him grow up and spread his wings, just as Fern's own parents let go a bit and let her spread her own wings."
The 12-year-old Fanning completely understands Fern's fawning behavior as Wilbur's caretaker. "I know if I had a dog or a pig or a cat, I would dress it up and put it in a baby carriage and stroll around," she laughs. "Fern and I are both very motherly in that way."
The cast is rounded out by Kevin Anderson, who plays Fern's father, John Arable, and Essie Davis, who plays Fern's mother. Gary Basaraba and Siobhan Fallon play Homer and Edith Zuckerman, neighbors of the Arables, whose barn houses Wilbur and the other animals, and Nate Mooney plays the hired man, Lurvey. Beau Bridges brings great empathy and a sense of awe to his character, Dr. Dorian.
The list of voices that comprise the "comic chorus" of the barnyard reads like a who's-who of Hollywood heavyweights.
Steve Buscemi takes on the role of Templeton, the rat who says he's selfish, but who risks everything to save Wilbur.
"In the Chinese zodiac, if you were born in the Year of the Rat, you would possess the qualities of honesty, creativity, generosity, but you'd also be wasteful and prone to having a quick temper," says Buscemi. "All of these qualities were inhabited by Templeton, and I did my best to fulfill these requirements."
Buscemi says that when people say he's perfect for the role, he doesn't know how to respond. "I don't know what people mean when they say I'm perfect for the rat," he says. "I've never been bothered by rats – they make great pets, they're very playful and very smart. As for Templeton, he's brutally honest. Though he looks out for himself, he sets the whole story in motion when he makes Wilbur realize his days are numbered. It's Charlotte's plan that saves Wilbur's life, but Templeton puts his life on the line. So when people say that, I don't know if that's a compliment or an insult."
John Cleese – a veteran who has done voice work in several films, most notably "George of the Jungle," "Shrek 2" and the forthcoming "Shrek the Third" – joined the cast as the voice of Samuel, the sheep.
Cedric the Entertainer and Oprah Winfrey lend their voices to married geese Golly and Gussy, respectively.
"I've got small kids, and Charlotte's Web is a favorite book. It's definitely one of those stories that you have to read at night," says Cedric. "It was fun to bring one of these characters to life and to do something that my kids can enjoy.
"And then to be married to Oprah was another key thing," he smiles.
Oprah Winfrey struck the filmmakers as the ideal choice for the voice of Gussy. "We listened to Oprah's voice, and it just made perfect sense," says Gary Winick. "The Gussy character is the mother hen, the maternal one, the one who kind of nurtures the barn. Oprah's so beloved – she fit in with the character."
Kathy Bates lends her voice to Bitsy the cow. The venerable Bates is amazed by the way that technology like the kind used in "Charlotte's Web" has expanded the range of an actor's roles.
"You can play anything. You can play any creature; you can play any person," she marvels. "But next time I hope I get to play something a little more svelte than a cow."
So how, exactly, does an Academy Award-winning actress portray a cow?
"You can't be precious about it," explains Bates. "You've got to throw yourself into it and try a lot of different things. You've got to really use your imagination and have fun with it. It's like being a child again."
Bates was thrilled to be working alongside Reba McEntire, who plays Bitsy's partner in sarcasm, Betsy.
McEntire had no problem playing the bovine beauty, because, as she says, "I'm an old cow hand. I grew up on a working cattle ranch in Southeastern Oklahoma, so to get to play a cow was just perfect. I know all the cow sounds."
McEntire relates to Fern and the lessons the young girl learns on the farm. "Living on a farm teaches you how to deal with reality in life," says McEntire, "and that every living creature has a purpose."
Corn-happy crows Brooks and Elwyn are characters that were expanded on from the book. The pair is played by Thomas Haden Church, who received an Oscar nomination for "Sideways," and André Benjamin, also known as André 3000, the singing half of Outkast.
"There's a real American integrity to this tale," says Church. "This is a great story about an underdog – I mean an underpig – that struggles and is helped by perhaps the most vilified insect in all of nature. There's a great poetic irony to it."
Though Church confesses that he hadn't listened to much of Outkast's music, he quickly became a fan of his co-star. "André has this great musicality to his voice and to his delivery," says Church. "He's a really gifted guy, and we had this great, loose-limbed, stream-of-consciousness thing going."
Another stellar addition to the stable of voice talent was Robert Redford, who had been working on another project with Gary Winick and starred in the Avnet/Kerner film "Up Close and Personal." The director was pleased when Redford agreed to play the crusty horse, but he also found himself in an unusual position.
"To ask Bob to overact was strange – he's the most amazing actor. To go over the top was probably a first for him," admits Winick. "But I think it was a lot of fun. And it's fun to hear Ike in the movie because Bob really goes for it."
Voicing the character of Wilbur is ten-year-old Dominic Scott Kay. The filmmakers considered hiring another actor to voice the older Wilbur, but they were so impressed by Kay that they changed their minds.
"He's just so wonderful, soulful, and innocent," says Gary Winick of Kay. "He's everything that we wanted."
FILMING IN "RADIANT" VICTORIA, AUSTRALIA
Shooting "Charlotte's Web" was a vast and complicated undertaking. "This was an extremely complex movie, because we combine live action, animatronics, children, stunts, and CG animation – sometimes all of them at the same time," explains Jordan Kerner.
Because of the timing of the shooting schedule, the filmmakers looked Down Under for filming locations; the area's wide-ranging landscape could represent the changing seasons in the course of the film. In addition, the region – when both Australia and New Zealand are considered – boasted a wealth of talented film crew who had worked on such films as the "Lord of the Rings" trilogy, "The Chronicles of Narnia" and, ten years earlier, "Babe."
The filmmakers spanned New Zealand and Australia looking for landscape that felt like the state of Maine. They found it in Victoria, Australia. The Arables' and Zuckermans' farms and surrounding buildings were built in Greendale, and stage work was done in Melbourne. The fair scene was shot on a vast cricket field in Heidelberg. A talented creative crew was assembled, including director of photography Seamus McGarvey, costume designer Rita Ryack, editors Susan Littenberg and Sabrina Plisco, and production designer Stuart Wurtzel.
Wurtzel, an Oscar nominee for "Hannah and Her Sisters," designed a variety of structures, including the Arables' home, the Zuckermans' home and barn, the smokehouse and other farm buildings, and the cornfield. Because the weather changes in an instant in Victoria, the production had to be prepared to switch from stage to location at a moment's notice. Wurtzel built perfectly identical barns on the soundstage in Melbourne and on location in Greendale.
The filmmakers were seeking an overall look that is best described as timeless with a touch of nostalgia. "It was a compromise between present day and 1952," says Jordan Kerner. "Farm communities today don't look a lot different than farm communities looked decades ago, other than certain clothes and cars."
The filmmakers turned to the photographs of contemporary American photographer William Eggleston for inspiration. "He became an important element for us in terms of the way he used color," says Gary Winick. "He created a wonderful sense of Americana and timelessness."
The filmmakers also wanted the film's aesthetics to resemble E.B. White's descriptions and Garth Williams's beloved illustrations as much as possible.
"In every department – from costume to art to camera – we underlined everything in the book: every prop, every costume, every color," says Winick. "We did everything to make sure that we stayed true to the book visually."
In addition, as an homage to Williams's iconic drawings, Winick and his team recreated the drawings on the screen. "Whenever possible, I tried to duplicate as best I could the illustrations from the book," he adds. Some of these "live-action drawings" include the image of Wilbur from the trough; the "some pig" web; the crowd at the Zuckerman barn; and many others.
Despite being an avowed city boy – "I'm from New York City; pavement is my thing," he says – who is fairly sure he was an adult the first time he saw a live pig, Winick developed an affinity for the porcine creatures. "They're very smart," he says. "I had my favorites."
Wilbur is in almost every scene, and Winick relied heavily on the expertise of the animal trainers. "I started to realize there's no movie without these guys," he admits. "They are the true stars of the movie."
"The good thing is that the animals don't know if they're doing a sad scene or a playing-in-the-mud scene," he adds. "And they always wear the same costume, so we can jump around a lot in the filmmaking."
The head trainers were Larry Madrid and Larry Payne from Birds and Animals Unlimited, who oversaw all the animals on the set – the pigs, cows, geese, sheep, and horses that play the animals in the barnyard. On any given day, there were eleven animals on the set, overseen by their respective trainers.
"Obviously, we knew that animals were going to be a big part of the movie, but I was amazed by the amount of work they needed to do to pull it off," says Winick. For starters, the pigs had to be bred in Australia due to that country's strict six-month quarantine laws; as a result, the trainers could not use any pigs they'd already trained; they had to start from scratch.
Also, as young pigs can learn only one trick and grow at a rate of a pound a day, the trainers had to have as many as 25 pigs on the set on any given day so that the right pig doing the right trick could be captured on film. In total, the filmmakers called upon 47 different pigs to play Wilbur.
As for the other animals, Winick can only shake his head and smile. "We can send people to the moon, but we can't get a cow's attention even after screaming, popping balloons, and waving things at them in every way possible."
With the help of a top-notch cast and crew, Winick made it through principal photography. Because the shoot required pigs of different ages – and because the weather would often not be suitable for the planned scene – Winick got creative with the schedule. "We shot for at least thirty or forty days without one scene completed because of how many pieces of the puzzle there were," he says.
Winick and his young star decided to form a united front. "Dakota and I would always say to ourselves, 'It's Charlotte's Web; it's only going to come around once in our lifetime. Let's stick together and we'll pull through,'" says Winick.
Principal photography was only just the beginning. After photography, a team of very talented computer animators used movie magic to make animals talk, spiders spin intricate webs, and more. It was a whole different world for Gary Winick. "Charlotte is two-and-a-half inches from leg to leg. Ike the horse is several feet tall. Getting a two-shot with the right perspective wasn't easy," he confesses. "It was important to master the storytelling in the animal world and the human world, and make that feel seamless and balanced."
John Berton, Jr. was brought on as visual effects supervisor. In addition to the ability to make spiders and rats loveable, "We needed to have a visual effects supervisor who had been involved with films that had a tremendous amount of fully 3-D, computer-generated characters who have to convey thoughts and emotions," says Jordan Kerner. "We found John, who understands the underlying emotion and who can translate that into a gazillion pixels with a lot of input from Gary and me and all of our other supervisors at the five VFX companies around the world. He drew those elements together."
The process, as Kerner explains it, involves making two movies. "We made one movie with our wonderful live actors," says Kerner. "Then we made another movie that added computer images, face replacements, eye rhythms, moving mouths and facial expressions that mimic the actors. Hopefully this second movie fits seamlessly with the first."
"Charlotte's Web was the very first 'real' book I ever read – a book that wasn't a picture book," says Berton. "From that standpoint, it had a great impact on me. You can't talk to anyone that's read it who wasn't moved by it."
Berton notes that in the past, the only way to tell the story was in animation. "Over the last 15 years, we've developed visual effects expertise that allows us to make this movie as a live-action picture."
Five visual effects houses joined forces to create the computer-generated effects: veteran visual effects wizard Phil Tippett in San Francisco, Rhythm and Hues in Los Angeles, and Australia-based houses Fuel International, Digital Pictures, and Rising Sun. Through the Cine Sync program developed by Rising Sun, Winick, Kerner, and the visual effects staff could fully communicate in real-time even when thousands of miles away from each other.
A "HUMBLE" REQUEST
"I can't wait for everybody to see 'Charlotte's Web,'" says Dakota Fanning, "because it's something that all ages can enjoy and understand and have fun with."
"Go see 'Charlotte's Web,'" echoes Cedric the Entertainer. "It's a beautiful movie for the holiday season. Take the whole family: the kids, mom, dad, stepcousins, relatives, unwanted relatives..."
Jordan Kerner wants nothing less than that the audience will feel transformed by the film, just as the barnyard was transformed by Charlotte. "This great classic book deserves to have a great classic film," he concludes.