For Fun: Filmmaker Mark Stouffer and Diamond Dog Caper
By Madelyn Ritrosky and Jared Winslow
Chatterbox and Blabbermouth are not your average squirrels. Of course, they are computer-created little buggers. Neither is Owen (Luke Benward) your average 12-year-old boy. He's got a trap-ready fort out in the woods where the scary 'Madman of the Mountain' lives.

And then there's the dog, a golden retriever. She's the "Diamond Dog" because although she was unlucky enough to be used by jewel thieves, she and Owen help each other and foil the hapless villains' plans. The tagline on the film's poster sums it up neatly: "5 million bucks... 4 furry paws... 3 sorry thieves."

Jared and I saw Diamond Dog Caper at the Santa Barbara International Film Festival. And what 8-year-old Jared especially liked about the film is the similarity to the Home Alone movies – a kid almost single-handedly defeats the bad guys with booby-traps galore. Like in a cartoon, they endure seemingly endless splats in the face and whacks on the head.

But in this instance, 'home alone' means outdoors up on a mountain in a treehouse – by yourself except for your animal allies. Owen sets up his fort and the surrounding area as a minefield of silly but ingenious obstacles. The villains end up practically delivered to the cops, crying to be rescued from their ordeal.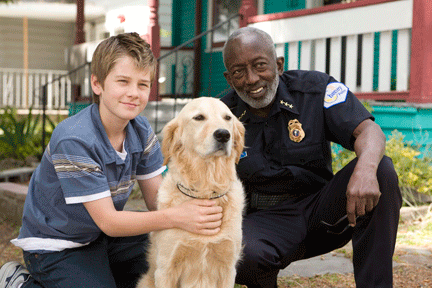 Diamond Dog Caper was directed, produced, and co-written by Mark Stouffer. Although probably best known for the nature filmmaking that originally earned him notice, Stouffer has also worked on numerous music-variety television specials and some dramatic feature films.

Jared and I had the chance to sit down with Mark to talk about his career and Diamond Dog Caper, which has been playing the film festival circuit.

Mark Stouffer has filmed over 100 documentaries, winning several Emmy Awards. He started young, getting into filmmaking in the late 1960s. "I had my first network special on ABC Television when I was 17. My brothers and I got started by filming endangered animals. We filmed every bird, mammal, and reptile declared endangered by the government the first year.

"We built this library of endangered animal films that everybody wanted – advertisers, environmental groups, the networks. We cornered a market when I was a teenager. And we made a lot of successful contacts: Robert Redford narrated one of our first films; so did Henry Fonda, Paul Newman, and Will Geer."

He explained that much of his documentary filmmaking has been "adventure expedition work for National Geographic as well as all the networks. I've made films on panda bears in China and Siberian tigers in Siberia, Namib elephants in Namibia and blue fin tuna in Japan."

When Jared asked Mark what filming situation had proved the most dangerous, Mark replied, "I've crawled into a Siberian tiger den at four in the morning. We photographed a cub while its mother was growling in the forest. It was a National Geographic project, Tigers of the Snow, and it was extremely dangerous. And to this day I can hardly believe I was in there – 25 feet into the den. It was extremely scary."

But it was clearly worth it for him. He went on to tell us that it was nominated for five prime-time Emmy Awards – the most nominations for any documentary. And it won one Emmy.

It was through common interests in environmental issues that led Mark Stouffer to hook up with John Denver in the 1980s. "I did a lot of John Denver television: I wrote, produced, and directed as John's partner with most of his television work." That led to work on other music-variety specials.

But Mark's current focus is fiction feature films as an independent filmmaker. "Now I'm in my feature film phase. It's the most creative challenge. It's also the biggest challenge because holding an audience on the screen for an hour and a half is a long time."

His first dramatic feature was Man Outside (1986), which he wrote, directed, and produced. Then, in 1997, he developed and produced his second feature, Wild America. It is near and dear to his heart because it is based on his own life. It chronicles, as a family drama, how Mark and his two brothers, Marty and Marshall, got into filming nature documentaries in the '60s.

Now there is his new feature, Diamond Dog Caper. And he wears all the hats – director, writer, producer.

"I think of myself as a director, somebody who conceptualizes a movie he wants to make. Then I kick in my producing and organizational business skills. But I largely create. I enjoy the directing part of it the most. You can't be an independent filmmaker if you're just a director or if you're just a producer. You have to be able to do so many things to survive. You have to have an awareness of directing, producing, writing, marketing, promoting – all of them."


So he's not only promoting Diamond Dog Caper but producing another film and working on the scripts of yet three more films. "I'm always in the process of marketing a movie while I'm making a movie while I'm planning a movie. You've got to keep your future planned while you're working on your present."

Diamond Dog Caper came about with his writing partner, Dennis Johnson. Mark said, "I've always conceived the projects I've made. For this film, I had an idea of a boy seeing a dog being mistreated by some bad guys and he protects the dog. He has no idea that the dog has $5 million stashed on her; he has no idea why the bad guys are so crazed to get the dog back."

We found out that two golden retrievers actually play the role. "One dog was kind of wild, an always energetic male. And the other one was a quiet, docile female. Whenever I needed a different feel for a different scene, I would call the dog appropriate for that scene."

Mark also noted the dilemmas of casting the human roles. "There's an easy and a hard part of casting. The easy part is the incredible amount of very talented people who will do a great job in a movie. The difficult part is they are almost worthless in the market. So a good actor is not enough. You have to find somebody who also has some notoriety, audience appeal, or commercial value."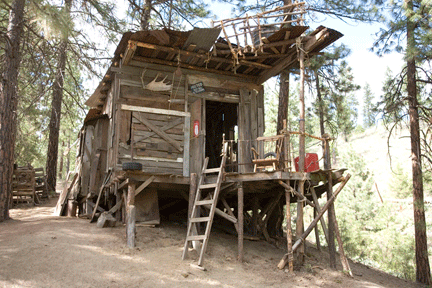 So for this film, he cast Luke Benward in the lead role of Owen. Luke had a lead role in How to Eat Fried Worms (2006) and The Disney Channel's Minutemen (2008). He also acted in Because of Winn-Dixie (2005). And Mark cast veteran actor French Stewart (3rd Rock from the Sun, Home Alone IV) as the lead bad guy.

Mark stressed that Diamond Dog Caper is a family comedy – and the importance of genre. "For independent filmmaking, you have to sit in the drama chair or the horror chair or the thriller chair or the comedy chair. But you can't be on the floor in the middle of them. You have to pick what you are and be all that. And Diamond Dog Caper is all comedy. Distributors want one thing they can hook into and sell."

When all was said and done, Mark Stouffer's final words were "This movie is fun. It's all about entertainment." And Jared and I laughed at the antics of the bad guys and cheered as the boy and his dog outsmarted those silly adults. You know everything will turn out all right in the end.

Diamond Dog Caper is being sold in international territories by foreign distribution company Vision Films. Negotiations with domestic distributors are currently underway for theatrical and DVD releases in the US and Canada.
Photos-
Top: Mark Stouffer
2nd: (Left to right) actors Luke Benward and Garrett Morris with the Diamond Dog
3rd: (Left to right) actors French Stewart, Kevin Farley, and Kelly Perine
4th: Owen's fort in the movie Diamond Dog Caper
"Diamond Dog Caper" has been released on DVD with the title "Dog Gone"