MEET THE CAST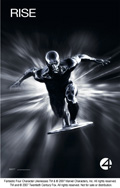 Bringing a winning combination of indelible charm, charisma and intensity to his roles, IOAN GRUFFUDD (Reed Richards / Mr. Fantastic) is quickly establishing himself as one of Hollywood's leading men.

He recently starred in Michael Apted's "Amazing Grace" for Samuel Goldywn Films. The film is based on the life of British anti-slavery pioneer William Wilberforce (played by Gruffudd) during his 18th Century political career. Albert Finney, Rufus Sewell, Romola Garai and Benedict Cumberbatch also star. "Amazing Grace" closed this year's Toronto Film Festival.

Following that, he had a starring role in Jake Kasdan's indie satire film "The TV Set" opposite Sigourney Weaver and David Duchovny. The story follows the making of a television pilot at PANDA Network with Gruffudd playing a top BBC executive who joins the network.

Previous film credits include "Fantastic Four," "King Arthur," "Titanic," "102 Dalmations," "Solomon and Gaenor" (nominated for an Academy Award for Foreign Language Film) and "Black Hawk Down."

Gruffudd began acting in his teens in his hometown, Cardiff, Wales. At 18, he enrolled at The Royal Academy of Dramatic Arts in London and upon graduation, began working almost immediately in the United Kingdom. It was his title role in the Emmy Award-winning miniseries, "Horatio Hornblower," that earned him international acclaim with both fans and critics.


JESSICA ALBA (Sue Storm / Invisible Woman) fell in love with acting at a very early age, becoming active professionally at the age of 12. She began studying with acting coaches in Los Angeles and, shortly thereafter, landed at the Atlantic Theatre Company, where she studied with founders William H. Macy and David Mamet.

Alba's first feature film credits include 20th Century Fox's "Never Been Kissed," starring and produced by Drew Barrymore, as well as the thriller "Idle Hands" for Sony Pictures. She later starred as the title character in Fine Line Features' romance "The Sleeping Dictionary," a period drama which co-starred Brenda Blethyn, Bob Hoskins, Emily Mortimer, Noah Taylor and Hugh Dancy.

She starred in three major motion pictures in 2005 and has a full slate of projects coming up. Last year, she co-starred in the critically-acclaimed "Sin City," directed by Robert Rodriguez and featuring an all-star ensemble cast including Bruce Willis, Josh Hartnett, Elijah Wood, Brittany Murphy, Nick Stahl and Michael Madsen. Alba portrayed Nancy, an exotic dancer who is the heart of the fictional Sin City, playing opposite Willis in one of three of the film's intersecting stories. A sequel to the noir thriller is in the works.

She next starred in the female lead role in Marvel Comics' action-franchise blockbuster "Fantastic Four," which was released by 20th Century Fox in July 2005 and became a worldwide box-office success. She also starred in the underwater action-adventure, "Into the Blue," opposite Paul Walker. The combined worldwide box offices for all three films is over half a billion dollars.

She has completed the psychological thriller, "Awake," opposite Hayden Christensen, which will be released by The Weinstein Company in 2007. In addition to the sequels to "Fantastic Four" and "Sin City," Alba has filmed a role in the independent comedy, "Bill," with Aaron Eckhart and Elizabeth Banks, a cameo in "The Ten," and will star opposite Dane Cook in the romantic comedy, "Good Luck Chuck," also out in 2007.

She is currently filming "The Eye" for Lionsgate Films and Cruise-Wagner Productions. Alba's first starring role in a major studio film was the 2003 release, "Honey," which grossed over $60-million worldwide. She starred as the title character, Honey Daniels, a dancer and choreographer working as a bartender/record store clerk until she gets her big break in the music industry and comes to realize what really matters to her. The contemporary urban drama featured Lil' Romeo, Mekhi Phifer, and Joy Bryant, with appearances by hip hop/R&B stars Missy Elliott, Ginuwine, Sean Desmond, Tweet, and Jadakiss.

Alba first achieved worldwide recognition as the lead character in James Cameron's "Dark Angel," Mr. Cameron's first project after the history-making "Titanic" and his first television venture. In the series, Alba portrayed Max, a genetically-enhanced human prototype who escapes from her government captors only to live out her life in the underground of 21st Century Seattle.

In the series' first season, she was nominated for a Golden Globe and a People's Choice Award. She was voted the TV Guide Award as Breakout Star of the Year by readers, and won Favorite TV Actress at the 2001 Teen Choice Awards. "Dark Angel" has been a success around the world, establishing her as an international star. It has been released globally on video and DVD and has spawned a soundtrack, successful video game and a line of action figures.

Alba also has a deal with Universal Pictures and Strike Entertainment to produce and star in a film derived from the limited-series comic book "Beautiful Killer," from Black Bull Comics. The untitled film will extract key elements from the source material, about a girl who loses her family to mysterious killers, is forced to flee and ultimately chooses to exact revenge.

Alba has appeared in a select handful of iconic and lucrative endorsement campaigns including L' Oreal cosmetics, the famous "milk mustache" Got Milk? campaign and was featured in the 30th Anniversary Fall '04 campaign for The Gap, as well as other prestigious campaigns around the world. She has also appeared on countless prestigious magazine covers in the United States and around the world.

She recently showcased her comedic talents, as host of the 2006 MTV Movie Awards™, appearing in short movies spoofing some of the past year's biggest hits, including "MI:3," "The DaVinci Code" and "King Kong." The viewers of MTV also voted her role in "Sin City" Sexiest Performance of the Year.

Although many would describe her as an exotic beauty, Alba was raised in a traditional American family in California. Her mother's family has a French-Danish heritage, while her father is from Mexican-Indian and Spanish lineage.


In the short time that he has been in Hollywood, CHRIS EVANS (Johnny Storm / Human Torch) has managed to build a name for himself, playing an impressive range of both comedic and dramatic roles.

Evans recently starred in "The Nanny Diaries," opposite Paul Giamatti and Scarlett Johansson. Also scheduled to be released this year is the highly-anticipated Danny Boyle sci-fi film, "Sunshine." Evans stars as Mace, one of the eight men and women fighting to save the Earth from a dying sun. "Sunshine" will be released by 20th Century Fox.

In 2005, Evans was widely seen as the blazing hero Johnny Storm in "Fantastic Four," the summer box office hit adapted from the comic of the same name.

Previously, he was seen opposite Jessica Biel in the Sony Pictures release, "London." Evans played Syd, a young man infatuated with winning back his ex-girlfriend, London (Biel). He also played the role of Bryce in the dark drama "Fierce People," opposite Diane Lane and Donald Sutherland. In 2004, Chris starred in the New Line film "Cellular," opposite Kim Basinger and William H. Macy. Past film credits include: "Orphan King," "Not Another Teen Movie" and "The Perfect Score."

At the age of 17, Evans signed with an agent in New York and shortly thereafter was flown to Los Angeles to audition for a half-hour pilot and was cast on the FOX series, "Opposite Sex." The series ran as a summer replacement. Evans portrayed one of only three boys admitted to a formerly all girls school.

He has also appeared on two critically acclaimed shows. His dramatic guest lead on David E. Kelley's "Boston Public" depicted a high school student who committed a murder and proceeded to hold a class hostage at gun point. The episode was hailed as the season's most dramatic. His guest lead on CBS's "The Fugitive" had Chris playing the rebellious son of a local sheriff who has a run in with Tim Daly's character, "Dr. Kimble."


MICHAEL CHIKLIS (Ben Grimm / The Thing) made his return to series television with a starring role on FX's first original drama series "The Shield," a critically acclaimed one-hour police drama now in its sixth season. His remarkable performance garnered Chiklis a Golden Globe Award for Best Actor in a Drama Series, an Emmy® win for Outstanding Lead Actor in a Drama Series, as well as the Television Critics Association Award for Best Drama Actor. His Emmy win marked the first time that a lead performer in a show airing on a basic cable channel has won in this category.

"The Shield" debuted to record ratings for Fox's FX and has continued to capture the attention of critics and television audiences. Chiklis stars as Detective Vic Mackey, a rogue cop and leader of the precinct strike force who operates under his own set of rules in his efforts to clean up the streets of Los Angeles.

Chiklis began entertaining his family with celebrity imitations when he was just five years old. As a child, Chiklis appeared in regional theater productions and earned his Equity card when he was just thirteen. He later attended Boston University School of Performing Arts where he received his B.F.A.

Just days after graduation, Chiklis auditioned for the role of John Belushi in the controversial film "Wired," a part he landed three years later. He guest starred on the popular series "Miami Vice," "L.A. Law," "Murphy Brown," and "Seinfeld."
In 1991 Chiklis landed the title role on "The Commish," which aired on ABC from 1991-1996. Chiklis portrayed Tony Scali, a tough but fair-minded police commissioner who was beloved by his fellow officers. The role was based on an actual New York state police commissioner and originally called for an older man, but Chiklis won the producers over and made the role his own.

After that show wrapped, Chiklis went to Broadway and starred in the one-man show "Defending the Caveman." His film credits include "The Tax Man" with Joe Pantoliano, "Do Not Disturb" opposite William Hurt and Jennifer Tilly, "Last Request" and "Body and Soul." His additional television credits include a role as Chris Woods, the stay at home father on the NBC comedy "Daddio," as well as a starring role as Curly in the ABC movie "The Three Stooges," which was executive produced by Mel Gibson.

Next up for Chiklis is an independent feature film "Rise," a horror thriller directed by Sebastian Gutierrez, also starring Lucy Liu. He also voices a role in the upcoming animated feature "The Legend of Secret Pass."


An actor who delivers a heady combination of charisma and intensity to his roles, JULIAN McMAHON (Victor Von Doom / Doctor Doom) has impressed critics and audiences alike with his work.

McMahon recently starred in "Premonition" opposite Sandra Bullock. The film revolves around a woman who has a premonition that her husband will die in a car crash and sets out to prevent it. This film marks the Hollywood debut of German director Mennan Yapo and is a Hyde Park production for TriStar and MGM.

McMahon first appeared as Dr. Doom in the 20th Century Fox and Marvel Studios summer hit "Fantastic Four." Directed by Tim Story and based on the Marvel Comics franchise, the film follows four superheroes who develop superpowers when their spaceship is exposed to radiation. The film also starred Michael Chiklis, Ioan Gruffudd, Jessica Alba and Chris Evans.

McMahon was nominated for a Golden Globe Award for Best Actor in a Television Drama for the second season of the FX original drama series "Nip/Tuck." Currently in production on the fourth season, the show was created and is executive produced by Ryan Murphy, and stars McMahon opposite Dylan Walsh and Joely Richardson as 'Dr. Christian Troy' who shares a booming plastic surgery practice with his best friend 'Dr. Sean McNamara' (Walsh). The two doctors serve as a moral and ethical yin and yang both in their professional and personal lives, navigating their way through problems and challenges that are sometimes tragic and oftentimes stretch the boundaries of the imagination. McMahon was previously nominated for a Golden Satellite Award in the Best Actor in a Drama Series category.

McMahon stars in the independent film "Prisoner" for writer/directors David Alford and Robert Lynne. McMahon stars as 'Derek Plato,' a Hollywood film director who, while scouting an abandoned prison for his next film, is taken hostage by a jailer. Derek is held captive on death row, where he is forced to delve deeply into his past and his work. Ultimately, he discovers what caused him to become a voyeuristic, arrogant man. The film also stars Elias Koteas, Dagmara Dominczyk, Kim Raver, Rocky Carroll and Tom Guiry.

Previously, McMahon made an impression on television audiences via his roles as 'Detective John Grant' on the award-winning NBC drama series "Profiler" and the tortured demon, 'Cole Turner' on the popular WB series "Charmed."

Hailing from Australia, McMahon was known to audiences for his lead role in the primetime drama, "The Power, The Passion." He then joined the cast of the hit series "Home and Away" which has also starred Guy Pearce, Heath Ledger, Martin Henderson and Naomi Watts among others. In 1992, McMahon broke into American television when he was cast as 'Ian Rain' on the daytime drama "Another World." He also co-starred in the cable movies "In Quiet Night" and "Another Day," executive produced by Francis Ford Coppola and starring Shannen Doherty and Brad Renfro. His other television credits include a guest starring role on "Will & Grace."

Additional feature film credits include "Meet Market" opposite Elizabeth Berkeley and Aisha Tyler, "Wet and Wild Summer" with Elliot Gould and "Chasing Sleep" with Jeff Daniels. He has also starred on stage, most notably in the Sydney and Melbourne productions of "Love Letters."


Winner of the Outstanding Actress in a Motion Picture Award for "Ray" at the NAACP Image Awards in 2005 and Nominated for an Independent Spirit Award for "Best Actress" in the film "Lift" in 2002, KERRY WASHINGTON (Alicia Masters) is proving to be one of the busiest actresses in Hollywood. She was seen in the Wayans Brothers' hit summer comedy "Little Man" and last summer's "Mr. And Mrs. Smith," starring Brad Pitt and Angelina Jolie, and "Fantastic Four," directed by Tim Story and based on the beloved Marvel comics' superheroes. Most recently, she appeared in "The Last King of Scotland" opposite Forest Whitaker.

Prior to these films, Washington starred in "Ray," the inspirational life story of Ray Charles. Directed by Taylor Hackford, Washington starred opposite Jamie Foxx as Charles' wife, Della. Prior to "Ray," she played the lead role opposite Anthony Mackie in Spike Lee's latest film, "She Hate Me." In addition, she recently starred in Sidney Lumet's HBO film "Strip Search" with Ellen Barkin, Glenn Close and Maggie Gyllenhaal and the independent film "Sexual Life," in which Washington co-starred with Tom Everett Scott, Dulé Hill, Anne Heche and Azura Skye.

Other film credits for Washington include Paramount Pictures' "Against the Ropes," starring Meg Ryan; Paramount Classics' "The United States of Leland," opposite Don Cheadle, Kevin Spacey and Ryan Gosling; Miramax's "The Human Stain," starring Nicole Kidman and Sir Anthony Hopkins; Jerry Bruckheimer's "Bad Company," starring Chris Rock and Sir Anthony Hopkins and directed by Joel Schumacher; and "Lift," written and directed by DeMane Davis and Khari Streeter. She's probably best known for her role in Paramount Pictures' "Save the Last Dance," where she starred opposite Julia Stiles and Sean Patrick Thomas, in which Washington received a Teen Choice Award for Best Breakout Performance. Prior to that, Washington starred in the highly acclaimed independent film, "Our Song," playing a wise but conflicted teen.

During her free time, Washington is an active supporter of the Creative Coalition, a group dedicated to raising awareness of First Amendment Rights and support of arts in education.


One of Hollywood's most respected actors, Emmy® Award-winner ANDRE BRAUGHER (General Hager) is able to cross over from television to film to theatre with ease.

Perhaps best known for his riveting Emmy Award-winning portrayal of Detective Frank Pembleton on the NBC series "Homicide: Life on the Street" (1992-98), Braugher will begin work on the Frank Darabont film "Mist" this spring.

He won a second Emmy for Outstanding Performance by a Lead Actor in a Mini-Series for his starring role in mini-series "Thief," which aired on FX in April 2006.

In 2004, Braugher starred in the TNT original four-hour mini-series "Salem's Lot" based on the best-selling novel by Stephen King. Prior to that film, he starred in the Showtime Original Film "A Soldier's Girl."

In 2002, he starred in the critically acclaimed CBS series "Hack" opposite David Morse and in the Showtime Original Film "10,000 Black Men Named George" with Charles Dutton and Mario Van Peebles for director Robert Townsend. Braugher served as Executive Producer on this film and he received an NAACP Award nomination for his role as A. Philip Randolph.

In 2000-2001, Braugher starred in the critically acclaimed ABC drama series "Gideon's Crossing," which was created by Paul Attanasio, also one of the creators of "Homicide: Life on the Street." Braugher received an Emmy® Award nomination for Outstanding Lead Actor in a Drama Series for his role as Dr. Ben Gideon.

In 1999 Braugher made his directorial debut with one vignette of the Showtime trilogy "Love Songs," in which he also starred, and he starred in the TNT telefilm "Passing Glory" (1999), for director Steve James ("Hoop Dreams") garnering critical acclaim for his performance.

In addition to Braugher's success on the small screen, audiences have seen him star in a variety of feature film roles. Most recently he co-starred in "Poseidon" (2006); in "Duets" (2000) opposite Gwyneth Paltrow for director Bruce Paltrow; in the independent feature "A Better Way to Die" (2000); and alongside Dennis Quaid in the critically praised film "Frequency" (2000). Before that he starred with Alec Baldwin in the independent film "Thick As Thieves" (1999), which premiered at the Sundance Film Festival and later aired on HBO; he was a part of an ensemble cast, which included Jeff Daniels, Gary Sinise, Joan Allen and Anna Paquin, in director Jim Stern's "All The Rage" (1999); and starred in "City of Angels" (1998) with Nicolas Cage, Meg Ryan, and Dennis Franz.

Braugher's other notable feature film credits include "Primal Fear" (1996) with Richard Gere, which marked his first collaboration with "Frequency" director Gregory Hoblit; Spike Lee's "Get on the Bus" (1996); and "Glory" (1989), the Oscar-winning story of America's first unit of black soldiers during the Civil War.

Braugher's work in television continues to be recognized by his critics, audiences and his peers. In 2006, he received an Emmy Award for Outstanding Performance by a Lead Actor in a Mini-Series and a Golden Globe Award nomination for his role as Nick Atwater in mini-series "Thief." In 2001, he received an Emmy Award nomination and a Golden Globe Award nomination for Outstanding Lead Actor in a Drama Series for his role as Dr. Ben Gideon in "Gideon's Crossing." In 1998 he received an Emmy Award for Outstanding Lead Actor in a Drama Series for portrayal of Detective Frank Pembleton on "Homicide: Life on the Street." In 1996 he received two Emmy Award nominations – one for Outstanding Lead Actor in a Drama Series for his role in "Homicide: Life on the Street" and one for Outstanding Supporting Actor in a Mini-Series for his work in the Peabody Award-winning HBO production "The Tuskeegee Airmen."

His other television credits include him reprising his Emmy Award-winning role of Detective Frank Pembleton in the two-hour NBC Special "Homicide: The Movie" (2000); the title role in "The Court-Martial of Jackie Robinson" (1990), HBO's "Somebody Has to Shoot the Picture" (1990) and NBC's "Murder in Mississippi" (1990). He began his television career as the late Telly Savalas' sidekick in television movies based on the original "Kojak" series.

A most versatile performer, Braugher has appeared on stage with the New York Shakespeare Festival in "Measure for Measure" and "Twelfth Night" and most recently, in the title role of "Henry V," which earned him an Obie® Award. At Joseph Papp's Public Theater, Braugher preformed in "The Way of the World," and Shakespeare's "Richard II" and "Coriolanus." He played Iago in the Folger Shakespeare Festival production of "Othello" and performed the title role in "Macbeth" for the Philadelphia Drama Guild.

Braugher, who was born and raised in Chicago, earned a B.A. from Stanford University and an M.F.A. from Juilliard.


LAURENCE FISHBURNE (Voice of the Silver Surfer) has been honored for his work on both stage and screen. In 1994, he earned an Academy Award nomination for his searing portrayal of Ike Turner in the hit biopic "What's Love Got to Do with It." He more recently shared in two Screen Actors Guild Award nominations for Outstanding Motion Picture Cast: one in 2004 for his role in Clint Eastwood's "Mystic River," and another this year as a member of the ensemble cast of the acclaimed historical feature "Bobby."

Fishburne, who began acting at the age of 10, was only 15 years old when he won a starring role in Francis Ford Coppola's Vietnam War epic "Apocalypse Now." He went on to work with Coppola on "Rumble Fish," "Gardens of Stone" and "The Cotton Club." In addition, Fishburne has collaborated twice with noted director John Singleton, on "Boyz 'N the Hood" and "Higher Learning," earning an NAACP Image Award for Best Actor for the latter. He also starred as the enigmatic Morpheus in the three installments of the groundbreaking "Matrix" franchise: "The Matrix," "The Matrix Reloaded" and "The Matrix Revolutions." Recently, he was the Narrator on box-office hit "TMNT."

In 2000, Fishburne made his feature film directorial debut "Once in the Life," which he also starred in, produced and wrote, based on his own one-act play "Riff Raff." Fishburne more recently starred in and produced the inspiring drama "Akeelah and the Bee." His other film credits include "Mission: Impossible III," "Assault on Precinct 13," "Hoodlum," "Event Horizon," "Othello," "Just Cause," "Bad Company," "Searching for Bobby Fischer," "Deep Cover," "Class Action," "King of New York," "Red Heat," Spike Lee's "School Daze" and Steven Spielberg's "The Color Purple."

On the small screen, Fishburne starred in and executive produced the acclaimed telefilm "Miss Evers' Boys," for which he won an Emmy for Outstanding Made for Television Movie and earned an Emmy nomination for Outstanding Lead Actor. He had previously garnered Emmy and Golden Globe Award nominations and won an NAACP Image Award for his performance in the HBO movie "The Tuskegee Airmen." He also won an Emmy Award for his role in the premiere episode of Robert De Niro's series "Tribeca." His television work also includes the HBO movie "Always Outnumbered," and the telefilms "A Rumor of War," "For Us the Living" and "Decoration Day."

In 1992, Fishburne won a Tony Award, a Drama Desk Award, an Outer Critics Circle Award and a Theatre World Award for his work in the Broadway production of August Wilson's "Two Trains Running," in which he reprised the role of Sterling Johnson, which he originated at the Yale Repertory Theatre. In 1999, he returned to the Broadway stage to star opposite Stockard Channing in "The Lion in Winter."
NOTE: SOME CREDITS MAY NOT BE FINAL
TM and © 2007 Twentieth Century Fox. All rights reserved.
2007 Film Entertainment Magazine / EMOL.org. All rights reserved.
Film Entertainment Magazine

Sue Storm (Jessica Alba) and her brother Johnny Storm (Chris Evans) are troubled by events surrounding the appearance of the Silver Surfer. Photo credit: Diyah Pera
Fantastic Four - The Complete Animated Series (1994)
Starring: Quinton Flynn, Stan Lee
Director: Tom Tataranowicz
the longest-running Marvel series in history arrives for the first time on DVD in this spectacular four-disc set, featuring all 26 episodes of the heralded 1990's animated series. Learn the origin of the Fantastic Four, and be there as Mr. Fantastic, The Invisible Woman, Human Torch, and The Thing save the world from the dastardly Doctor Doom and his legion of villains. Now you can relive every action-packed episode, complete with exclusive introductions by Stan Lee. It's a fantastic DVD collection you'll want to experience over and over again.
The entire adventures of Marvel Comic's greatest superhero team. When Reed Richards, Sue and Johnny Storm and pilot Ben Grimm take a premature space flight on a new shuttle, they find themselves massively bombarded with cosmic radiation. Barely managing to re-enter and land safely, the quartet find themselves forever transformed with superpowers. Deciding to use these new powers to help people, they form the Fantastic Four, a superhero team dedicated to the protection of Earth from menaces like the Latverian King Dr. Doom and Galactus, the planet consumer.
• Format: Box set, Closed-captioned, Color, DVD-Video, Animated, NTSC
• Language: English
• Aspect Ratio: 1.33:1
• Number of discs: 4
• Studio: Buena Vista Home Entertainment
• DVD Release Date: July 5, 2005
• Run Time: 569 minutes
DVD Features:
• Available Audio Tracks: English (Dolby Digital 2.0 Surround)
• All 26 Episodes from the 1994-95 series
• Stan Lee's Soapbox
• Episode Introductions by Stan Lee
Notes on the Fantastic Four - The Complete Animated Series
from amazon.com, by David Horiuchi:
Marvel Comics' Fantastic Four animated series (1994-95)-- depicting the first family of superheroes--got significantly better as it went along.
The series always had good intentions, borrowing plots, concepts, characters, and even lines of dialogue from the classic Stan Lee-Jack Kirby comic books that kicked off the Marvel age of comics. And it was willing to spend two or even three episodes on a single story line. The early episodes, however, had serious drawbacks, such as a clumsy animation style (the Silver Surfer never looked less noble), weak humor (the origin episode created a framing sequence in which the FF appears on the Dick Cavett Show), and an awful theme song by Giorgio Moroder (Flashdance, Top Gun).
Fortunately, the animation improved in the second season, and instrumental theme music replaced the song. Memorable moments from the series include the monumental Frightful Four-Inhumans tie-in and Galactus's search for a new herald. Memorable characters include villains Doctor Doom, the Skrulls, the Mole Man, and the Puppet Master, and heroes Daredevil, the Black Panther, Thor, and the Hulk. Guest voices include Ron Perlman, Michael Dorn, Kathy Ireland, Mark Hamill, and John Rhys-Davies. It's worth a look for FF fans, especially in the complete four-disc set that contains all 29 episodes, a welcome change from Disney's single-disc compilations of the Spider-Man series from the same time period. (Ages 8 and older: cartoon action, threatening situations, some mature concepts) -Find out more about the Fantastic Four - The Complete Animated Series