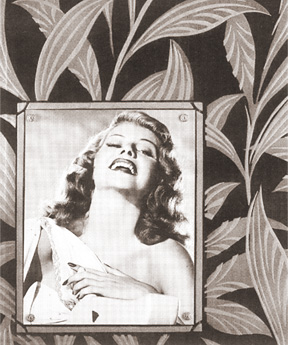 Rita Hayworth, the gorgeous, notorious movie star whose image was painted on the side of the first atomic bomb exploding at the Bikini Atoll, stated "Basically, I am a good, gentle person, but, I am attracted to mean personalities."
Margarita Carmen Cansino was born October 17, 1918, in Brooklyn. Her father was a dancer who came to America from Spain in 1913, teaming with his sister in a dance act. He met a Ziegfeld Follies girl, Volga Haworth, and they wed. The couple had two other children, Eduardo Jr., and Vernon.
Her father stated, "When I looked at Margarita a few minutes after she was born I was terribly disappointed. I had wanted a boy. What could I do with a girl?" So, Eduardo gave his daughter castanets instead of a rattle.
The demanding man pushed Margarita into dancing, though it was not what she enjoyed. Rita once said, "From the time I was three and a half...as soon as I could stand on my own feet, I was given dance lessons."
The Cansinos danced on stage together in New York bars and nightclubs. Billed as Rita Cansino, she performed with her parents in resorts and nightclubs in California and Mexico. When Rita was fourteen, her father realized she was a budding goddess, and safeguarded his maturing daughter from the admiring crowds by locking her in her dressing room between torrid shows at the Foreign Club in Tijuana.
On the exhibition dance circuit, Rita was discovered by Fox production boss Winfield Sheehan, and soon she was making her feature film debut as a Spanish dancer in Under The Pampas Moon, (1935). That same year she made Charlie Chan in Egypt, and Dante's Inferno. In 1937, she married promoter Edward Charles Judson, a man 22 years her senior, who took control of her career.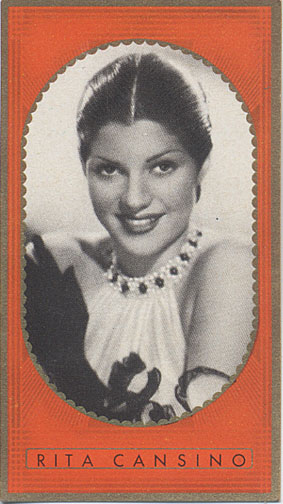 (Photo left: This photo of Rita Hayworth was given away in a cigarette pack in Germany around 1934)
Bringing his wife over to Columbia Pictures, where she added a "y" to her mother's maiden name, the future star was christened Rita Hayworth. She was then commanded by the studio to lose weight, have her hairline raised by electrolysis, and her dark locks dyed auburn. Hayworth appeared in Only Angels Have Wings (1939), with Cary Grant, and her popularity soared.
While on loan to other studios, the stunning Rita became "the most exciting girl on screen," in movies like Susan and God (1940) with Joan Crawford and The Strawberry Blonde (1941) with James Cagney. Hayworth was a sensation when she first appeared in Technicolor in the elaborate Blood and Sand (1941) with Tyrone Power. In 1942, Hayworth made wonderful use of her beauty and extensive use of her dancing talents in You Were Never Lovelier with Fred Astaire.
Hayworth grew tired of the demanding and temperamental Judson, and in 1943 he agreed to a divorce if she would pay him $30,000. She later stated, "He helped me with my career, and helped himself to my money." That same year, director Orson Welles was filming in Brazil. He had never met Hayworth, yet told the press, "I am coming back to America to marry Rita Hayworth." And, he did, on September 7, 1943, the very day her divorce from Judson was final. With Orson, she bore a daughter, Rebecca.
---
---
In 1944 Hayworth made the successful musical film Cover Girl, showing off her famous dancing talents with Gene Kelly. In 1946 she starred in her most famous film, the drama Gilda with Glenn Ford, where her suggestive dance movements in a tight black satin dress and long black gloves are forever associated with the screen goddess. However, in real life the shy Hayworth was not at all like the bold Gilda character
After numerous unsuccessful love affairs and marriages, the beautiful Rita told the press, "Every man I knew fell in love with Gilda, and woke up with me." That year, Rita was furious when the first atomic test bomb dropped at Bikini Beach, which had vaporized three islands, was named Gilda, and had her likeness plastered to its side.
In 1948, to appease her husband, she cut off her hair and dyed it blonde for a movie he would direct, The Lady From Shanghai, a project that confused both critics and the public who were all dismayed by Rita's new look. By the time of the unpopular film's release, the couple were divorced.
In 1949, the world watched, enthralled, as Rita became a princess when she married the wealthy Muslim leader, Prince Aly Khan in a town hall in Vallauris, France. They had both been married when they embarked on their affair. The Vatican declared the Catholic Hayworth's marriage "illicit," and she was condemned by the Pope.
Seven months to the day later her daughter Jasmin was born. The doomed union was over by the early 1950's, and Rita returned to Hollywood a few pounds heavier to appear in Affair In Trinidad (1952) with her Gilda co-star and good friend, Glenn Ford. Next she danced in the biblical epic Salome (1953). Rita told interviewer John Hallowell of the New York Times, "I can certainly tell you some of my non-favorite (films) honey. Certainly Salome and her stupid seven veils." In 1954, Rita appeared, sweating in 3-D and Technicolor in Miss Sadie Thompson. In 1957 she appeared looking older than her years, though still beautiful, in Pal Joey with Frank Sinatra and Kim Novak.
In 1953, Hayworth had entered a two-year marriage to unstable Argentinian singer Dick Haymes who was burdened with a mess of financial trouble, while owing alimony payments to three former wives. He also faced deportation for avoiding the WWII draft by giving up his American citizenship. After their divorce, a three year marriage to producer James Hill resulted in a good acting role for Rita in "Separate Tables"(1958).
---
---
In 1976, Hayworth received terrible publicity when it was believed she was drunk as she exited an airplane. In 1977, aging Rita became so confused and bewildered at an art gallery opening in Newport Beach for an old boyfriend, Bill Gilpin, that she had to be hospitalized. Doctors decreed that her impairment was due to chronic alcoholism. She was sent to a sanitarium to dry out, and Jasmin was appointed her guardian.
By 1980, the medical community finally realized that Hayworth's problem was not alcoholism, but a little-understood brain disease called Alzheimer's. Rita moved to a small apartment next to Jasmin's, overlooking Central Park in New York City. There, she stared in a mirror not recognizing herself, sometimes spoke in a strange language, and later, took to her bed from where she was afraid to move to her living room chair.
Jasmin became a spokesperson for the Alzheimers's Disease and Related Disorders Association, and helped educate the world of this mean, devastating disease. She married, and had a son, Andrew, but Rita never understood that the young boy sitting on her lap was her grandson.
The gorgeous Rita Hayworth died peacefully May 14, 1987. She was buried at Los Angeles Holy Cross Cemetery where her marker reads "Beloved Mother...to yesterday's companionship and tomorrow's reunion."
Sources
The Hollywood Reporter Star Profiles Edited by Marc Wannamaker
The Hollywood Book of Death by James Robert Parish
The Movie Stars Story edited by Robyn Karney
---
The Loves of Carmen (1948)
Starring: Rita Hayworth, Glenn Ford Director: Charles Vidor. Studio: Sony Pictures. DVD Release Date: December 21, 1999. Run Time: 96 minutes
You Were Never Lovelier (1942)
Starring: Fred Astaire, Rita Hayworth Director: William A. Seiter. Studio: Sony Pictures. DVD Release Date: May 25, 2004. Run Time: 97 minutes
Gilda (1946)
Starring: Rita Hayworth, Glenn Ford Director: Charles Vido. rStudio: Sony Pictures. DVD Release Date: November 7, 2000. Run Time: 110 minutes
---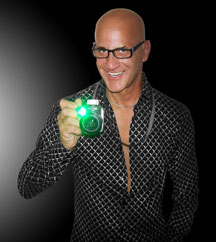 Steve Starr was the author of Picture Perfect"-Art Deco Photo Frames 1926-1946, published by Rizzoli International Publications. A photographer, designer and an artist, he is the owner of Steve Starr Studios, specializing in original Art Deco photo frames, furnishings, and jewelry, and celebrating its 40th anniversary in 2007. His persdonal collection of over 950 frames is filled with images of Hollywood's most elegant stars.
Steve Starr's column, STARRLIGHT, about movie stars of the 1920's, 1930's, and 1940's, appears in various publications including Entertainment Magazine Online-wwwEMOL.org/reporters/Starr, The Chicago Art Deco Society Magazine, and the Windy CityTimes.
Starr was a Nightlife Photographer for CLUBLINE Magazine, a photo contributor to several other periodicals, and the House Photographer for the gorgeous Rumba Restaurant and Nightclub, 351 West Hubbard Street, Chicago. Photo of Steve Starr in Chicago, September 2, 2006, by Patrick Hipskind