The Weekend Feel of a Festival—
Heartland Style
My parents had arrived from the East Coast expressly to attend, for the first time, the Heartland Film Festival in Indianapolis. My eight-year-old son, Jared, and I were excited that they were doing this with us. We all looked forward to interesting films and fun events.

Jared was anticipating the festival, too. It's especially fun for him because he does acting and he and I write festival articles together. As a veteran now of several film festivals, he took in stride the disruption of our regular schedules. That included leaving school early on two occasions, one for Thursday's Opening Night. It included a busy weekend packed with festival events: a press-filmmaker reception, the Awards Gala, Sunday Brunch with the filmmakers, and the Family Movie Event.

The evening of Opening Night meant the world premiere of August Rush in the oversize IMAX theater in downtown Indianapolis. It's a romance, a family film, and a tribute to the power of music all rolled into one.
The driving premise of the film is that musical genius, as inheritance and spiritual connection, can transcend all obstacles and re-connect people who are meant to be together. It's a bit of magic for the dreamer and romantic in all of us. If you're musically inclined, you will find it interesting that this film took a backward route from traditional film scoring. Music supervisor Anastasia Brown was on hand and said that all the music was done first – before any scenes were shot.

Opening Night also meant free popcorn and soda, a new, improved festival guide, the red carpet for Brown and producer Richard Barton Lewis, and filmgoers dressed for a night at the theater – like the heyday of Hollywood. We got welcoming words from Heartland director Jeff Sparks and opening remarks from Brown. There was a reception afterward. The long weekend was off to a fun start.

Heartland always hosts an informal reception for press and filmmakers to meet on the Friday afternoon following Opening Night. There was a light buffet for lunch – and, to Jared's delight, a pool table in the corner. He switched back and forth between meeting filmmakers and playing at the pool table.

One filmmaker we met at our table and whose film we saw the following week was Irene Taylor Brodsky. Her feature documentary, Hear and Now, ended up winning three Heartland awards: a Crystal Heart Award, the Best Documentary Feature, and the Audience Choice Award for Documentary Feature. Her film is a personal look at the very emotional process her lifelong-deaf parents went through when they opted to try cochlear implants.

Other filmmakers we talked to at the reception were Michael Swanson (All About Us), Harry Kellerman (The Little Gorilla), Shyam Balsé (Monsoon), Stephane Gauger (Owl and the Sparrow), Michael Schroeder (Man in the Chair), Socheata Poeuv (New Year Baby), and Rick Eldridge (The Ultimate Gift).

The Awards Gala is a big event held in Indianapolis's Conseco Fieldhouse, home of the Indiana Pacers. It's rather convenient with a parking garage attached via a walkway and an entire level was reserved for free Heartland parking. Tonight, the floor was unrecognizable as a basketball court. Instead, it was chockfull of tables with twinkling candlelight and formally attired festival guests. That's not where we sat, though. For a lot less money (or free press tickets), one gets to attend without an evening gown or tux by sitting in the bleachers, with three huge screens and two podiums across the space on the opposite side.

It turned out that the Gala was also the night after Jared got poked in the eye (accidentally) at a play rehearsal. Although a red, watery eye could have been a passport to an evening in the hotel with my dad, Jared did not want to miss witnessing the gala for the first time. Free caramel popcorn enticed for a while, but unsurprisingly, an awards program coupled with a watery eye meant a beckoning hotel room to a little boy.

This is not to say that the import of the evening was lost on him. Since Jared is an actor, he wondered aloud if he could end up there someday. I said absolutely.

One of the special treats that film festivals offer is the chance to hear from the filmmakers themselves. A number of the filmmakers attended Heartland and went to at least the premiere screenings of their films, answering audience questions afterward.

The Sunday Brunch is another venue for this type of interaction. After eating, people were asked to write out questions. Sparks then read a number of these to the gathering and the various filmmakers stood at their tables and answered them.

Finally, we attended the Family Movie Event on Sunday afternoon. It is sometimes called the Kids Movie Party, depending on the age of the film's target audience. For instance, last year's film was Air Buddies – and the event was called the Kids Movie Party.

Not only do the filmmakers take the stage and answer questions from the audience immediately following the screening at the Indian History Center auditorium, but there really is a party afterward. There is an atrium outside the auditorium doors, where you can look down on the level below. There are tables and chairs and doors to a large patio area along the canal.

A light buffet of sandwiches, fruit, cookies, and drinks is provided while prizes (and later, the decorations) are given away and other entertainment like magic shows and singing performances are offered. Jared is always up for this event. He loves the giveaways, and this time came away with a shirt, a banner, and two sets of balloons. He was happy.

When the Family Movie Event wound down at the end of the afternoon, we still had to drive an hour to get home. It was time to call it a weekend – a fun weekend, Heartland style.
2007 Film Entertainment Magazine / EMOL.org. All rights reserved.
Film Entertainment Magazine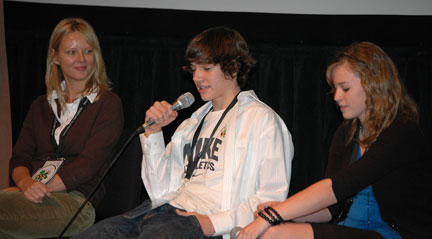 (left to right) Director Caroline Zelder, actor Chris J. Kelly, and actress Morgan Flynn at the Q&A session following the screening of A Plumm Summer, Heartland's Family Movie Event.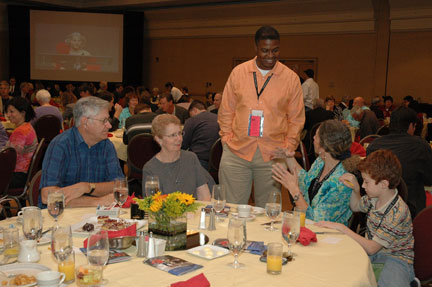 Filmmaker Michael Swanson (standing), producer of All About Us, talks with (left to right) Myron Ritrosky, Martha Ritrosky, yours truly, and Jared Winslow at the Filmmakers Brunch.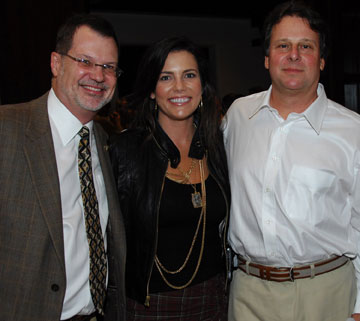 Opening Event – (left to right) Heartland director Jeff Sparks poses with music supervisor Anastasia Brown and producer Richard Barton Lewis at Opening Night's world premiere of August Rush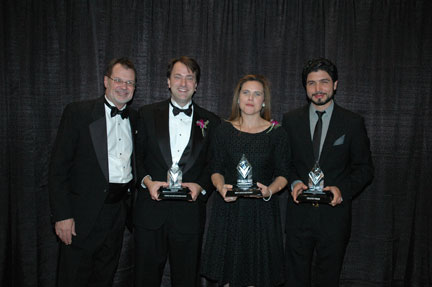 The winners at the Awards Gala: (left to right) Heartland director Jeff Sparks, Kurt Kuenne (Best Short – Validation), Irene Taylor Brodsky (Best Documentary Feature – Hear and Now), and Alejandro Monteverde (Best Dramatic Feature – Bella)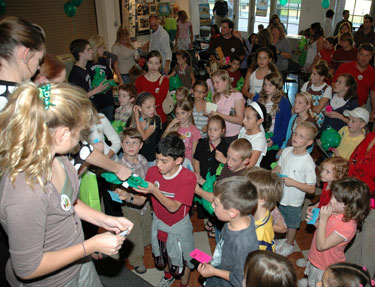 Kids eagerly await the prizes at the Family Movie Event.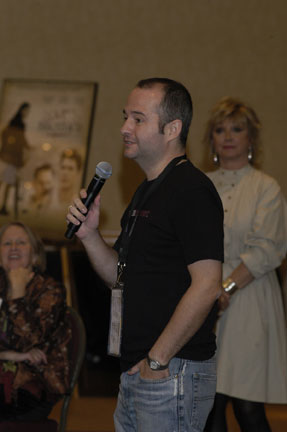 Filmmaker Gustavo Ron (Mia Sarah) answers a question at the Filmmakers Brunch.