Heartland Festival Films: Of Kids and Courage
By Madelyn Ritrosky & Jared Winslow
The Little Gorilla
"Let's watch it again." Music to a filmmaker's ears…

Usually, filmmakers never hear audience reactions to their films. But film festivals are different. If a filmmaker attends, he or she has the opportunity to hear reactions firsthand. So when we watched The Little Gorilla at the Heartland Film Festival and met the film's writer-director-producer, Harry Kellerman, we made sure to tell him our thoughts.

The instant the end credits came up, Jared was eager to watch it again. Kellerman's shot composition, editing, and score of this almost-wordless, 12-minute film were a delight. It's a family film: kids will like it because the main character is a little boy tackling a little-boy challenge, yet the theme, as well as the film's style, can be appreciated by adults.

When we saw Harry again, he was pleased that Jared wanted to "watch it again."

The Little Gorilla is a little boy who must face his fear. Scaling the heights of the jungle gym in a New York City park is what looms as his challenge. His anxiety, the subtle encouragement from his older brother, and finally his courage are conveyed not only through the visuals, but through the punctuating music – also created by Kellerman.

To up the stakes, it turns out that this little boy never gets the chance to prove himself on that jungle gym. Instead, he conquers his fears at an unexpected height.
Moondance Alexander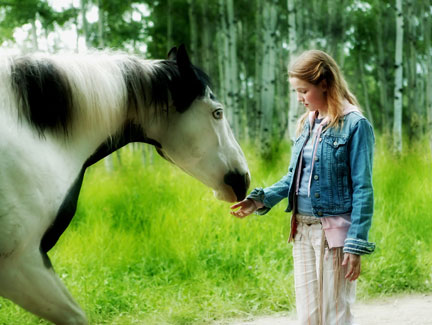 Who or what is Moondance Alexander? That was our question when we first saw the title. It turns out that Moondance, played by Kay Panabaker, is a teenage girl who doesn't follow the pack, more down to earth than the snotty classmates who constantly ridicule her.

As you watch the film, the question becomes 'Can Moondance and Checkers beat the odds and find happiness?' Checkers is a horse. He gets his name from the black and white patches of his coat. We found it interesting to learn that three different horses played Checkers. For instance, we guessed that the horse who does the show jumping competition at the end of the film is different from the one who does a fine acting job as a horse afflicted with colic.

As is often the case, the story contains a young man, Josh Wilson (Aedan Tomney), who catches Moondance's attention. He's part of the crowd of snotty girls and boys, but is polite to Moondance when he runs into her. What was interesting was that the film keeps you guessing a little bit about the depth of his politeness – to the point where Jared was actually surprised by the end of the film.

While Checkers becomes very important to Moondance when she finds him – he got loose from his owner, Dante (Don Johnson) – the film is just as much about her evolving relationship with her mother (played by Lori Loughlin) and her newfound relationship with Dante, who must do his own growing.

Moondance Alexander was co-written and co-produced by married couple Michael Damian (The Young and the Restless) and Janeen Damian. Michael Damian directed.
Christmas is Here Again!
This animated film is about a rag-tag group of characters on a quest to restore Christmas. It's rather different, though, from something like How the Grinch Stole Christmas.

Featuring the voices of veteran actors Andy Griffith, Ed Asner, Kathy Bates, and Shirley Jones, the film was written and directed by Robert Zappia. He was inspired by a story his father told him as a child.

This Christmas feature is about a little orphan girl named Sophianna who helps Santa Claus find something special that was stolen from him years earlier – so special that Christmas disappears for a long time. In fact, the item links up the story with Christmas as the celebration of the birth of Jesus.

Sophianna ends up getting help from an elf, a little reindeer, and a fox and his polar bear buddy. Jared especially liked the fox and polar bear together as a comic pair. The bear is kind of stupid, which makes for some funny lines. For instance, when Sophianna calls the fox a mole for betraying them, the bear thinks she means the animal and becomes suspicious that his buddy is a mole dressed up as a fox.

We're not giving anything away to say that their quest is successful. But Sophianna's personal quest is also successful – only in a way you wouldn't have expected when the movie started.