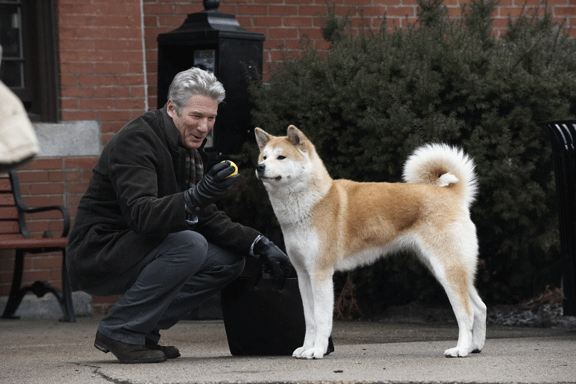 For inspiring and inspired filmmaking, Hachi: A Dog's Tale was the Opening Night film at the 2009 Heartland Film Festival. Dog movies don't get much better than this. Indeed, the true story on which the film is based is stunning. And the film is wonderful.

Hachi is based on the life of a renowned dog in Japan named Hachiko. In 1924-25, the Akita sent off and welcomed back his master, a professor, everyday at the train station. But in 1925, the professor had a stroke and died, never to return home.

For the next ten years, Hachi waited for the train that would never bring back his human father. When a former student of the professor discovered Hachi's tireless love and devotion, he wrote about the dog and the Akita gained national attention. Today, a statue of Hachi stands on the spot of the real Hachi's vigil.

If this sounds like a story that pulls at your heartstrings, it certainly is. The new film, adapted into an American setting and characters, recreates the tale faithfully. Richard Gere plays the music professor, Parker Wilson, who takes in the lost little puppy at the train station. His love for the dog and the dog's love for him shine through.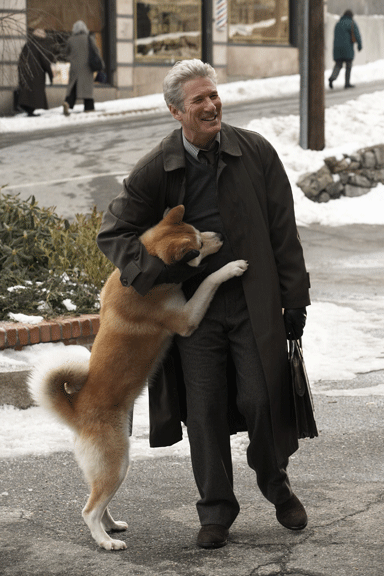 Suffice it to say that when Hachi, as an old dog, falls asleep in the snow, waiting, never to awaken again in this life, we feel comforted in the knowledge that he and his beloved master are finally reunited. There is Parker once again coming through those train station doors – this time not coming home but coming to bring Hachi home to be with him forever.

I feel the tears even now, writing this! I am reminded of something I once read: when an author who had studied and written about her dogs' behavior was asked if she believed that dogs went to heaven, she replied that it simply would not be heaven if the dogs were not there. That is so true. And we all know that dog is God spelled backwards...

Richard Gere is wonderful as Parker, the man who could not part with his beloved dog and whose dog could not part with him. Joan Allen is convincingly difficult when her husband takes in the stray, but she is soon accepting of the strong bond between man and dog.

And the three dogs who played Hachi were fabulous. One dog was used for the more athletic requirements, one for the tender moments, and another for the other stuff. Amazingly, we learned from producer Vicki Shigekuni Wong, who attended Opening Night, that make-up and training enabled one of those dogs to play Hachi as an old dog.

Look for Hachi: A Dog's Tale to be released December 18, 2009.
© 2009 Film Entertainment Magazine / EMOL.org. All rights reserved.
Buy Fandango Movie Tickets Online
Buy advance tickets to the Toy Story 1 and 2 Double Feature in 3D and get points for posters, DVDs and more!
Buy 1 movie ticket on Fandango and receive a second ticket to the same show free when you use your Visa Signature card.
Disney Store
Links to online only deals on costumes and entertainment. Outlet store discounts. Save up to 60% on collectibles. See this weeks deals at the Disney Store
Warner Bros. Store
Shop at the Warner Bros. Shop : WBShop.com
Toys, games, clothing, posters and more from your favorite Warner Bros. characters like Tweety & Superman and from your favorite WB movies like Harry Potter
Hollywood Mega Store
Officially licensed products include celebrities, movies, sports, NASCAR, TV, Marvel, DC Comics and much more. Largest selection of Movie Night & Hollywood Theme Party Supplies, Decor, Favors, and unique items. Very popular Hollywood Trophies. Hollywood and Nostalgic Gift Sets and Gift Baskets. Favored Home Theater Decorations including Reels, Commemoratives, Cinema Lamps and more. Collector items including NECA Action Figures and Head Knockers, Shotglasses, Celebriducks, Tin Signs and Zippo Lighters. Most sought after Posters, Prints and Framed Celebrity Prints. Most popular celebrity, movie and music T-shirts. Hollywood theme T-shirts, Tote Bags and Caps. Very hot JH Design Jackets and Hoodies for men, women, and kids, in all sizes. Celebrity and Novelty License Plates. Rare Vintage License Plates. California Traffic & Street Signs.
MGM Movie Store
Shop for all of your MGM favorites at MGMStore.com - Rocky, Pink Panther, Stargate, and more!
Celebrity and movie clothing, Toys & Games, Jewelry and more from MGM movie titles. Collectibles and Gifts.