By Madelyn Ritrosky and Jared Winslow
This year's Heartland Film Festival Family Movie Event was the British comedy Nativity! (Exclamation point included.) It was held at the Indianapolis Museum of Art, which turned out to be a great place for the Sunday afternoon event. On hand were the film's director, Debbie Isitt, and producer Nick Jones. Two of the children in the film, Sydney Isitt-Ager and Alexandra Allen, were also there.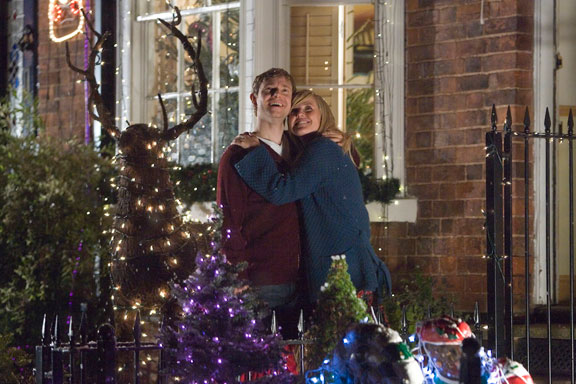 As you might guess from the film's title, a Christmas theme was apropos for the family event. Sure enough, elves helped people get seated and Christmas carolers, Charles Dickens style, got the audience singing before the film rolled.

Nativity! features plenty of laughs and good performances, especially by lead actor Martin Freeman (Hitchhiker's Guide to the Galaxy). With silliness, poignancy, and desperation, teacher Paul Maddens (Freeman) tries everything he can think of to make something happen – something that wasn't going to happen and actually has little chance of happening.


(Photo left: Martin Freeman as Paul and Ashley Jensen as Jennifer)
Jared will tell you more...

Nativity! is a fun movie set during the Christmas season, for the Christmas season, about a big British lie. The main character is a teacher at a Catholic school in England. Because of his desire to put on a great Christmas play that is better than his rival's at another private school, he boasts to his rival about it, which turns into a gigantic lie when his goofy assistant believes what he hears and tells everyone that Hollywood producers will be watching the play. It is a family movie with lots of laughs as they finally put on the Christmas play.

After the movie, the director and producer answered audience questions. We learned that the director got her idea for the movie from watching her daughter and teachers putting on school plays. And they shot 150 hours of footage to edit into a movie.

Then it was time for the movie event, with a nice meal put on by Panera Bread that included sandwiches, chips, and desserts. There were different Christmas craft activities and a mini talent show for kids who wanted to get up in front of people on a small stage. The kids loved it.
Debbie Isitt and Nick Jones told us more about making Nativity!
Director Debbie Isitt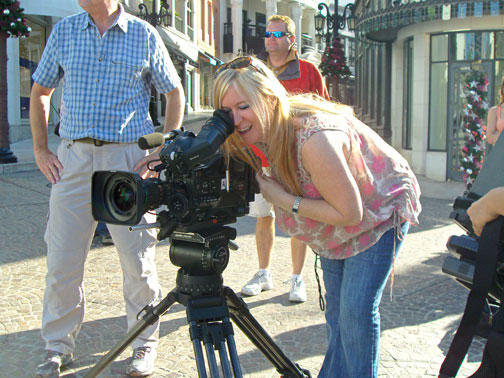 How did you decide to wing it with a story and no script? Had you done that before?

(Photo left: Debbie Isitt behind the camera)
Working without a script is something I had done before on my comedy Confetti (2006).
That was a 'mock documentary' about three couples planning their weddings, and it made absolute sense to follow the same process as a formal documentary and have the actors use their own words to tell the story and express their emotions. I loved the process so much that I really wanted to see if I could expand the improvisation into a narrative that did not use the documentary form.
Also, because I knew that I would be working with children on Nativity! it felt like it would be the right process for them too. Children are far more spontaneous and 'truthful' than adults, and I wanted the children to be free to be themselves rather than having to deliver lines or inhabit a character.
I believe the process of working without a formal script is what enables the children to retain their natural charm and vulnerability. It is of course a very challenging method to tell a story without a script and the downside is a very long edit process.
The story is honed in post-production instead of pre-production, but I love the energy, surprise factor and comedy that improvisation affords me.

(Photo right: Martin Freeman and Debbie Isitt discuss a scene)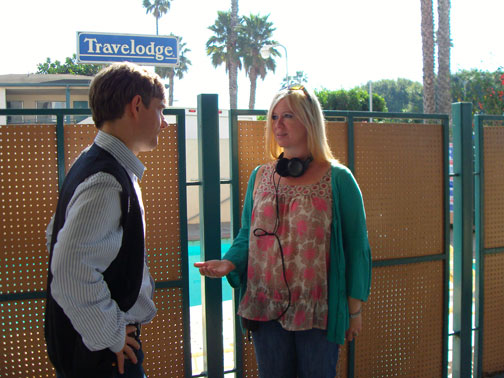 How did you cast Martin Freeman?

I had worked with Martin Freeman on Confetti. I first saw Martin in the British TV show "The Office" and thought he was a very talented actor. I met with him and talked about his feelings on working without a script. He had never done that before but was very intrigued as to how that process might inform his performance as an actor. He agreed to participate in some improv workshops and we had a great time together. He felt scared but liberated by the process. I think Martin is so intelligent and sensitive that he can react to almost any situation I throw at him. He's a genuinely lovely guy and someone I have learned to rely on in my filmmaking. Although Martin is now going on to big things (starring in Peter Jackson's new epic The Hobbit films), I really hope to work with him again soon.

Since there are few women directors, does that impact your broader goals as a filmmaker?

It's a tricky question because being a female director is all I know how to be. I honestly don't think about it very much. I am aware that we are few in numbers and that's a real shame because I believe that women are natural directors – we are the ones who multi-task well and that's a lot of what directing movies is about. You also have to be good with people and passionate about your vision. I suppose my broad goal in filmmaking is to make films that move and inspire people. I love to make comedy because that is how I see life. Even in the darkest of moments, I believe laughter can heal and is essential for keeping things in perspective. If my films allow people to better understand themselves, each other, or the world around them and they feel in any way happier after seeing my film, then I've done my job. I only hope that my being a woman never stops me from pursuing my dream to keep making films that I care about.

What are your upcoming projects?

I am working on a sequel to Nativity! which we hope to shoot next year. I am also working on a summer adventure movie that I'm really excited about because it involves lots of stunts and physically challenging action – it will be another family film and a lot of fun. I am working on a story about a Welsh male voice choir, which is a kind of musical. It's based on a true story about a choir giving up hope of ever winning the Eisteddfod (singing competition) when they are taken over by a young girl who turns their lives upside down and re-invents them as the oldest boy band in the world.
Producer Nick Jones
What was it about Debbie Isitt and her story that interested you?

I was one of the producers on Debbie's previous film, Confetti, and we had such a good working relationship – and such fun – on that movie that Debbie and I teamed up again for Nativity! Debbie's process of devising the film through actors' workshops and improvised dialogue is a tremendously exciting way to work. She has total control over the story she wants to tell, but the process allows for flexibility and results in real emotional truth in the actors' performances, which I think audiences really respond to. Audiences are always surprised when they hear there was no dialogue script.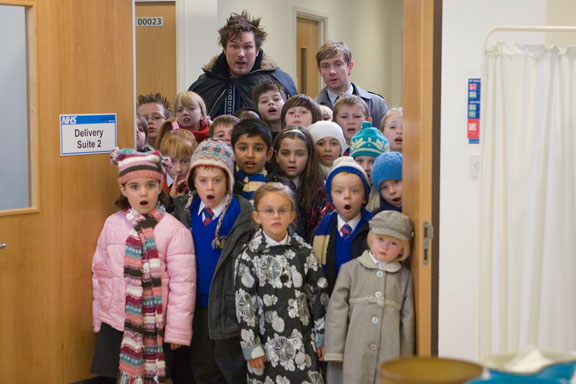 How was Nativity financed?

It was backed by several financiers, including the BBC's feature film division, BBC Films, regional funding agency Screen West Midlands, the UK Film Tax Credit and private equity. The film was widely released in the UK in November 2009 by E1 and was a big British box office hit. By the end of the year – within 6 weeks of release – it was the highest grossing UK independent film in 2009. It also won a Best Film Award at the 2010 Richard Attenborough Film Awards and was nominated for Best Breakthrough Film at the 2010 National Movie Awards.

What was the most difficult part of the project for you as the producer?

The most difficult part was closing the finance and securing the 'green light'. This is always a challenge and even with every financier on board and committed, there are always last minute discussions and negotiations. With a number of different parties involved, the producer's job is to make sure they are all satisfied with the financing agreements and complete the documentation in time to start cash-flowing the production. The other big challenge – and I think this is true of any film – is keeping a tight rein over the budget and schedule and judging where resources are best allocated. Debbie's working process and understanding of budget and schedule makes her an excellent collaborator for a producer because we can be flexible about how we maximize the production value on the screen. Debbie is extremely good on her feet!
What are your upcoming projects?

Debbie and I have a production company, Mirrorball Films, through which we're developing a range of new projects, including a sequel to Nativity!, a comedy dance movie, and an exciting family film set in an adventure camp. By the way, Nativity! opened the Seoul International Family Film Festival, after Heartland. Every screening was sold out. The Koreans loved it, and it will be released in theatres there this Christmas.

Thank you, Debbie and Nick! Look for Nativity! to be released on DVD in the U.S. on November 9, 2010, for the holiday season.