Superior Movie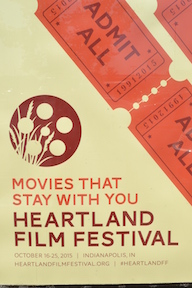 Superior is an adventure story about coming of age. It's set in the late 1960s. The two main characters decide that before going to college or into military service they want one more adventure. They want one more week of joy before they have to grow up.

They decide to take the journey by bike rather than car and traverse around one of the Great Lakes – Lake Superior.

As the director says, "Nobody can take a nap in the backseat of a bicycle." One message of the film is that we should all aspire to live without regrets: "When I die, I wanna be smiling in my casket."

At the 2015 Heartland Film Festival, I had the chance to meet the writer/director/producer of Superior, Edd Benda, as well as the two lead actors, Paul Stanko (Derek) and Thatcher Robinson (Charlie).

I asked Paul Stanko the following question:

The highlight of your film is the journey the two protagonists make, where bicycles play a very large part. How would a car journey have changed the story?

I think putting our two main characters in a car would make for a very different movie. There's a certain comfort to riding safely on four wheels, and our journey around Lake Superior is not meant to be comfortable.

The film takes two vulnerable and anxious young men who are already coping with the pressures of their unique futures, and their journey around the Lake is meant to mirror their relationship with one another, wrought with joy, laughter, anger, sadness, and triumph.

Nobody can take a nap in the backseat of a bicycle. If these two young men want to complete their odyssey around the largest freshwater lake in the world, they have no choice but to suffer through each agonizing pedal together.


I was also able to ask Edd Benda a question:

Is the story solely about the characters bonding or does nature contribute also?

At its core, Superior is a film about choices. Everyday in our lives, be it in 2015 or 1969, we have to live with the consequences and rewards of our decisions.

While the bond between our two main characters Derek and Charlie is central to the story in the film, they are constantly being confronted with obstacles and decisions that put a strain on that relationship. Nature is a crucial adversary on their ride, and their relationship to nature is a key factor in their growth as human beings.

Would you recommend a bike trip like the one in Superior?

I wholeheartedly encourage anyone to pursue adventure, especially in the great outdoors. It doesn't necessarily have to be by bike, but that certainly makes the miles go by quicker.

One of my favorite things about the trip that Charlie and Derek take in the film is that they took it together. Adventures can certainly be great all by yourself, but sharing them with someone is a truly special experience. Plus, then you have somebody to vouch for all the crazy stunts you pull along the way (like getting held at gunpoint by a hermit, or sleeping in coffins at a funeral home).

Which character do you relate to more?

I relate to Derek immensely, particularly to his silliness and enthusiasm for life. Like him, those qualities occasionally cause me to leap before I look, but what doesn't kill you makes you stronger, right? One of my favorite things I get to "say" as Derek, and a quote that I think sums him up is: "When I die, I wanna be smiling in my casket." It's a little macabre, but it reflects his deep desire to live life to the fullest, with no regrets. I think that's something we can all aspire to.


Thank you for the interview! It was an enjoyable film. Good luck at all the film festivals.