In a world where nothing is as it appears, an illusionist and a police inspector face off in a challenge of wills that attempts to determine where reality ends and magic begins…all the while blurring the line between power and corruption, love and devotion, vigilance and mania and ultimately, life and death.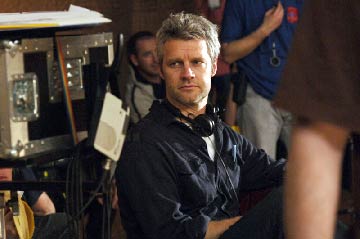 A supernatural mystery that combines romance, politics and magic, The Illusionist is the latest film from the producers of the Oscar® winners Crash and Sideways.
The film stars Academy Award® nominees Edward Norton (Fight Club, American History X) and Paul Giamatti (Cinderella Man, Sideways) as two men pitted against each other in a battle of wits.
Norton plays a mysterious stage magician, Eisenheim, who bends nature's laws to his will in front of awestruck crowds. Giamatti co-stars as Vienna's shrewd Chief Inspector Uhl, a man committed to uphold the law and for whom magic holds no place in his ordered world. Jessica Biel (Elizabethtown) shares the screen as the beautiful and enigmatic Sophie von Teschen, who finds her future inexorably altered when she encounters the man called Eisenheim, and Eisenheim comes dangerously close to unlocking the dark secret of the monarchy that she holds.
When Eisenheim begins to perform his astounding illusions in Vienna, word quickly spreads of his otherworldly powers…even reaching the ears of one of Europe's most powerful and pragmatic men, Crown Prince Leopold (Rufus Sewell, Dark City). Certain that the illusionist is nothing more than an accomplished fraud, Leopold attends one of Eisenheim's shows, convinced that he can debunk him during the performance.
But when the Prince's beautiful fiancé and companion, Sophie von Teschen, assists the magician onstage, Eisenheim and Sophie recognize each other from their childhoods—and a dormant love affair is rekindled. With Eisenheim and Leopold vying for Sophie's affection, it quickly becomes apparent that both will go to any length to claim and keep her love.
As the clandestine romance continues, Uhl is charged by Leopold to intensify his efforts to expose Eisenheim, even while the magician gains a devoted and vocal public following. With Uhl doggedly searching for the reasons and the man behind the trickery, Eisenheim prepares to execute his greatest illusion yet.
The Yari Film Group presents a Koppelman Levien/ Michael London Production, In Association with Contagious Entertainment of A Film by Neil Burger: The Illusionist. The film is written and directed by Neil Burger—who received acclaim and award recognition for his debut feature, 2002's Interview with the Assassin—and is based on Pulitzer Prize-winning author Steven Millhauser's short story "Eisenheim the Illusionist." It stars Edward Norton, Paul Giamatti, Jessica Biel and Rufus Sewell.
The Illusionist is produced by Michael London (Sideways), Brian Koppelman (Interview with the Assassin), David Levien (Interview with the Assassin), Cathy Schulman and Bob Yari (Crash), and features top-notch production values from a team of superlative artisans, including: director of photography Dick Pope BSC (Topsy-Turvy); editor Naomi Geraghty (Hotel Rwanda); production designer Ondrej Nekvasil (Emmy winner for TV's Anne Frank: The Whole Story); costume designer Ngila Dickson (Oscar®-winner for The Lord of the Rings: The Return of the King); and composer Philip Glass (Academy Award®-nominated for The Hours). Casting is by Deborah Aquila ASC, Tricia Wood ASC and Nina Gold. The executive producer is Jane Garnett, Tom Nunan, Ted Liebowitz, Joey Horvitz with Tom Karnowski, Matthew Stillman and David Minkowski serving as co-producers.
Transforming Word Into Film
According to an ages-old chemical philosophy known as alchemy, one can transform one element into another, such as a base metal into gold. Yet alchemic processes can and do happen in our day…. When Neil Burger first read Pulitzer Prize-winner Steven Millhauser's short story "Eisenheim the Illusionist" (published in the collection The Barnum Museum), he was duly impressed with the story, but wasn't quite certain how to go about instigating his alchemic transformation from story into film. He remembers, "It's a beautiful gem of a story, lyrical and transcendent. The images and tone of it are quite cinematic, but the story itself is more of a fragment and somehow, not a film. I loved the story, but it wasn't immediately clear how to solve the narrative puzzle and transform it into a full-blown movie."
While Burger was in the process of editing his debut (and later to be award-winning) feature, Interview with the Assassin, he happened to be talking with the film's producers, Brian Koppelman and David Levien, about the difficulty of depicting magic on-screen. "I mentioned there was a short story I had always wanted to make into a film, and they both finished my sentence by asking, 'Is it "Eisenheim the Illusionist"?' They knew the story well, but admitted to being unsure about how to make it into a film. Bluffing somewhat, I assured them that I knew exactly how."
Koppelman and Levien then set out to acquire the rights to the short story. David Levien says, "We were delighted to find the rights were available, but there was no time to lose. We called Neil and told him there was good news and bad news: the good news was we had the rights; and the bad news was that we had a short option period…and the script had to be written in six months."
For Burger, the challenge was to preserve what was beautiful and mysterious about the story, but also create a dramatic context for it all. He invented new characters for the story—Crown Prince Leopold and his fiancé, Sophie von Teschen—and greatly expanded the role of Inspector Uhl, who receives just a few mentions in the original story.
Burger continues: "The question was, how do you tell the story of Eisenheim, a man who is an enigma, a mystery? How do you get inside his head without giving away his secrets? I decided to tell his story from Inspector Uhl's point-of-view. Everything we see is something Uhl has witnessed or one of his agents has told him. At other times, his story becomes conjecture, what he imagines might have happened, and not necessarily true at all…but still loosely from his point-of-view. He's creating the legend even as he tries to figure it all out. It's a subtle but fairly rigorous organizing principle for the storytelling."
Additionally, Burger conducted extensive research into magic, as well as the setting of the story: fin-de-siècle Vienna. "I read everything I could about the Hapsburgs, about the Secessionist movement, and about the magic from that time—both the illusions themselves and the social world of the magicians. Most of the tricks that ended up in the film are based on real illusions done at the time, and the characters I invented are also based on real people. I wanted it all to be as believable and honest as possible, all the more so since the story examines the idea of how we perceive truth and illusion…and blurs the boundary between those two concepts. If you're going to exaggerate certain elements, to have it be dreamlike or surreal or uncanny, you have to make sure that the rest of it has a rock solid foundation in the period."
Eisenheim the Illusionist's performances call into question everything the audience (and ultimately, moviegoers) take for granted—his illusions challenge the laws of nature and the universe. As Neil Burger explains, "I'm interested in that moment when you come face to face with something unexplainable, incomprehensible, and how that event changes your perceptions about everything. To that end, the magic in The Illusionist is not about 'How does he do it?', but rather about the uncanny sense that nothing is what it seems.
Burger continues, "There's a quote in the story that says, 'Stories, like conjuring tricks, are invented because history is inadequate to our dreams.' That goes for the art of cinema in general and The Illusionist in particular. My goal was to have the film completely inhabit that realm of dream and mystery."
With the script in place, Koppelman and Levien approached producer Michael London. "Because of our filmmaking career and our commitments, we realized we needed a producer who had a real artistic sensibility," explains Koppelman. "We didn't just want to be partnered with somebody who would merely treat this as business, but somebody who was really in tune with how to make a film with integrity. As producers, our main mandate is to make sure the director gets to make the film he wants to make, so it was very important that we partnered with someone who shared that ethic, and we knew that Michael would bring that to the table."
"I was already a fan of Neil Burger," begins London. "I had seen his film [Interview with the Assassin] and I very much liked the script for The Illusionist. I got involved in the middle of the development process. We did a few more drafts of the screenplay until we were all happy with what we had, and then we began to approach financiers." (The Yari Film Group soon stepped up with funding.)
Producer Michael London admits that he usually responds more to contemporary stories, "but there was something really timeless and universal about this one, that it made it feel very contemporary," says London.
Part of that is due to filmmaker Burger's intent to make the setting period, but the themes timeless. He explains, "I wanted to be true to the time period, but not a slave to it. It's not a story about the morals or manners of the time. Instead, it seeks to explore larger themes about power, perception, truth and illusion."
Prolific and award-winning filmmaker Bob Yari was enthusiastic to step up as producer for The Illusionist and comments, "Neil has an amazing way with a story, and it's exciting to be working with someone who can tell such an intriguing tale in such a cinematic way. Neil really thinks in terms of film, and has real talent in being able to take something in one form and transform it for the screen."
"The Illusionist"
Running Time: 109 minutes
MPAA Rating: PG-13 Rating SOME SEXUAL AND VIOLENT CONTENT
Web Site: www.IllusionistTheFilm.com
Screenplay By/Directed By: Neil Burger
Based on the short story "Eisenheim The Illusionist" by Steven Millhauser.
Cast:

Edward Norton
Paul Giamatti
Jessica Biel
Rufus Sewell
Eddie Marsan
Jake Wood
Tom Fisher
Karl Johnson
Producers: Michael London,, Brian Koppelman, David Levien, Bob Yari, Cathy Schulman
Executive Producers: Jane Garnett, Tom Nunan, Ted Liebowitz, Joey Horvitz
CoProducers: Tom Karnowski, Matthew Stillman, David Minkowski
Director of Photography: Dick Pope BSC
Production Designer: Ondrej Nekvasil
Editor: Naomi Geraghty
Costume Designer: Ngila Dickson
Composer: Philip Glass
Casting: Deborah Aquila, CSA, Tricia Wood, CSA,
Nina Gold