Journey to the Center of the Earth
Movie Cast Notes
Photo: Brendan Fraser stars as "Trevor" in New Line Cinema's release of Eric Brevig's JOURNEY TO THE CENTER OF THE EARTH. © MMVII New Line Productions, INC. and Walden Media, LLC Photo credit: Sebastian Raymond/New Line Cinema
BRENDAN FRASER (Trevor Anderson / Executive Producer) next stars in the third installment of "The Mummy" franchise, "The Mummy: Tomb of the Dragon Emperor," which is set for release in August 2008.
In 1999, Fraser starred with Rachel Weisz in the blockbuster action/horror adventure "The Mummy," Stephen Sommers' ambitious retooling of the 1932 horror classic.
In 2001, Fraser re-teamed with Sommers and Weisz for the film's hit sequel, "The Mummy Returns." The first two films have, to date, grossed more than $800 million worldwide.
Fraser also stars in two more upcoming projects: the family adventure/fantasy film "Inkheart," opposite Helen Mirren, Paul Bettany, Jim Broadbent and Andy Serkis, which is slated for release in January 2009; and the actioner "G.I. Joe," which reunited him with director Stephen Sommers and opens in Summer 2009.
In addition, Fraser has starred in some of the most successful independent films of the past decade, including Paul Haggis' Academy Award-winning Best Picture "Crash," for which he shared in a Screen Actors Guild Award as part of the ensemble cast; Phillip Noyce's "The Quiet American," with Michael Caine, based on Graham Greene's 1955 bestselling thriller; and Bill Condon's award-winning drama "Gods and Monsters," opposite Sir Ian McKellen and Lynn Redgrave.
Fraser more recently starred in "The Air I Breathe," which premiered at the 2007 Tribeca Film Festival and also stars Forest Whitaker, Andy Garcia, Sarah Michelle Gellar, Julie Delpy, Emile Hirsch and Kevin Bacon.
Fraser previously starred in the title role of the smash hit action comedy "George of the Jungle." His additional film credits include Joe Dante's "Looney Tunes: Back in Action," blending live action and animation; Harold Ramis' "Bedazzled"; the title role in the live-action "Dudley Do-Right," opposite Sarah Jessica Parker; Hugh Wilson's "Blast From the Past, with Alicia Silverstone, Christopher Walken, and Sissy Spacek; Showtime's "The Twilight of the Golds"; Richard Benjamin's "Mrs. Winterbourne," with Shirley MacLaine; "With Honors"; "Airheads," directed by Michael Lehmann; Michael Ritchie's "The Scout"; Robert Mandel's "School Ties," with Matt Damon and Chris O'Donnell; and the hit comedy "Encino Man," in his first feature film starring role.
On the stage, Fraser's theatre repertoire includes his appearance in the 2001 West End production of Tennessee Williams' "Cat on a Hot Tin Roof," directed by Tony Award winner Anthony Page. Playing the lead role of Brick, opposite Frances O'Connor as Maggie, Fraser earned acclaim from the London critics. He had earlier received praise for his performance as the anxious writer in John Patrick Shanley's "Four Dogs and a Bone" at the Geffen Playhouse in Los Angeles, co-starring with Martin Short, Parker Posey and Elizabeth Perkins under the direction of Lawrence Kasdan.
Born in Indianapolis and raised in Europe and Canada, Fraser received a BFA in acting from the Actors Conservatory, Cornish College of the Arts in Seattle.

JOSH HUTCHERSON (Sean Anderson) has, at the age of 15, worked with many of Hollywood's finest actors and directors in his young career. He will next be seen in Paul Weitz's action adventure "Cirque du Freak," with John C. Reilly, Salma Hayek and Ken Watanabe, and in the ensemble drama "Winged Creatures," opposite Dakota Fanning and Jackie Earle Haley, with Guy Pearce, Kate Beckinsale and Forest Whitaker.
In the comedy "RV," Hutcherson co-starred as Robin Williams' son for director Barry Sonnenfeld. He starred in director Todd Holland's action comedy "Firehouse Dog," and opposite AnnaSophia Robb in the coming-of-age drama "Bridge to Terabithia," for which he won his second Young Artist Award for Leading Young Actor and shared a Young Artist Award for Best Young Ensemble Cast.
Hutcherson won his first Young Artist Award for Leading Young Actor for his work in Jon Favreau's adventure film "Zathura: A Space Adventure," with Tim Robbins and Kristen Stewart. He also starred in the critically acclaimed first-love romantic comedy "Little Manhattan," from filmmakers Mark Levin & Jennifer Flackett, along with Bradley Whitford and Cynthia Nixon.
His other film credits include the comedy "Kicking & Screaming," opposite Will Ferrell and Robert Duvall, and Hayao Miyazaki's Oscar-nominated anime adventure "Howl's Moving Castle," for which he voiced the lead character. He shared the role of Hero Boy with Tom Hanks in the groundbreaking holiday hit "The Polar Express."
Hutcherson's television credits include the TNT telepic "Wilder Days," with Peter Falk, and the Animal Planet feature "Miracle Dogs."

Photo: Anita Briem stars as "Hannah" in New Line Cinema's release of Eric Brevig's JOURNEY TO THE CENTER OF THE EARTH. © MMVII New Line Productions, INC. and Walden Media, LLC Photo credi: Sebastian Raymond/New Line Cinema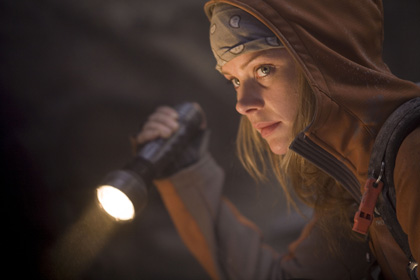 ANITA BRIEM (Hannah Asgeirsson) most recently starred in the second season of Showtime's smash hit series "The Tudors," portraying Jane Seymour, the young woman who was destined to become the third wife of King Henry VIII. Briem will continue in the role of the ill-fated Queen Jane in the much-anticipated third season of "The Tudors," which will air on Showtime in 2009. On the big screen, she is next set to star in the independent film "The Storyteller."
Born and raised in Iceland, Briem began her acting career at age nine at the National Theatre of Iceland. As a child actor, she performed in several stage productions, television shows and radio programs in her native country. At the age of 16, Briem moved to London, where she appeared in a stage production of "Lenin in Love" at the New End Theatre.
When she was 19, Briem was accepted to the prestigious Royal Academy of Dramatic Art (RADA), where she studied for the next three years, earning a degree in dramatic arts and winning the John Barton Award for Stage Fighting. While at RADA, she performed in a wide range of plays, including Chekhov's "The Cherry Orchard" and Lorca's "The House of Bernarda Alba."
Following her graduation, Briem continued to work on the London stage, appearing in such plays as "Catalogue of Misunderstanding," directed by Mike Figgis at the National Theatre Studio, as well as in a successful five-month West End run of "Losing Louis."
Briem made her feature film debut in the independent horror film "La Monja" ("The Nun"), and then starred in an independent film in Iceland entitled "Kold Slod" ("Cold Trail"). On television, she had a starring role on the series "The Evidence," with Orlando Jones and Martin Landau. Briem also had guest roles on the BBC series "Doctor Who" and "Doctors."