WILL FERRELL (Phil Weston) has become one of the busiest actors working in movies today. Since starring in the back-to-back 2003 comedy hits Old School and Elf, Ferrell has gone on to star in several major films. In the last year alone, the actor was seen in the box-office hit Anchorman: The Legend of Ron Burgundy that he co-wrote with writing partner Adam McKay. He recently starred in Woody Allen's latest ensemble film Melinda and Melinda and will next be seen starring opposite Nicole Kidman in the big-screen version of the classic TV sitcom Bewitched.
But it was Ferrell's seven seasons (1995-2002) on NBC's Saturday Night Live that first established him as a comedic force of nature. With such shamelessly funny and memorable characters as cheerleader Craig the Spartan, musical middle school teacher Marty Culp, hyperactive Morning Latte host Tom Wilkins, and goofy club-hopper Steve Butabi--along with his uproarious impressions of George W. Bush, Janet Reno, Alex Trebek and Neil Diamond--Ferrell emerged as one of that show's most versatile and beloved cast members. For his later work on Saturday Night Live, he received two 2001 Emmy Award nominations: Outstanding Individual Performance in a Variety or Music Program and Outstanding Writing for a Variety, Music or Comedy Program.
Ferrell's first major feature role was as Mustafa in the enormously popular Austin Powers: International Man of Mystery. He also reprised the character in the comedy's sequel, Austin Powers: The Spy Who Shagged Me. Other earlier film performances include A Night at the Roxbury, the movie adventures of Ferrell's and Saturday Night Live co-star Chris Kattan's Butabi Brothers (co-written by the actors, with Steve Koren); The Thin Pink Line; The Suburbans; the Richard Nixon parody Dick, in which Ferrell played Washington Post reporter Bob Woodward; Superstar (opposite SNL cast mate Molly Shannon); Drowning Mona, with Bette Midler; The Ladies Man (which starred SNL's Tim Meadows); and outrageous fashion designer Jacobin Mugatu in Ben Stiller's male model parody Zoolander.
Ferrell's many upcoming film projects include the animated adventure Curious George, for which he'll voice The Man With the Yellow Hat; Mel Brooks' The Producers, in which he'll play the nutty Nazi, Franz Liebkind; Stranger Than Fiction, directed by Marc Forster; and Talladega Nights, an action-comedy co-written by Ferrell and McKay set in the high speed world of NASCAR.
ROBERT DUVALL (Buck Weston) is, quite simply, one of the most respected, acclaimed and prolific actors of his generation. With over 80 feature credits in a movie career that has spanned five decades, Duvall made his film debut as the mysterious, misunderstood Boo Radley in the now-classic To Kill a Mockingbird and has worked continually ever since. Duvall has been honored with six Academy Award® nominations for his memorable, enduring portrayals in The Godfather (as Corleone family advisor Tom Hagen); Apocalypse Now (Lieutenant Colonel Bill Kilgore);
The Great Santini (macho Marine pilot Bull Meechum); The Apostle (which he wrote, produced, directed and starred in as southern Pentecostal preacher Sonny Dewey); and A Civil Action (as shrewd lawyer Jerome Facher). He won the Best Actor Oscar® in 1983 for his poignant performance as born-again country music star Mac Sledge in Tender Mercies; Duvall performed all of his own songs in the film, some of which he wrote as well.
He began his acting career on the New York stage in such plays as Tennessee Williams' Camino Real and Horton Foote's The Midnight Caller. Several years later, he won an Obie Award for his performance in a revival of Arthur Miller's A View From the Bridge and also co-starred in the Broadway hit Wait Until Dark.
Throughout the 1960s, Duvall also began to work in film and television, appearing on such series as Naked City, Route 66, The Defenders, The Twilight Zone, The Outer Limits and The F.B.I.; and in movies like Captain Newman, M.D.; The Chase; The Detective; Bullitt; True Grit; and The Rain People. By 1970, the actor's film career moved into high gear after co-starring in the hugely successful M*A*S*H, with roles in THX 1138, The Godfather, Tomorrow, The Great Northfield Minnesota Raid, Joe Kidd, Badge 373, The Conversation, The Godfather: Part II and The Killer Elite. He also directed the 1975 documentary We're Not the Jet Set.
Later in the '70s, Duvall gained major attention for his standout performances in The Seven-Per-Cent Solution, Network, Apocalypse Now and The Great Santini, as well as for playing General Dwight D. Eisenhower in the TV miniseries Ike.
Film credits through the 1980s include True Confessions, The Pursuit of D.B. Cooper, Tender Mercies, The Natural, The Stone Boy, The Lightship, Belizaire the Cajun and Colors. Duvall also wrote, directed and produced the feature Angelo My Love, a portrait of New York's mysterious Gypsy community. In addition, he was Emmynominated for his role as Gus in the highly-honored TV miniseries Lonesome Dove.
Duvall acted in a string of notable films in the 1990s such as Days of Thunder, Rambling Rose, Falling Down, Wrestling Ernest Hemingway, The Paper, Something to Talk About, The Stars Fell on Henrietta, A Family Thing (co-produced by his Butchers Run Films), Phenomenon, Sling Blade, The Apostle (winner of three Independent Spirit Awards), The Gingerbread Man, Deep Impact and A Civil Action. He also played the title role in the HBO movie Stalin and executive-produced and starred in the acclaimed TNT Original film The Man Who Captured Eichmann.
More recently, the actor has appeared in the features Gone in Sixty Seconds, A Shot at Glory (also produced), The Sixth Day, John Q, Gods and Generals, Open Range and Secondhand Lions. Duvall also wrote, produced, directed and starred in the exotic drama Assassination Tango, which was released in 2003 by United Artists. Duvall will next be seen in the satirical comedy Thank You For Smoking, as well as in the upcoming gambling drama Lucky You, directed by Curtis Hanson.
KATE WALSH (Barbara Weston) began her professional acting career in Chicago where, after studying at the renowned Piven Theatre Workshop, she starred in acclaimed stage productions of Born Guilty, Moon Under Miami and Troilus and Cressida at the Shakespeare Repertory. Also in Chicago, Walsh was cast in her first two independent films: Normal Life, directed by John McNaughton, and Henry, Portrait of a Serial Killer II.
The actress' career quickly took off with a move to New York for comedy and improvisation training. She soon landed series regular roles on ABC's The Mike O'Malley Show, HBO's The Mind of the Married Man and The Drew Carey Show. Most recently, she has been seen on the ABC drama Grey's Anatomy, portraying Patrick Dempsey's wife, as well as in a recurring role as Tim Daly's wife in another ABC drama, Eyes.
Walsh's film credits include The Family Man, Under the Tuscan Sun, After the Sunset and Inside Out. She also has a special cameo in the upcoming feature version of Bewitched.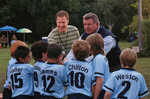 MIKE DITKA (Himself) is the second and only other person to ever win the Super Bowl as a player, assistant coach and head coach. He was also the first tight end to be inducted, in 1988, into the Pro Football Hall of Fame, after retiring with 427 career receptions—the most ever by a tight end at that time. Ditka attended the University of Pittsburgh, where he played football as a defensive end, linebacker and tight end. In 1960, as a college senior, he was named AllAmerican.
In 1961, the Chicago Bears drafted Ditka in the first round. That same year, he was voted NFL Rookie of the Year. In 1967, he was traded to the Philadelphia Eagles where he played for two years. He was then traded to the Dallas Cowboys where he played from 1968-1972. In 1972, Ditka caught a seven-yard touchdown pass to help the Cowboys win Super Bowl VI against the Miami Dolphins.
After his illustrious playing career, Ditka then worked as assistant coach for the Dallas Cowboys from 1973-1981, with the team winning the Super Bowl in 1978.
He returned to the Chicago Bears in 1982 as head coach, resuscitating the team to reach the National Football Conference playoffs in 1984 and 1985, ultimately winning Super Bowl XX in 1986 against the New England Patriots. From 1997-2000, Ditka was head coach for the New Orleans Saints.
As an actor, he has made guest appearances on such TV shows as L.A. Law, Cheers, Coach, 3 rd Rock From the Sun, Saturday Night Live (twice), Becker and According to Jim.
DYLAN McLAUGHLIN (Sam Weston) began his show business career appearing in commercials for such products as Tropicana orange juice and Novell computers.
He went on to act in the indie feature Seeing Other People, opposite Jay Mohr, Julianne Nicholson and Lauren Graham; and played the title character in the short film Kyle, which also starred Tatum O'Neal and Thomas Jane. The young actor's television credits include guest spots on It's a Miracle, Dragnet (2003), The Division, The Guardian and MAD TV. He will also be seen in 20 th Century Fox's upcoming action comedy Supercross.
JOSH HUTCHERSON (Bucky Weston) has amassed quite an impressive resume so far for a 12-year-old. He was most recently seen as Tom Hanks' character's younger self, a.k.a. Hero Boy, in Robert Zemeckis' The Polar Express. Previously, Hutcherson acted in the gambling drama One Last Ride, executive-produced by Ang Lee, and in the critically acclaimed indie hit American Splendor. He was also seen in the action comedy feature Motocross Kids and recently won the lead in 20 th Century Fox's youthful romantic comedy Little Manhattan, which also stars Cynthia Nixon and Bradley Whitford.
Hutcherson's television credits include the Animal Planet movie Miracle Dogs, with Stacy Keach and Kate Jackson, and the TNT Original film Wilder Days, which starred Peter Falk and Tim Daly. He also appeared in episodes of such series as Justice League, Line of Fire, Ed, The Division and ER.
MUSETTA VANDER (Janice Weston) was born and raised in South Africa, where she spent her childhood dancing in such ballets and musicals as Giselle, Coppelia, The Student Prince and Showboat, eventually qualifying as a ballet teacher herself. After college, Vander landed the plum job of anchor host for South Africa's answer to MTV.
She then moved to the United States and began working in the flip side of that business, ultimately appearing as "the girl" in more than twenty music videos for such top recording artists as Rod Stewart, Tina Turner, Elton John and Chris Isaak. But it was her critically acclaimed stage performance in the powerful South African play Soweto's Burning that provided her transition to the big screen.
Vander's feature film credits include Under the Hula Moon; Mortal Kombat: Annihilation; Gunshy; Wild Wild West; Molly; O Brother, Where Art Thou?; and The Cell.
Her many television appearances include episodes of such series as Murder, She Wrote; Boy Meets World; Diagnosis Murder; Buffy the Vampire Slayer; Babylon 5; Stargate SG-1; Pensacola: Wings of Gold; Star Trek: Voyager; V.I.P.; Son of the Beach; She Spies; Frasier; and The Bold and the Beautiful. Most recently, Vander acted in Miramax's family comedy Spymate, the original SciFi Channel movie Mansquito and the crime drama Alpha Dog, directed by Nick Cassavetes.