HAPPY FLYING WITH MARY POPPINS
BY: LYNN MARIE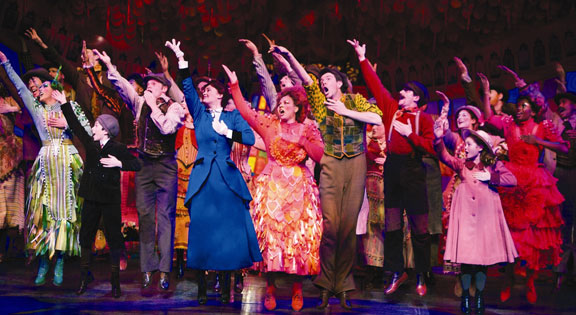 Photo left: The origial Broadway company of Mary Poppins at the New Amsterdam Theatre. 2006. Disney/CML. Photo by Jan Marcus.
Mary Poppins is a fun filled family musical for all to enjoy. Although the stage version is different than the movie in various parts it's exciting to see this particular musical live on stage.
In short, Mary Poppins is about a family that is reunited by Mary Poppins, the nanny, and her friend Bert, a chimney sweeper, by showing the parents what they have done incorrect and what they should do better in the future. Mr. and Mrs. Banks are both to occupied with their own lives to realize that their spoiled children Michael Banks (Bryce Baldwin) and Jane Banks (Aida Neitenbach) need attention and guidance.
Mary Poppins is a kind of a super nanny who flies in with her umbrella and proceeds to put things in order with the aid of her rather extradionary powers before flying off again. Along the way the Banks family learns some valuable lessons and that family truly is the most important thing in life.
This extravagant production is bursting with astounding scenery and old fashioned storytelling. This singing and dancing production brings back all your favorite loved tunes such as A Spoonful of Sugar, Chim Chim Cher-ee, and Supercalifragilisticexpialidocious.
Original Broadway stars, Ashley Brown and Gavin Lee, reprised their roles as "Mary Poppins" and "Bert" respectively.
Ashley Brown (Mary Poppins) originated the title role in Mary Poppins on Broadway for which she received Outer Critics, Drama League and Drama Desk nominations for Best Actress. She made her Broadway debut as Belle in Beauty and the Beast and starred in the national tour of Disney's On the Record.
Gavin Lee (Bert) originated the role of Bert in London and New York for which he received Drama Desk and Theatre World Awards as well as Tony and Olivier Award nominations.
Consistently among the top-grossing shows on Broadway, Mary Poppins continues in its 3rd smash year at the New Amsterdam Theatre and recently celebrated its 1000th performance – a milestone reached by only a rare few number of shows in Broadway history. The Broadway production has grossed over $132 million to date, and has been seen by over 1.6M theatergoers.
Simultaneously, the show's popularity grows around the globe. Following a successful three year run (December 2004 – January 2008) at the Prince Edward Theatre on London's West End, a U.K. tour of Mary Poppins commenced in summer 2008 and concluded its acclaimed run in Cardiff in April 2009. The Australian debut of Mary Poppins is planned for next year.
Dallas' most eagerly anticipated stage production began performances at the Music Hall at Fair Park on Thursday, September 24th for a limited engagement of four weeks through Sunday, October 18.
In Dallas, Mary Poppins performance schedule is as follows: Tuesday through Saturday evenings at 8 p.m. and Saturday and selected Thursday matinees at 2 p.m. Sunday performances will be at 1:30 and 7 p.m. Ticket prices range from $25 to $85. Special VIP Producers Circle Ticket Packages are available for $135 at select performances, and include premium seating and a complimentary souvenir program. Tickets are available at The Box Office, 542 Preston Royal Shopping Center in Dallas, all Ticketmaster outlets, and online at www.ticketmaster.com. To charge tickets call 214-631-ARTS (2787). For groups of 15 or more, call 214-426-GROUP.
© 2009 EMOL.org Music Entertainment Magazine. All rights reserved.