Million Dollar Baby
Nominated for Best Motion Picture of the Year,
"Million Dollar Baby" (Warner Bros.)
"If there's magic in fighting battles beyond endurance, it's the magic of risking everything for a dream that nobody sees but you."
Frankie Dunn (CLINT EASTWOOD) has trained and managed some incredible fighters during a lifetime spent in the ring.
The most important lesson he teaches his boxers is the one that rules his life: above all, always protect yourself. In the wake of a painful estrangement from his daughter, Frankie has been unwilling to let himself get close to anyone for a very long time.
His only friend is Scrap (MORGAN FREEMAN), an ex-boxer who looks after Frankie's gym and knows that beneath his gruff exterior is a man who has attended Mass almost every day for the past 23 years, seeking the forgiveness that somehow continues to elude him.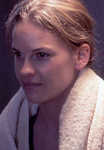 Then Maggie Fitzgerald (HILARY SWANK) walks into his gym. Maggie's never had much, but there is one thing she does have that very few people in this world ever do: she knows what she wants and she's willing to do whatever it takes to get it. In a life of constant struggle, Maggie's gotten herself this far on raw talent, unshakable focus and a tremendous force of will.
But more than anything, what she wants is for someone to believe in her. The last thing Frankie needs is that kind of responsibility – let alone that kind of risk. He tells Maggie the blunt hard truth: she's too old and he doesn't train girls. But 'no' has little meaning when you have no other choice.
Unwilling or unable to give up on her life's ambition, Maggie wears herself to the bone at the gym every day, encouraged only by Scrap. Finally won over by Maggie's sheer determination, Frankie begrudgingly agrees to take her on.
I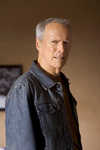 n turns exasperating and inspiring each other, the two come to discover that they share a common spirit that transcends the pain and loss of their pasts, and find in each other a sense of family they lost long ago.
What they don't know is that soon they will both face a battle that's going to demand more heart and courage than any they've ever known.
Warner Bros. Pictures presents, in association with Lakeshore Entertainment, a Malpaso/Ruddy Morgan production, CLINT EASTWOOD, HILARY SWANK and MORGAN FREEMAN in Million Dollar Baby. The film is directed by CLINT EASTWOOD and produced by CLINT EASTWOOD, ALBERT S. RUDDY, TOM ROSENBERG and PAUL HAGGIS. GARY LUCCHESI and ROBERT LORENZ serve as executive producers and BOBBY MORESCO is the co-producer.

The screenplay is by PAUL HAGGIS, based upon stories from "Rope Burns" by F.X. Toole. The director of photography is TOM STERN; the production designer is HENRY BUMSTEAD; the film is edited by JOEL COX A.C.E.; and the music is by CLINT EASTWOOD. Million Dollar Baby will be distributed by Warner Bros. Pictures, a Warner Bros. Entertainment Company. This film has been rated "PG-13" by the MPAA for "violence, some disturbing images, thematic material and language."
All images Copyright © Academy of Motion Picture Arts and Sciences.
AOL Keyword: Million Dollar Baby
Million Dollar Baby DVD

Clint Eastwood's 25th film as a director, Million Dollar Baby stands proudly with Unforgiven and Mystic River as the masterwork of a great American filmmaker. In an age of bloated spectacle and computer-generated effects extravaganzas, Eastwood turns an elegant screenplay by Paul Haggis (adapted from the book Rope Burns: Stories From the Corner by F.X. Toole, a pseudonym for veteran boxing manager Jerry Boyd) into a simple, humanitarian example of classical filmmaking, as deeply felt in its heart-wrenching emotions as it is streamlined in its character-driven storytelling. In the course of developing powerful bonds between "white-trash" Missouri waitress and aspiring boxer Maggie Fitzgerald (Hilary Swank), her grizzled, reluctant trainer Frankie Dunn (Eastwood), and Frankie's best friend and training-gym partner Eddie "Scrap-Iron" Dupris (Morgan Freeman), 74-year-old Eastwood mines gold from each and every character, resulting in stellar work from his well-chosen cast. Containing deep reserves of love, loss, and the universal desire for something better in hard-scrabble lives, Million Dollar Baby emerged, quietly and gracefully, as one of the most acclaimed films of 2004, released just in time to earn an abundance of year-end accolades, all of them well-deserved. --Jeff Shannon, amazon.com

Million Dollar Baby Soundtrack CD

Million Dollar Baby

by F. X. Toole

Seventy-year-old F.X. Toole has exploded onto the literary scene with this astonishing first collection of stories drawn from his own experiences in boxing.

In these powerful and moving tales, he reveals a complex web of athletes, trainers, and promoters and their extended families, all players in an unforgiving business where victory, like defeat, comes at a dark and painful price.

F. X. Toole breathes life into vivid, compelling characters who radiate the fierce intensity of the worlds they inhabit.

In "The Monkey Look," an aging cut man with an incorrigible sweet tooth works the corner for Hoolie, a featherweight "bleeder" with attitude.

"Black Jew" brings Reggie Valentine Love and his camp to a brutal elimination bout in Atlantic City, where they are treated like second-class citizens by a promoter.

In "Million $$$ Baby," seasoned trainer Frankie Dunn faces the most daunting challenge of his life when he agrees to aid the fearless Maggie Fitzgerald in her quest to become a champion boxer. "Fightin' in Philly" and "Frozen Water" are stories in which youthful dreams of glory and celebrity are threatened by the harsh realities that suffuse both of these narratives.

The novella "Rope Burns" is the crowning achievement of the collection, offering a gritty, heartrending account of the indestructible bond that develops between a devoted fighter and his trainer.