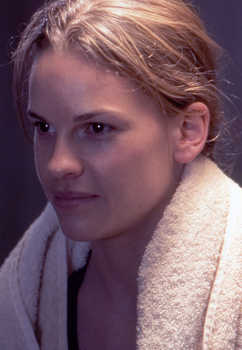 The role of passionately dedicated boxer Maggie Fitzgerald was a physically demanding one, and Hilary Swank had just three months to train before filming began.
"I'd never worked with Hilary before," says Eastwood, "but I had met her on several occasions before and I knew just by the way she moved that she had good athletic ability. I had no doubts about her acting at all, but I knew that her success in this film would depend on how diligently she would train to get this role under her belt. And she did. She has a work ethic that's unparalleled."
The actress worked for three months with legendary boxing trainer Hector Roca at Gleason's Gym in Brooklyn. Rated by International Boxing Digest as one of the best trainers in the world, Roca has guided numerous world champions, including Iran Barkley, Arturo Gatti, Regilio Tuur and Buddy McGirt.
"I had never boxed before," says Swank, "and I don't think I really understood it – you don't fully respect what someone does until you step into their shoes even for a moment. Getting into the gym and training with Hector, I remember feeling so out of place the first day. But he was so patient and diligent, and pushed me so hard – he really pushed me to the limit, where you think you can't go any further, and then all of a sudden you break through that, and then the next thing and the next thing and the next thing. I tried to remember the sense memory of what it felt like when I learned how to punch correctly, so I could bring that feeling to my performance when Maggie reaches that point."
In addition to her boxing, Swank worked with weight lifter and trainer Grant Roberts several hours a day to build the necessary muscle mass to convincingly play a highly conditioned professional athlete.
The training paid off. As Eastwood proudly attests, "There isn't a one 'double shot' in the whole picture. No doubles were used during filming, and Hilary did all of her own fighting." Swank's time in the gym also presented her with the opportunity to experience firsthand what it's like to be a female boxer in the overwhelmingly male-dominated sport. The actress sparred with professional female fighters such as four-time World Champion Lucia Rijker, who has a part in the film as well.
"I got a chance to see their lives, and to really hear what they had to say," Swank recounts.
"They are all so happy that this movie is being made; hopefully people will look at female fighters in a different light and have respect for what they do, because they work just as hard as any male boxer does. It's gratifying to be able to be a part of something that will bring that awareness to people's minds.
"The boxers that I had the opportunity to meet are so in love with the sport and so passionately committed, it was remarkable to watch," she continues. "When they're in the ring, you see them put all their training and hard work into those three or four rounds. It's so inspiring to see them push themselves so hard. Being able to experience that for the short time that I got to explore it has made me grow as a person. It's a beautiful sport, and I have met a lot of fantastic people within it."
All images Copyright © Academy of Motion Picture Arts and Sciences.Performance by an Actress in a Leading Role, Hilary Swank, "Million Dollar Baby" This image is made available here as part of the Academy of Motion Picture Arts and Sciences 77th Annual Academy Awards Nominations Announcement Press Kit. This image may only be used by legitimate members of the press and media.

All images Copyright © Academy of Motion Picture Arts and Sciences.