"SHREK THE THIRD" Meet the Cast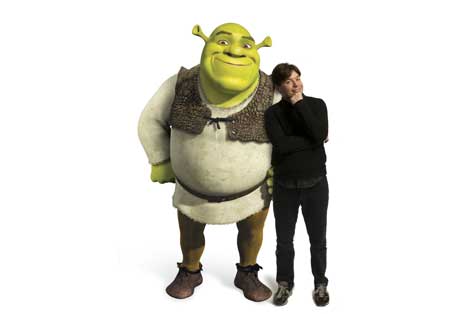 MIKE MYERS voices Shrek in DreamWorks "Shrek the Third," to be released by Paramount Pictures in May 2007. DreamWorks Animation S.K.G. Presents a PDI/DreamWorks Production, DreamWorks "Shrek the Third." Directed by Chris Miller, the film features the voice talents of Mike Myers, Eddie Murphy, Cameron Diaz, Antonio Banderas, Rupert Everett, Justin Timberlake, Julie Andrews, John Cleese, Eric Idle, Cheri Oteri, Amy Poehler, Maya Rudolph, Amy Sedaris, John Krasinski and Ian McShane. The story is by Andrew Adamson. The screenplay is by Jeffrey Price & Peter S. Seaman and Chris Miller & Aron Warner. The film is produced by Aron Warner and co-directed by Raman Hui. Executive Producers are Andrew Adamson and John H. Williams. This film is rated PG for some crude humor, suggestive content and swashbuckling action.

Photo Credit: John Clifford
MIKE MYERS once again lends his voice to the memorable title character of Shrek. One of the most multifaceted performers of his generation, Myers has brought an astonishing array of characters to life on both film and television.

Born and raised in Toronto, Canada, Myers began his professional career the day he graduated from high school. He took his final exams at nine o'clock in the morning, auditioned for Toronto's famed Second City comedy troupe at noon and was hired at three in the afternoon.

This ultimately led to Myers joining Chicago's Second City, an association that would change his life forever. "Saturday Night Live" producer Lorne Michaels discovered him there, which led to his debut as a featured performer and writer on the show in 1989.

For his groundbreaking work on "Saturday Night Live," Myers was nominated for an Emmy for Best Performance in a Comedy or Variety Show and won an Emmy for Best Writing for a Comedy or Variety Show. Among the characters Myers made popular on "SNL" were German talk show host Dieter; Linda Richman in "Coffee Talk"; the hyperactive-hypoglycemic Phillip; Lothar of the Hill People; Simon the boy in the bathtub; and send-ups of The Rolling Stones' Ron Wood and Mick Jagger.

Myers successfully brought another popular "SNL" character, Wayne Campbell, to the big screen in "Wayne's World," which he also wrote. In 1993, he reprised the role in the hit sequel "Wayne's World 2," which he also penned. Between the "Wayne's World" films, Myers starred as an eccentric Scottish father and his first-generation Scottish-American son in the romantic comedy "So I Married an Axe Murderer." In 1998, he appeared in Miramax's ensemble drama "54," earning critical acclaim for his portrayal of nightclub owner Steve Rubell.

In 1997, Myers created, wrote, produced and starred in the smash hit "Austin Powers: International Man of Mystery." The success of the first Austin Powers created an enormous following for the character and had a tremendous impact on our culture. It was followed by "Austin Powers: The Spy Who Shagged Me" and "Austin Powers in Goldmember."

For his impressive achievements, Myers received a star on the Walk of Fame in Hollywood, California in July 2002. He will be honored this year with the Jack Benny Award by the student body of the University of California at Los Angeles, and the 2003 AFI Star Award at U.S. Comedy Arts Festival sponsored by HBO in Aspen, as well as a star on Canada's Walk of Fame.
Eddie Murphy
(Photo: left)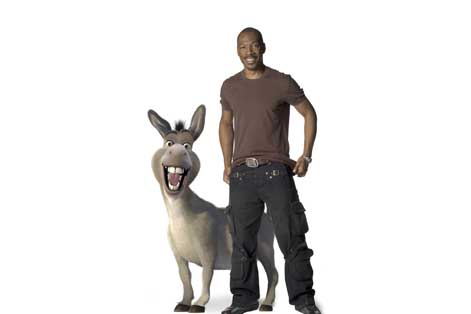 EDDIE MURPHY voices Donkey in DreamWorks "Shrek the Third," to be released by Paramount Pictures in May 2007. DreamWorks Animation S.K.G. Presents a PDI/DreamWorks Production, DreamWorks "Shrek the Third." Directed by Chris Miller, the film features the voice talents of Mike Myers, Eddie Murphy, Cameron Diaz, Antonio Banderas, Rupert Everett, Justin Timberlake, Julie Andrews, John Cleese, Eric Idle, Cheri Oteri, Amy Poehler, Maya Rudolph, Amy Sedaris, John Krasinski and Ian McShane. The story is by Andrew Adamson. The screenplay is by Jeffrey Price & Peter S. Seaman and Chris Miller & Aron Warner. The film is produced by Aron Warner and co-directed by Raman Hui. Executive Producers are Andrew Adamson and John H. Williams. This film is rated PG for some crude humor, suggestive content and swashbuckling action.
EDDIE MURPHY returns to lend his voice to Shrek's loyal pal Donkey. The most commercially successful African-American actor in the history of motion pictures, Murphy is one of the industry's top-five box-office performers overall. At the tender age of 45, Murphy is on the very short list of actors who have starred in multiple $100 million pictures over the past three decades. He most recently starred in the hit romantic comedy "Norbit" and, earlier this year, was nominated for an Academy Award® and won a Golden Globe and a SAG Award as Best Supporting Actor in the hit musical "Dreamgirls," his latest $100 million-plus grosser.

Murphy began his career as a stand-up comedian 25 years ago. In 1980, at the age of 19, he joined the cast of "Saturday Night Live," and has since gone on to establish a successful career on the big screen.

His films have been among the highest-grossing comedies in the industry, including "48 Hrs.," "Trading Places," "Dr. Dolittle," "Coming to America" and the "Beverly Hills Cop" franchise.

Murphy garnered Golden Globe Award nominations for Best Actor in a Comedy for his performances in "Beverly Hills Cop," "Trading Places" and "48 Hrs."

In 1989, Murphy made his directorial debut with "Harlem Nights," a period comedy he also wrote and starred in opposite Richard Pryor and Redd Foxx. In addition, Murphy starred in and produced the hit comedy "Life" co-starring Martin Lawrence, and starred opposite Steve Martin in the comedy "Bowfinger." He was also the voice of Mushu the Dragon in the successful animated epic "Mulan."

In 1996, Murphy portrayed seven different characters in the worldwide box office smash "The Nutty Professor," for which he received another Golden Globe Award nomination. He added a character to play a total of eight roles in the sequel, "Nutty Professor II: The Klumps" co-starring Janet Jackson. His more recent films include "Dr. Dolittle 2," "Daddy Day Care" and "The Haunted Mansion."
Cameron Diaz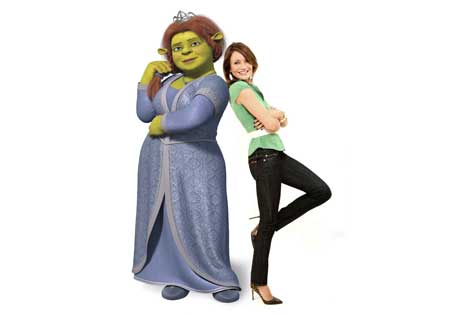 (Photo: left) CAMERON DIAZ voices Princess Fiona in DreamWorks "Shrek the Third," to be released by Paramount Pictures in May 2007. DreamWorks Animation S.K.G. Presents a PDI/DreamWorks Production, DreamWorks "Shrek the Third." Directed by Chris Miller, the film features the voice talents of Mike Myers, Eddie Murphy, Cameron Diaz, Antonio Banderas, Rupert Everett, Justin Timberlake, Julie Andrews, John Cleese, Eric Idle, Cheri Oteri, Amy Poehler, Maya Rudolph, Amy Sedaris, John Krasinski and Ian McShane. The story is by Andrew Adamson. The screenplay is by Jeffrey Price & Peter S. Seaman and Chris Miller & Aron Warner. The film is produced by Aron Warner and co-directed by Raman Hui. Executive Producers are Andrew Adamson and John H. Williams. This film is rated PG for some crude humor, suggestive content and swashbuckling action. Photo Credit: Giles Toucas
CAMERON DIAZ is back as the voice of Princess Fiona. She made her feature film debut at age 21, captivating moviegoers as femme fatale Tina Carlisle in "The Mask," and throughout her career has chosen to work in small, independent films, such as "The Last Supper," "Feeling Minnesota" and "She's the One," as well as mainstream movie roles.

In 1996, Diaz was named ShoWest's Female Star of Tomorrow by the National Association of Theatre Owners, and her performance in "My Best Friend's Wedding" earned her the Blockbuster Entertainment Award for Favorite Supporting Actress in a Comedy, voted on by more than 11 million customers of Blockbuster Video internationally.

For her performance in the title role in the romantic comedy "There's Something About Mary," she was honored with the New York Film Critics Circle Award as Best Actress, in addition to a Golden Globe nomination, the American Comedy Award, the Blockbuster Entertainment Award for Favorite Movie Actress and the MTV Movie Award for Best Female Performance.

Following the dark comedy "Very Bad Things," Diaz starred in "Being John Malkovich" opposite John Cusack, Catherine Keener and John Malkovich. Directed by Academy Award® nominee Spike Jonze, the film captured the imaginations of filmgoers around the world and Diaz's performance earned nominations for a Golden Globe, a Screen Actors Guild Award and a British Academy of Film (BAFTA) Award.

Her career has continued to soar with successes such as "Any Given Sunday," "Charlie's Angels," "Charlie's Angels: Full Throttle," "Vanilla Sky," "The Sweetest Thing," "Gangs of New York," "In Her Shoes" and "The Holiday."

Over the course of 2004 and early 2005, Diaz took on a worldwide adventure with MTV for a 10-episode series entitled "Trippin.'" Joined by an ever-changing group of travelers, she and her crew explored some of the most exotic, environmentally unique places on the planet while discovering ways to help preserve them.

Diaz grew up in Southern California and her family lineage includes Cuban, German and Native American ancestry.


ANTONIO BANDERAS is once again a-purring in the role of Puss In Boots. Since his introduction to American cinema in the highly acclaimed "Mambo Kings," Banderas has become one of the leading international actors of his generation. He has received critical praise for his performances in film, television and theater, as well as behind-the-scenes as a feature film director. In 2005, he was honored with a Star on the Hollywood Walk of Fame.

His second directorial feature is the Spanish film "El Camino de los Ingleses" (titled "Summer Rain" in the U.S.). A coming-of-age story, the film follows the first loves, lusts and obsessions of friends on vacation at the end of the 1970s. The film is being released by Sogepaq in Spain. He made his directorial debut with "Crazy in Alabama" starring his wife Melanie Griffith.

Besides reprising his show-stealing role as Puss In Boots in "Shrek the Third," this year Banderas will also be seen starring with Jennifer Lopez in Gregory Nava's "Bordertown" and the romantic comedy "Homeland Security" opposite Meg Ryan.

In 2003, Banderas earned a Tony nomination for Best Actor in a Musical for his Broadway debut in the Roundabout Theater Company production of "NINE," a musical inspired by Fellini's "8 ?." He also received a Best Actor Drama Desk Award, Outer Critics Circle Award, Drama League Award and Theatre World Award. "NINE," directed by David Leveaux, also starred Chita Rivera.

Recent films include "Take the Lead," in which he portrayed ballroom dancer Pierre Dulaine, and the long-awaited sequel "The Legend of Zorro" opposite Catherine Zeta-Jones. Banderas has worked in films by some of Hollywood's best directors starring some of its finest actors. They include Robert Rodriguez's "Desperado" opposite Salma Hayek and Rodriguez's "Once Upon a Time in Mexico" opposite Johnny Depp, Michael Cristofer's "Original Sin" opposite Angelina Jolie, Alan Parker's "Evita" opposite Madonna (for which he received his first Best Actor Golden Globe nomination), Martin Campbell's "The Mask of Zorro" opposite Catherine Zeta-Jones (for which he received his second Best Actor Golden Globe nomination), Neil Jordan's "Interview with the Vampire" with Tom Cruise and Brad Pitt, Jonathan Demme's "Philadelphia" opposite Tom Hanks and Denzel Washington, Bille August's "House of the Spirits" with Meryl Streep and Glenn Close and Brian De Palma's "Femme Fatale."

Other film credits include the "Spy Kids" trilogy, "Miami Rhapsody," "Four Rooms," "Assassins," "Never Talk to Strangers," "Two Much," "The 13th Warrior," "Play It to the Bone" and "Ballistic: Ecks vs. Sever."

He was nominated for his third Best Actor Golden Globe for his performance as the infamous Pancho Villa in HBO's 2003 release of "And Starring Pancho Villa as Himself."

Born in Malaga, Spain, Banderas attended the School of Dramatic Arts in his hometown and upon graduation, he began his acting career working in a small theater company based there. He later moved to Madrid and became an ensemble member of the prestigious National Theater of Spain.

In 1982, Banderas was cast by writer/director Pedro Almodovar in "Labyrinth of Passion." It was the first of five films Banderas would do with Almodovar, the others being "Matador," "Law of Desire," "Women on the Verge of a Nervous Breakdown" and "Tie Me Up! Tie Me Down!" The international success of these films introduced him to Hollywood.


JULIE ANDREWS, who returns as Shrek's mother-in-law The Queen of Far Far Away, has been a beloved and much-honored star of stage, screen and television for more than half a century. She was already a Broadway legend when she made her feature film debut in 1964's "Mary Poppins."

Andrews' iconic performance in the title role of the magical nanny brought her an Academy Award®, a Golden Globe and a BAFTA Award. The following year, she earned a second Oscar® nomination and won another Golden Globe Award for her unforgettable portrayal of Maria von Trapp in "The Sound of Music." She received her third Academy Award® nomination and won another Golden Globe Award for her "dual" role in "Victor/Victoria."

Today's film audiences know Andrews as a queen trying to train her teenaged granddaughter to be a princess in "The Princess Diaries" and its equally popular sequel "The Princess Diaries 2: Royal Engagement," as well as the voice of Queen Lillian in the blockbuster hit, "Shrek 2," the first sequel to the Oscar®-winning animated blockbuster "Shrek."

Her earlier motion picture credits also include "The Americanization of Emily," "Hawaii," "Thoroughly Modern Millie," "Star!," "Darling Lili" and "10," to name but a few.

Andrews was born and raised in England, where she first came to fame as a young musical performer on stage and on radio. She was still in her teens when she made her way across the Atlantic and to Broadway, where she made her debut in 1953 in the musical "The Boy Friend."

She went on to create the role of Eliza Doolittle in Lerner and Loewe's Broadway musical "My Fair Lady," which became an instant classic and the longest-running musical of its day. Andrews also won a New York Drama Critics Award and garnered a Tony Award nomination for her performance. She received another Tony Award nomination in 1961 when she originated the role of Queen Guinevere in the Lerner and Loewe musical "Camelot." Thirty-five years later, Ms. Andrews returned to Broadway to star in the 1996 stage adaptation of "Victor/Victoria."

Andrews has also been honored for her work on television, beginning in 1957 with her Emmy-nominated performance in the title role of Rodgers and Hammerstein's musical "Cinderella." She later won an Emmy Award for her own musical variety series, "The Julie Andrews Hour," and also earned Emmy nominations for "Julie and Carol at Lincoln Center," with her close friend Carol Burnett, her appearance on "The Andy Williams Show," and her performance in the special "Sounds of Christmas." Andrews' more recent television work includes "Eloise at the Plaza" and "Eloise at Christmastime," and she also starred opposite Christopher Plummer in the CBS live production of "On Golden Pond."

The Julie Andrews Collection, an imprint of HarperCollins Publishers launched in October 2003, has produced 23 releases to date. Ms. Andrews, already an accomplished best-selling author (The Last of the Really Great Whangdoodles, Mandy, Little Bo, Dumpy the Dump Truck), joined talents with her daughter, Emma Walton Hamilton, to pursue the publishing of books committed to stimulating a sense of wonder in children and young readers. The imprint includes newly discovered authors and re-purposing books out of print. Dumpy the Dump Truck is soon to be launched as a television series for PBS.

Andrews received her honors as a Dame of the British Empire by Her Majesty Queen Elizabeth II on New Year's Eve 1999. She was a 2001 Kennedy Center Honoree and secured a Lifetime Achievement Award from the Screen Actors Guild.


JOHN CLEESE, who again brings his commanding voice to the role of The King of Far Far Away, first appeared on British television in "The Frost Report" in 1966 and 1967. During the same period, he appeared in "At Last the 1948 Show." In 1969 he co-created "Monty Python's Flying Circus," which produced three series. In 1975, he created the first series of "Fawlty Towers," and followed this with the second series in 1979. In 1980, he played Petruchio in "The Taming of the Shrew" as part of the BBC's Shakespeare season. He also appeared as Lacrobat in "Whoops Apocalypse" for LWT in 1981.

Working with the Python team, he also produced four films – "And Now For Something Completely Different" (1971), "Monty Python and the Holy Grail" (1974), "The Life of Brian" (1979) and "The Meaning of Life" (1983).

In 1988, he starred in and co-wrote (with director Charles Crichton) "A Fish Called Wanda," and received Golden Globe and Oscar® nominations for screenplay, won the Italian Oscar for screenplay, and also took home a BAFTA award for Best Film Actor. Using the same team of actors he made "Fierce Creatures" in 1996.

Some of Cleese's other credits as a film actor include "The Great Muppet Caper" (1980), "Time Bandits" (1980), "Privates on Parade" (1982), "Silverado" (1984), "Clockwise" (1986), Terry Jones' "Erik the Viking" (1988), Eric Idle's "Splitting Heirs" (1992), "Mary Shelley's Frankenstein" (1994), "The Jungle Book" (1995), "The Out-of-Towners" (1998) and "Rat Race" (2001).

Recent films include "Harry Potter and the Sorcerer's Stone" and "Harry Potter and the Chamber of Secrets" (as Nearly Headless Nick), the James Bond adventures "The World is Not Enough" and "Die Another Day" (in which he played Q), "Pinocchio," "Charlie's Angels: Full Throttle," "Man About Town," "Valiant," "Charlotte's Web" and "Shrek 2," for which he first voiced The King.

In 1987, Cleese received an Emmy Award for Outstanding Guest Performer in a Comedy Series for "Cheers" and was also nominated for his work on "3rd Rock from the Sun." More recently, he made several guest appearances on the hit comedy series "Will and Grace," and was honored with another Emmy nomination. Cleese also wrote and presented the four-part Emmy-nominated documentary series "The Human Face," which was featured in America on The Learning Channel in 2001.

Cleese also created and produced "The Secret Policeman's Ball" shows for Amnesty International.
In 1989, Cleese received the Jack Benny Award for Outstanding Contribution in the Field of Entertainment at the University of California at Los Angeles.

In 1972, he co-founded Video Arts, which swiftly became the leading provider of business training programs on video. He sold the company in 1991, but still appears in their videos. In 1993, he set up a new company with Dr. Rob Buckman, Videos for Patients, to help improve communication between patients and doctors. There are currently 45 titles in this video series.

In 1983, he co-wrote Families and How To Survive Them with Dr. Robin Skynner, which was produced as a series for BBC Radio 4 in 1990. Their sequel, Life and How to Survive It was published in 1993.

In 1998, Cleese became a Professor-at-Large at Cornell University. In 1999, he received an honorary Doctor of Letters degree from Pomona University. And in 2002, he received the Anglo-American Gold Sovereign Medal from the Smithsonian Institution, Washington, D.C.


RUPERT EVERETT returns as the voice behind the vengeful, but strikingly handsome, Prince Charming. In recent years, Everett has attained international stardom due to a memorable array of both comedic and dramatic film roles. His scene-stealing performance as Julia Roberts' confidant in "My Best Friend's Wedding" earned him Golden Globe and BAFTA Award nominations, as well as American Comedy, Blockbuster Entertainment and London Film Critics Awards for Best Supporting Actor. Everett's autobiography Red Carpets and Other Banana Skins was published by Hachette Book Group USA in January 2007 to rave reviews.

Everett also recently lent his voice to Disney's "Chronicles of Narnia: The Lion, The Witch and the Wardrobe."

Everett was recently seen in the drama "Separate Lies," Richard Eyre's "Stage Beauty" co-starring Billy Crudup and Clare Danes, "The Importance of Being Earnest" and "To Kill a King," as well as the TV mini-series "Les Liaisons dangereuses." Later this summer he will be part of an all-star cast including Danes, Michelle Pfeiffer and Robert De Niro in Paramount's fantasy adventure "Stardust."

In 1999, Everett was nominated for a Golden Globe Award for Best Actor in a Comedy or Musical for his memorable portrayal of Lord Arthur Goring in Oscar Wilde's classic tale "An Ideal Husband."

Other film credits include P.J. Hogan's "Unconditional Love," "The Next Best Thing" opposite Madonna, Disney's "Inspector Gadget," Miramax's "A Midsummer Night's Dream," the critically acclaimed "The Madness of King George" and the children's favorite "Dunston Checks In."

Everett has also garnered critical acclaim for his dramatic work on stage. Most notably, he gained recognition for his performance in "Another Country," a role that he had originated on stage in London. He then went on to star alongside Colin Firth in the film version in 1984.

Additional London theater credits include: Tennessee Williams' "The Milk Train Doesn't Stop Here Anymore," Oscar Wilde's "The Importance of Being Earnest," "Some Sunny Day," "Another Country," "Mass Appeal," "Don Juan" and "Chinchilla." His theater work in Glasgow includes: "The Vortex," "Heartbreak House," "A Waste of Time," "Private Lives," "The Picture of Dorian Gray" and "The White Devil."

Everett is also the author of two successful novels, Hello Darling Are You Working? and The Hairdresser of St. Tropez, which was published in the United Kingdom in 1995.
Everett resides in Europe.


ERIC IDLE (Merlin) who joins the "Shrek" team of players as Merlin the magician, has multi-hyphenated his way through life, from being a writer and actor in the legendary "Monty Python" TV series and movies, to serving as creator and director of "The Rutles." He has appeared on stage singing rude songs at Carnegie Hall and the Hollywood Bowl, as well as performing in two highly successful tours, "Eric Idle Exploits Monty Python" in 2000 and 2003's "The Greedy Bastard Tour," for which he journeyed 15,000 miles across North America in a bus. His Greedy Bastard Diary of that tour is available from HarperCollins.

"Spamalot," a musical theatrical version of "Monty Python and the Holy Grail," won him a Tony for Best Musical of 2005 and a Grammy for Best Soundtrack. The musical is still playing on Broadway, as well as on tour in London and Las Vegas. His latest work with John Du Prez is a comic Oratorio "Not the Messiah," which will premiere shortly in Toronto.


JUSTIN TIMBERLAKE joins the "Shrek" family as the young Medieval High outcast, Artie. Recently, in addition to recording a multi-platinum album "FutureSex/LoveSounds," which produced three consecutive #1 singles, and launching a highly lauded "FutureSex/LoveSounds Show," the winner of multiple Grammy Awards is appearing in three other films in 2007 in addition to "Shrek the Third."

He already earned rave reviews for Universal's crime drama "Alpha Dog" co-starring Emile Hirsh, Bruce Willis and Sharon Stone. The Los Angeles Times said the movie is "a showcase of Timberlake, who turns in 'Alpha Dog's' most nuanced performance." He next starred in Paramount Vantage's "Black Snake Moan," Craig Brewer's follow-up to his Sundance hit "Hustle and Flow," alongside Christina Ricci and Samuel L. Jackson. The film premiered at the 2007 Sundance Film Festival and opened in late February. Later in the year, Timberlake will join the ensemble cast of Dwayne Johnson, Seann William Scott, Sarah Michelle Gellar and Mandy Moore in "Southland Tales" from Richard Kelly, the director of the cult hit "Donnie Darko."

Timberlake has also hosted two memorable episodes of "Saturday Night Live."


JOHN KRASINSKI lends his vocal talents to the character of young Lancelot. A dynamic young actor who has caught the eye of this generation's most exciting directors, such as Sam Mendes and Bill Condon, Krasinski is quickly making his mark in both film and television.

Krasinski portrays sales rep Jim Halpert, a decent and funny guy who has a crush on his co-worker Pam and likes to make trouble for Dwight his cubicle mate, on NBC's hit series "The Office."

Krasinski recently appeared in Christopher Guest's comedy "For Your Consideration" and will also appear in "License to Wed" opposite Robin Williams and Mandy Moore. This romantic comedy revolves around a young couple whose wedding plans are interrupted when the pushy minister (Williams) of the bride's family church orders the pair to complete a two-week pre-nup course. They must pass the class if they want to marry in his church.

Krasinski's other feature film credits include "Kinsey" starring Liam Neeson and Laura Linney; "Duane Hopwood" starring David Schwimmer and Janeane Garafalo, which premiered at the 2005 Sundance Film Festival; and "Jarhead" starring Jake Gyllenhaal. He was most recently heard in the Weinstein Co's animated film "Doogal," in which he voiced three characters.

Among Krasinski's other television credits are appearances on NBC's "Law & Order: Criminal Intent," "Ed" and "Without a Trace."

Krasinski graduated from Brown University as an honors playwright and later studied at the National Theater Institute.

Born and raised in Newton, Massachusetts, Krasinski currently resides in Los Angeles.


IAN MCSHANE, the voice of Captain Hook, is currently filming the adventurous fantasy "The Dark Is Rising" directed by David L. Cunningham, after which he will relocate to New York City to return to Broadway in Daniel Sullivan's revival of Harold Pinter's "The Homecoming." It's a 40th anniversary for both as Ian made his Broadway debut in "The Promise" in 1967, the same year "The Homecoming" made its Broadway debut.

McShane's unique voice will be heard in another upcoming DreamWorks Animation release as the villainous snow leopard Tai Lung in "Kung Fu Panda," which will hit theaters in 2008. Additionally, McShane will star in Paramount Pictures' summer release "Hot Rod," a comedy directed by "Saturday Night Live's" Akiva Schaffer, in which he will play the macho, athletic stepfather to accident-prone daredevil Andy Samberg, and next year will play a detective in Paramount's "Case 39" opposite Renée Zellweger. He will also voice the role of Mr. Bobinksy in Laika Entertainment's first animated feature "Coraline" an adaptation of Neil Gaiman's international best-selling book directed by Henry Selick. He has also voiced Iorek Byrnison in "His Dark Materials: The Golden Compass" with Nicole Kidman and directed by Chris Weitz.

McShane earned the coveted Golden Globe Award for Best Actor in a Television Drama for his versatile performance as Al Swearengen on HBO's hit series "Deadwood." His charismatic and alluring performance also led him to a 2005 Emmy and 2005 and 2006 SAG nominations for Lead Actor. In 2005, he was named "TV's Sexiest Villain" by People magazine.

Late last year, McShane starred in the true-life drama "We Are Marshall," directed by McG, opposite Matthew McConaughey and Matthew Fox, the story of a university overcoming the tragedy of losing a part of their football team in a deadly plane crash. McShane played the role of Paul Griffen, a university board member and father to one of the football players killed in crash. McShane was also seen in Woody Allen's 2006 film "Scoop" alongside Scarlett Johansson and Hugh Jackman in the role of Joe Strombel.

Following a wave of critical acclaim for the first season of "Deadwood," which was highlighted by receiving the Television Critics Association's annual award for "Individual Achievement in Drama," McShane was named as one of GQ's "Men of the Year." They described the character of Swearengen as "infectious" and "darkly irresistible." The New York Times dubbed him "One of the Most Interesting Villains on Television," and Rolling Stone magazine bestowed the title of "Hot Barkeep" and described the character as "played to perfection."

Having starred in more than 30 films including the recent indie film "Nine Lives" written and directed by Rodrigo Garcia, it was McShane's film debut in 1962's "The Wild and the Willing" that lead to other leading roles in "The Battle of Britain," "The Last of Sheila," "Villain" (co-starring Richard Burton), "Exposed," and "Agent Cody Banks." In Jonathan Glazer's critically acclaimed indie "Sexy Beast," he gave another riveting performance by transforming himself into the dark, sinister and very handsome character Teddy Bass, prompting one London writer to declare McShane "the king of cool."

McShane has enjoyed a long and creatively diverse career in both British and American television, including a role in David Wolper's seminal 1970s mini-series "Roots," as well as BBC and BBC America's "Trust," playing the eccentric megalomaniacal head of the firm, Alan Cooper-Fozzard. Star turns in "Whose Life Is It Anyway?" for Granada TV, Heathcliff in "Wuthering Heights" for the BBC and Harold Pinter's Emmy-winning "The Caretaker" are among his other television highlights. McShane has also stepped into roles as well-known figures, taking on parts as Judas in NBC's "Jesus of Nazareth" directed by Franco Zeffirelli, Prince Rainer in the network's "The Grace Kelly Story" and the title role in Masterpiece Theatre's "Disraeli." Additional mini-series credits include "Charlie the Kid," "A.D.," "The Great Escape II," "Marco Polo," "Evergreen" and "War and Remembrance."

In the late '80s he formed McShane Productions, which produced the much-adored "Lovejoy" for the BBC and A&E. "Lovejoy" gave McShane a vehicle to star in as well as produce and direct. He followed his lovable rogue character by producing and starring in the darker and more serious lead role in "Madson" and the comedy drama "Soul Survivors" for BBC and Showtime. "Lovejoy" is currently enjoying a revival with audiences worldwide.

In 2000, McShane returned to the West End in London to make his musical debut starring in Cameron Mackintosh's successful musical "The Witches of Eastwick" as Darryl Van Horne. His varied stage career has included roles as Hal in the original cast of "Loot," the title role of "The Admirable Crichton" at the Chichester Festival, Tom in "The Glass Menagerie" and Charlie in "The Big Knife." He co-starred with Judi Dench and Ian McKellen in "Promise," which successfully played in London and debuted on Broadway. In Los Angeles he starred in three productions at The Matrix Theatre, including the world premiere of Larry Atlas' "Yield of the Long Bond" for which he received the Los Angeles Drama Critics Circle Award, "Inadmissible Evidence" and "Betrayal."

Born in Blackburn, England, McShane is the son of professional soccer player Harry McShane, who played for Manchester United, and Irene McShane. He attended the Royal Academy of Dramatic Arts.

McShane and his wife Gwen Humble reside in Venice Beach, California.


CHERI OTERI, who plays Sleeping Beauty, is an actress known for the boundless creativity that goes into her flawlessly detailed characters. She is currently branching beyond her acclaimed work on "Saturday Night Live" with several roles in feature films.

Prior to joining "SNL," Oteri was a member of the Los Angeles-based improv/sketch comedy group The Groundlings. She appeared on "SNL" for five seasons and is probably best known for her portrayal of Arianna, the female half of the Spartan Spirit Cheerleader Squad. She is also remembered for Cass van Ry, the dense and shallow co-host of the fictional talk show "Morning Latte," Rita, the self-appointed mayor of her street who polices local neighborhood children, and the prescription-addled Colette Reardon. Her hysterical impressions of Barbara Walters and Judge Judy have both been "Cheered" by TV Guide. Other memorable impersonations include Mariah Carey, Debbie Reynolds, Jennifer Lopez and Ross Perot. Oteri's "SNL" characters were celebrated this year with a "Best of Cheri Oteri" special on "SNL."

In addition to her acclaimed work on "SNL," Oteri received an Emmy nomination for a memorable guest-starring appearance on the hit NBC situation comedy series "Just Shoot Me" as the inept but perky secretary Cindy. She has also been a guest-star on Larry David's popular HBO series "Curb Your Enthusiasm."

On the big screen, Oteri has been seen in "Scary Movie" directed by Keenan Ivory Wayans. She also appeared in "Liar, Liar" opposite Jim Carrey, "Inspector Gadget," "Love & Sex" and "Dumb and Dumber." Her recent films include "Park," "Smile" (which shot on location in China) and "Southland Tales."

Oteri is currently developing a comedy with J.J. Abrams. A native of Philadelphia, Oteri currently lives in Los Angeles.

AMY POEHLER, who joins the cast as Snow White, is in her sixth season on "Saturday Night Live" and her third as the co-anchor of "Weekend Update."

She recently starred in the hit DreamWorks comedy "Blades of Glory," and is also on screen in 2007 in New Line Cinema's "Mr. Woodcock" opposite Billy Bob Thornton and Seann William Scott and the Warner Bros. comedy "Spring Breakdown" opposite Parker Posey. She is also set to appear in "Fast Track" with Zach Braff, Jason Bateman and Amanda Peet and "Southland Tales" for director Richard Kelly ("Donnie Darko").

Renowned as "a brilliantly inventive sketch comedian" (Entertainment Weekly, 11/19/05), Poehler boasts an impressive arsenal of outrageous characters, from the hyperactive Caitlin and one-legged reality show contestant Amber to a manic host of "Good Morning Meth." Poehler has also contributed memorable impressions of Kelly Ripa, Avril Lavigne, Sharon Osbourne, Paula Abdul, Senator Hillary Clinton, Sharon Stone and Michael Jackson.

Poehler joined the "SNL" cast from the Upright Citizens Brigade, a sketch/improv troupe originally formed in Chicago. Poehler and the U.C.B. relocated to New York, where they had a sketch show on Comedy Central for three seasons on which she was both a writer and performer.

In addition, they opened a theater currently regarded as the premiere sketch/improv comedy venue in New York City. Poehler and the U.C.B. were featured in "A.S.S.S.S.C.A.T.: Improv," an improvised comedy special on Bravo.

Other feature credits include the hit comedy "Mean Girls," opposite Lindsay Lohan and Tina Fey; "Tenacious D in The Pick of Destiny" with Jack Black; "Deuce Bigalow: Male Gigolo"; "Wet Hot American Summer"; and "Envy."

Poehler has made memorable appearances on television, ranging from "Late Night with Conan O'Brien" (as recurring character Stacey, Andy Richter's little sister), "Arrested Development" (playing the wife to real-life husband Will Arnett), "Wonder Showzen" and "Undeclared." She also was a voice on "O'Grady" and "The Simpsons."
Poehler and Arnett live in New York City.

MAYA RUDOLPH, the voice of Rapunzel, is currently in her seventh season on "Saturday Night Live" on which she received early acclaim for her over-the-top portrayal of Donatella Versace. She has since created many memorable characters, such as the vaguely European home design enthusiast Nooni opposite Fred Armisen and Britannica, half of the pop group "Gemini's Twin" with Ana Gasteyer. In addition to her Versace, other impressions have included Halle Berry, Liza Minnelli, Christina Aguilera, Beyoncé (in "The Prince Show"), Whitney Houston and Oprah Winfrey.

Rudolph joined "SNL" from the Groundlings Theater in Los Angeles, where "SNL" alums Laraine Newman, Phil Hartman and Jon Lovitz, as well as former "SNL" cast mates Will Ferrell, Ana Gasteyer and Chris Kattan also performed.

Rudolph was recently seen in Mike Judge's comedy "Idiocracy" with Luke Wilson and in Robert Altman's film version of Garrison Keillor's "A Prairie Home Companion" opposite Meryl Streep.

Other film credits include "Duplex" with Ben Stiller and Drew Barrymore, "Anchorman," "Chuck & Buck" and "Duets."

Rudolph resides in Los Angeles and New York.


AMY SEDARIS, who voices Cinderella, is a 5'0" Grecian spitfire who hails from North Carolina and studied and performed with Chicago's Second City. Her New York theatre credits include "Wonder of the World" (Lucille Lortel Award Nomination); "The Country Club" (Drama Dept); "The Most Fabulous Story Ever Told"; "Talent Family Plays" (written by David and Amy Sedaris); "Jamboree"; "Stump the Host, Stitches"; "One Woman Shoe" (Obie Award); "The Little Frieda Mysteries" (Encore Award); "Incident at Cobble Knob" (Lincoln Center); and most recently, "The Book of Liz" (Drama Dept). Her regional theater work includes "The Country Club" (Long Wharf).

Sedaris was a regular on "Exit 57" and "Strangers with Candy" (both Comedy Central) and had recurring roles on "Just Shoot Me," "Sex and the City," "Monk" and "Cracking Up." Her latest film projects include "Bewitched," "Strangers With Candy – The Movie," "Chicken Little," "Full Grown Men," "Romance & Cigarettes" (directed by John Turturro), "Maid in Manhattan," "School of Rock" and "Elf."

In October 2006, Sedaris' best-selling book I Like You: Hospitality Under the Influence, was released. Amy works to support her cupcake and cheeseball business.
2007 Film Entertainment Magazine / EMOL.org. All rights reserved.