Jamie Kennedy (Tim Avery)
An actor with a unique view and offbeat sensibility, Jamie Kennedy skyrocketed to fame with a groundbreaking performance and scene-stealing rants in Wes Craven's Scream and Scream 2, for which he won a Blockbuster Movie Award for Best Supporting Actor/Horror. His portrayal of Randy Meeks, the video-store-clerk-turned-horror-hero with a knack for pop culture, secured him a place in the annals of horror movie history. He then went on to work with some of Hollywood's biggest names, including George Clooney, Eddie Murphy, Steve Martin, and Will Smith.
Most recently, Kennedy was seen on the big screen in his starring role in the Warner Bros. film Malibu's Most Wanted. The film, which he also co-wrote, is based on the fictional Malibu rapper Brad Gluckman, one of the characters Kennedy created and often portrayed on "The Jamie Kennedy Experiment." Kennedy's next film project is the animated feature Robots, out this March, with Ewan McGregor, Halle Berry, Greg Kinnear, Mel Brooks, Drew Carey, and Robin Williams.
Kennedy also conquered the book market with the release of his autobiography Wannabe…A Hollywood Experiment in the summer of 2003. In the book, Kennedy shares his good and bad times, from his boyhood in Philly to his current Hollywood experiences.
A television auteur as well, Kennedy triumphed on the WB when he created the hit show "The Jamie Kennedy Experiment" which debuted on the network in January 2002. Kennedy was writer, producer, and star of the series, portraying a myriad of characters each week during the show's three seasons. This March, Kennedy will be returning to television as the co-creator and executive producer on the upcoming series "Living with Fran" starring Fran Drescher, also for The WB.
As a teenager growing up near Philadelphia in Upper Darby, Pennsylvania, Kennedy got a taste of Hollywood working as an extra in Dead Poets Society. A year later, he moved out to Los Angeles at age 18 and began performing improvisational comedy and stand-up at open-mike nights.
After much dues-paying, Kennedy got his first big break in 1996 with the role of Sampson in Baz Luhrmann's Romeo + Juliet. Soon after, he was a breakout star of Scream and next appeared as a street hustler in James L. Brooks' As Good As It Gets. The roles continued and in 1999 Kennedy co-starred in the Persian Gulf War movie Three Kings, directed by David O. Russell and starring George Clooney and Mark Wahlberg. That same year, he starred as a wannabe cinematographer opposite two of his biggest idols, Steve Martin and Eddie Murphy, in the comedy Bowfinger. In Boiler Room, Kennedy teamed up with Ben Affleck, Giovanni Ribisi and Vin Diesel to expose the dark side of Wall Street.
Amassed in a short time, Kennedy's expansive list of movie credits also includes Enemy of the State opposite Will Smith and Gene Hackman; Bait starring Jamie Foxx and David Morse; Max Keeble's Big Move; The Debtors with Randy Quaid and Michael Caine; Starf*cker; Clockwatchers; Bongwater; and The Specials with Rob Lowe and Thomas Haden Church, a film which Kennedy also produced.
Kennedy currently resides in Los Angeles.
Alan Cumming (Loki)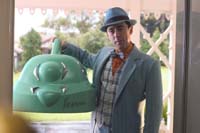 Tony Award winner Alan Cumming has had an eclectic career that has included many outstanding performances in theater, feature films, stand-up comedy and writing and directing for film and television. His unforgettable portrayal of the Emcee in the Broadway musical of Cabaret was one of the most celebrated performances of recent years. In addition to a Tony Award, his performance also won him the Drama Desk, Outer Critics Circle, Theater World and the New York Public Advocate's Awards. For the original London production Cumming received an Olivier Award nomination.
Cumming's upcoming films include the following: Showtime's Reefer Madness, a tongue-in-cheek musical comedy adaptation of the 1936 classic anti-marijuana propaganda film; Ant Bully, an animated feature from Warner Bros.; and the independent films, Neverwas, opposite Aaron Eckhart and Ian McKellan, and Eighteen. Cumming will next segue into production on the independent films Bam Bam and Celeste.
Cumming recently starred as 'Nightcrawler' in the worldwide smash hit X2: X-Men United. He also reprised his role as 'Floop' in the third installment of the highly successful Spy Kids franchise. Other credits include Julie Taymor's Titus; Eyes Wide Shut opposite Tom Cruise and Nicole Kidman; Plunkett and Macleane; The Flintstones in Viva Rock Vegas; Nicholas Nickleby; Company Man; Josie and the Pussycats; Romy and Michelle's High School Reunion; Investigating Sex; Buddy; Emma opposite Gwyneth Paltrow; Goldeneye; Circle of Friends; Black Beauty; Second Best; Get Carter; Urbania for director John Matthew and Prague, for which he received Best Actor Honors at the Atlantic Film Festival.
Cumming also co-produced, co-wrote, co-directed and starred in the National Board of Review honored film, The Anniversary Party, with Jennifer Jason Leigh. The ensemble cast includes Gwyneth Paltrow, Kevin Kline and John C. Reilly.
On television Cumming has guest-starred on Frasier, Third Rock from the Sun and Sex and The City as well as hosting Saturday Night Live. He also starred as the sinister 'Rooster' in the ABC-TV musical production of Annie, a telefilm that received record ratings and 11 Emmy nominations , and in the TNT re-make of the classic romantic comedy, The Goodbye Girl.
In theatre, Cumming made his West End debut in 1988 at the Royal Court in The Conquest of the South Pole and was nominated Most Promising Newcomer in that year's Olivier Awards. He went on to win an Olivier Award for Accidental Death of an Anarchist at the Royal National Theatre in 1991 and was nominated again the following year for his performance in La Bete at the Lyric Hammersmith. In total, Cumming has been nominated for a record four Olivier Awards. In 1993 Cumming won rave reviews for his performance as Hamlet in London's Donmar Warehouse production, as well as a TMA Best Actor Award and a Shakespeare Globe Award nomination.
In addition to his acting work, Cumming is also a published author. His first novel, Tommy's Tale, was published by Harpers Collins in America and Penguin in the UK.
Bob Hoskins (Odin)
Bob Hoskins is one of England's most visible actors and has frequently appeared in American films as well. Among his best-known are Who Framed Roger Rabbit?; Cotton Club; Mermaids; Nixon; and Maid in Manhattan.
Born in Bury St. Edmonds, Suffolk, Hoskins left school at 15 with dreams of an acting career. He supported himself with odd jobs (including working in a circus as a fire eater) before gaining regular employment as a working actor on stage and in British television. American viewers first noticed him as the lead in the original British miniseries of Dennis Potter's Pennies from Heaven. Hoskins made his motion picture debut in John Byrum's Inserts which was produced by Davina Belling and Clive Parsons in 1975, but his breakthrough was in Neil Jordan's Mona Lisa (1987).
For that film he received an Academy Award nomination as Best Actor, and won a BAFTA award, a Golden Globe, a Cannes Film Festival award, and awards from the Los Angeles Film Critics, the London Film Critics, the New York Film Critics, and the National Society of Film Critics.
Among his other film credits are The Long Good Friday; Brazil; A Prayer for the Dying; The Lonely Passion of Judith Hearne; Shattered; Hook; The Inner Circle; Michael; 24 7: Twenty Four Seven; Cousin Bette; Felicia's Journey; Enemy at the Gates; The Last Orders; and the upcoming Vanity Fair; Beyond the Sea; Stay; and Elizabeth Rex. He has also starred as two twentieth-century dictators in the TV miniseries Noriega: God's Favorite and Mussolini: Decline and Fall of Il Duce as well as Winston Churchill in the CBS live broadcast television movie World War II: When Lions Roared.
Hoskins directed himself in the film Rainbow and wrote, directed and starred in The Raggedy Rawney. He also produced and starred in the 1996 film Secret Agent, based on the novel by Joseph Conrad.
He has just finished producing Mrs. Hendenson Presents with Norma Heyman, starring Judy Dentch.
Traylor Howard (Tonya)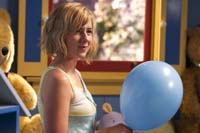 Most recently, Traylor Howard was seen on CBS's Bram and Alice with Alfred Molina.
Traylor's feature credits include Me, Myself and Irene with Jim Carrey and Renee Zellweger. She also appeared opposite Norm McDonald and Chevy Chase in the MGM feature Dirty Work and in the Indy feature Confessions of a Sexist Pig.
Howard starred in Two Guys and a Girl for ABC, with Ryan Reynolds and Richard Ruccolo, as 'Sharon', the guys' best friend.
An Orlando, Florida native, Howard's first exposure to acting was appearing in commercials while in High School. She later graduated from Florida State University with a degree in communications and advertising and a minor in English. She appeared in over thirty national commercials before winning the role of 'Joy' on the NBC comedy series Boston Common.
Steven Wright (Daniel Moss)
Academy Award Winner Steven Wright is a prototype comedian that many others continually try to follow. One of four children, Wright was raised in Burlington, MA. Upon graduating from Emerson College and holding a bevy of odd jobs, Steven attended an "open mike" audition and became a regular performer at Ding Ho's Comedy Club and Chinese Restaurant in Cambridge, MA.
It was during this time, in August of 1982, that Steven got his big break and was booked for his first "Tonight Show" appearance. The king of late night enjoyed the performance so much he invited Steven to appear again within a week, a rarity on "The Tonight Show." His back-to-back appearances helped put his fledgling career into high gear. The comic soon found himself performing his off-beat routines on "Saturday Night Live," "Late Night with David Letterman," and numerous trips back to "The Tonight Show with Johnny Carson."
Wright expanded his comedy career to include comedy albums, film and television appearances. His 1986 debut album, I Have A Pony, earned him a Grammy nomination. In 1988, Steven starred in his first HBO Special "On Location: Steven Wright". In 1989, Steven was honored with an Academy Award for Best Short Film for his film entitled "The Appointments of Dennis Jennings" in which he starred and co-wrote. Other stars of the film included "Roseanne's" Laurie Metcalf and British comedian, Rowan Atkinson. In September of 1990, Steven starred in his second stand-up special for HBO called "Wicker Chairs and Gravity." The special included stand-up from The Winter Garden Theatre in Toronto and a short film shot on location in New York and New Jersey.
Steven has been seen in numerous films. Most recently, he starred in Coffee and Cigarettes, directed by Jim Jarmusch. Other films include Desperately Seeking Susan, Mike Meyers' So I Married An Axe Murderer, and Oliver Stone's Natural Born Killers. Steven starred with John Cleese and Jack Palance in New Line's animated film, The Swan Princess as the voice of Speed, the turtle.
He also has done memorable cameos in such films as Albert Brooks' The Muse starring Brooks, Sharon Stone, Andie MacDowell, and Jeff Bridges, Half-Baked, starring Dave Chappelle, and was a featured voice in Babe 2: Pig in the City.
Steven wrote, directed and stars in a short film called "One Soldier" that was screened at numerous film festivals and can be seen on the Independent Film Channel. The film is the story of a man intrigued by the unanswerable questions of life.
Steven Wright is a regular guest on "The Late Show with David Letterman", "The Tonight Show with Jay Leno", and "Late Night with Conan O'Brien".
Steven Wright continues touring the U.S., Canada and overseas.
The website, www.stevenwright.com, features Steven's paintings, a song written and performed by Steven, written pieces, stand-up and film clips, tour dates and chat rooms.
This year is proving to be Kal Penn's most successful one yet. Kal recently finished tackling his first lead as "Kumar" in Harold & Kumar Go To White Castle alongside John Cho. Kal has three more features due out in 2005. First up, A Lot Like Love alongside Ashton Kutcher and Amanda Peet. Next up is Media 8 Entertainment's Man About Town with Ben Affleck and Jerry O'Connell. Also, he is about to star in the new film The Namesake based on the novel by Jhumpa Lahiri and directed by Mira Nair. Lastly, Kal will begin shooting Vegas Baby. Kal will also be in the last six episodes ever of highly exclaimed hit drama "Six Feet Under" playing Lauren Ambrose's love interest.
Kal is also making a name for himself on the indie film circuit. He plays "Bobby" in Victory Productions Arrangement and El Camino Pictures Sueno. He can also be seen in 2003's American Made and is currently shooting Dancing In Twilight with Mimi Rogers and Erik Avari. In February, Kal will begin shooting Searching For Sara in Jaisalmer, India in which he will play "Amar" opposite Justin Theroux and Emmy Rossum.
Kal will forever be remembered for his hilarious role as "Taj" opposite Ryan Reynolds and Tara Reid in the comedy National Lampoon's Van Wilder. In addition, Kal starred in Love Don't Cost A Thing, and urban re-make of the 80's hit comedy Can't Buy My Love, alongside Christina Milian and Steve Harvey. Kal was also seen in Malibu's Most Wanted opposite Jamie Kennedy. Kal's additional feature film credits include Eros Entertainment's American Desi and Tom Huang's Freshman.
After his supporting role in the Emmy Award winning HBO Films comedy Express: Aisle To Glory (1999), Kal went to work on episodes of "Spin City," "Buffy the Vampire Slayer," "Sabrina the Teenage Witch" and the Steve Harvey Show." During the 1999-2000 TV season, Kal was a series regular on the ABC/Touchstone pilot "Brookfield" produced by the Shepard-Robin Company. During the 2001-2002 TV season Kal had guest spots on "NYPD Blue," "The Agency," "Angel" and "That's Life."
Kal was born and raised in New Jersey, which allowed him to train extensively in theatre all over the metropolitan New York area. His most memorable experiences include working with the George Street Playhouse, The Atlantic Theatre Company, The New Jersey Governor's School of the Arts and Rutger's University Summer Arts Institute.
When Kal graduated from the Freehold Regional High School District's Performing Arts High School, he was accepted into the prestigious School of Theater, Film and Television at the University of California Los Angeles. During his time at UCLA, Kal continued to build his body of work in film and television both inside and outside of the classroom.
Kal currently resides in Los Angeles.
Next: The Film Makers