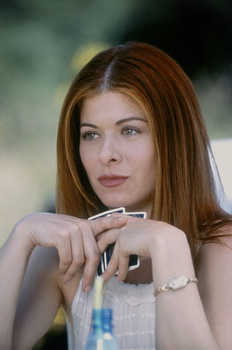 DEBRA MESSING (Kat Ellis) has become known worldwide for her multiple award-winning role as Grace Adler on the hit NBC-TV series Will & Grace. She was recently named TV Guide's 2004 TV Performer of the Year.
In addition to a 2003 Emmy win for Outstanding Lead Actress in a Comedy Series, Messing has earned three other Emmy nominations in that category, five Golden Globe Award nominations, two People's Choice Award nominations and two American Comedy Award nominations. She also won the 2001 TV Guide Award for Actress of the Year in a Comedy Series, a 2001 Screen Actors Guild Award as a member of the Will & Grace ensemble cast and a 2002 Golden Satellite Award from the International Press Academy.
Messing's most recent film roles include Universal's successful comedy Along Came Polly, in which she starred opposite Ben Stiller and Jennifer Aniston; and the voice of Arlene in the animated hit Garfield: The Movie. Other feature roles include Woody Allen's Hollywood Ending, in which she portrayed Allen's girlfriend; The Mothman Prophecies, in which she played Richard Gere's wife; Woody Allen's Celebrity; McHale's Navy; and Alfonso Arau's A Walk in the Clouds, with Keanu Reeves. On television, the actress has also been seen in the acclaimed CBS mini-series Jesus, in which she portrayed Mary Magdalene.
She starred in the 1998 thriller series Prey, and for two seasons on the Fox comedy Ned & Stacey, opposite Thomas Haden Church. She also had recurring roles on NYPD Blue (as Gail O'Grady's conniving sister) and Seinfeld (as Jerry's ideal but elusive love, Beth Lookner).
Messing, who received a degree in Theatre Arts from Brandeis University and an M.F.A. from NYU's prestigious Graduate Acting Program, has extensive theatre experience as well.
She appeared as Harper Pitt in the pre-Broadway workshop of Tony Kushner's award-winning Angels in America: Perestroika and then played Cecily in The Importance of Being Earnest at Seattle's Intiman Theatre. She went on to understudy both Mary Louise Parker and Polly Draper in John Patrick Shanley's off-Broadway hit Three Dogs and a Bone and later co-starred in Paul Rudnick's off-Broadway satire The Naked Truth. Messing also starred in the New York premiere of Donald Margulies' highly acclaimed Collected Stories at the Manhattan Theatre Club.
The actress will next be "seen" as the voice of Beth, the Forest Ranger, in Sony Animation's Open Season.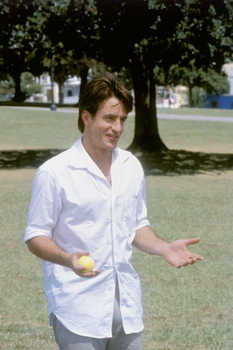 DERMOT MULRONEY (Nick Mercer) is one of film's most consistently busy and versatile actors. Since his feature debut in Blake Edwards' 1986 comedy Sunset, Mulroney has appeared in a succession of movies, alternating between studio projects and riskier, independent fare.
His earlier film credits include Young Guns, Staying Together, Survival Quest (on which he met his future wife, actress Catherine Keener), Longtime Companion, Career Opportunities, Bright Angel, Where the Day Takes You and Point of No Return. Mulroney then appeared in the features The Thing Called Love, Bad Girls, Angels in the Outfield, There Goes My Baby, How to Make an American Quilt, Living in Oblivion, Copycat, Kansas City, Bastard Out of Carolina, Box of Moonlight, The Trigger Effect and the enormously popular comedy My Best Friend's Wedding, opposite Julia Roberts and Cameron Diaz. More recently, the actor has been seen in Goodbye Lover, Where the Money Is, Trixie, The Safety of Objects, Lovely & Amazing and, most notably, as Jack Nicholson's mullet-headed, mattress salesman son-in-law in the Oscar®-nominated About Schmidt.
Mulroney's TV movie credits include Heart of Justice, Family Pictures, The Last Outlaw and Journeys North. He also had a recurring role on NBC's Friends as Rachel's boss, Gavin Mitchell. Last year, Mulroney appeared in David Gordon Green's feature Undertow, with Jamie Bell and Josh Lucas, and will next be seen in Gary David Goldberg's romanticcomedy Must Love Dogs, with Diane Lane and John Cusack.
In addition, the actor will begin work in February on an as-yet-untitled romantic comedy for Fox 2000, in which he'll star opposite Diane Keaton, Sarah Jessica Parker, Clare Danes, Luke Wilson and Rachel McAdams. Set at Christmastime, the story revolves around a family whose favorite son (Mulroney) brings home the woman to whom he intends to propose (Parker), only to have his family turn on her.
Next: More Cast