For the cast and creators of The Wedding Date, the consensus is unanimous: a wedding is a surefire setting for movie comedy. "Even under the best of circumstances, weddings are stressful, funny, unpredictable events," says Wedding Date star Debra Messing. "Nothing ever goes the way you want or expect. Add the family dynamic into the mix and there are unlimited sources for laughs."
Messing's co-star Dermot Mulroney agrees: "Not everyone gets married, but it is kind of a universal event. Pretty much everyone has been to a wedding, so it's easy to relate to all the craziness."
Holland Taylor, who plays Messing's mother in the film, comments: "Weddings are a time when everyone is so anxious for things to go well that any little hitch can cause mass hysteria. Depending upon your vantage point, that can be quite amusing."
It was this "pressure cooker" environment that drew director Clare Kilner to the story to begin with. "I'm very interested in the public and private sides of people and how much they're prepared to show or mask in a given situation. I thought a wedding would be a really fun place to explore that kind of dichotomy."
The director was also attracted to the film's "dysfunctional family element" and explains, "I enjoyed the opportunity to present all the comic and dramatic contradictions within such a diverse group of relatives. Besides, almost everyone is pretending to be something they're not, which always carries great potential for humor."
In the film, Messing's shy and heartbroken Kat Ellis is "pretending" the most, and it's what excited the actress about the role.
"I loved the idea of an 'everywoman' hiring an escort to help her create an illusion of a more exotic romantic life than she really has," relates Messing.
"How everyone in Kat's world responds when she shows up with Nick [the escort] on her arm—because he's clearly a very handsome, dashing, sophisticated man—was really fascinating to me. Suddenly everyone looks at her with new, accepting eyes just because he's standing next to her. That kind of judgment is very real, and also very interesting to observe."
Grounding the film in reality was key to Kilner's direction of her actors. She notes, "I talked to the actors from the beginning about keeping their performances very truthful and not to overplay the comedic moments. I said, 'Be honest and the comedy will follow.'"
Kilner's unique style of direction was greatly welcomed by her cast. "She is really an actors' director," enthuses Messing.
"Clare felt the characters' relationships would make the whole thing funny so, throughout, she had us improvise and play tricks on each other. She'd give us these 'little jewels' to work with to make you think differently about a situation. Her spontaneous and experimental approach was really rewarding."
"Clare had us making up things and filling in our characters' back stories along the way," recalls Dermot Mulroney. "For me, it turned out to be a great way to get to know Debra, both as a person and as a co-star. I think our chemistry really shows up in the work." Says Amy Adams, who plays Messing's self-centered sister Amy, "Clare worked hard to make sure we understood all the relationships, how we relate to each other, what we have in common and what we don't have in common. She liked us to discover new things every day and gave us the freedom to try scenes different ways, but always made sure we stayed true to our character's basic nature—good or bad!" And for Jack Davenport, who portrays Edward Fletcher-Wooten (a.k.a. "the groom"), he was surprised and pleased with Kilner's direction.
"There is always the temptation with this kind of story that you would work out what function your character serves in the whole and then just plow ahead as faithfully as you can. But Clare was always keen that we deviate from that as often as possible. She gave us an enormous amount of room to grow."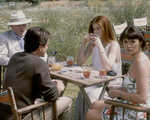 Likewise, Kilner had high marks for her varied and talented cast. Though she'd previously never met Debra Messing, Kilner was already a big fan of her work on the hit TV series Will & Grace. "I thought Debra was brilliant on the show, so having her onboard the film was a huge pull for me," states the director. "She's an incredibly skilled and versatile performer. Debra has the ability to bring great sensitivity to drama as well as having crack comic timing."
As for Messing's leading man Dermot Mulroney, Kilner was equally impressed. "Dermot's a great actor, in both drama and comedy. He gave the role of Nick such humor, class and substance that it's hard to imagine anyone else in the part. He was a pleasure to direct." Kilner happily concludes, "All in all, I was blessed with an extraordinary cast."
Given that The Wedding Date's cast and locale is primarily British, the American actors had a bit of a learning curve during the filming. As Dermot Mulroney explains, "There were a lot of British terms being used like 'stroppy' ['unreasonably grumpy'], 'boot' ['trunk'] and 'lift' ['elevator'], which became pretty second-nature to us 'Yanks' after awhile. We'd all joke about the culture clash nature of the production and actually tried to bring some of those 'American actor versus English actor' moments to our scenes, whether it was playing up on the different ways we speak, react or carry ourselves. Clare encouraged us to have fun with that and it ended up serving the comedy really well."
"The British people are amazing and fun," confirms Colorado-born Amy Adams, "but, I have to admit, I didn't always know what they were talking about. It's the same language as ours but at times it really isn't! In fact, it took me a couple of weeks to start making the translation from British to American English." The actress notes, "Then again, the Brits looked at me the same way, like I was the one talking weird!"
She adds, "And baked beans for breakfast? I still don't get that. But I was told it was 'sacred ground' so I let it go. The last thing I wanted to do was start having to defend American food."
Language and food issues aside, there were many plusses for the Americans.
Observes Holland Taylor, "English actors and crews are lovely to you, incredibly respectful and pleasant, no matter what. I think they go out of their way to be polite. It helps the day, makes things go smoother and is just plain civilized. I can't say it's so much like that on American film sets." Then there was the beauty of the British countryside, where much of the film was shot. Not only was the bucolic town of Guildford and its Surrey County environs a lovely and serene place to work, but inspiring as well. This was especially true for Clare Kilner, who made a conscious effort to "celebrate" her homeland on film.
The director explains, "In the same way that Bertolucci honored the countryside of his native Italy in Stealing Beauty, I wanted to really showcase England's natural splendor. This film had so many exteriors, I decided 'let's get the huge vistas, let's be proud of where we're from.'"
One of the main locations used in the film was the stately Chilworth Manor in the Surrey countryside. The stunning home served as the Fletcher-Wooten estate, where everyone gathers for the wedding weekend.
According to location manager Giles Edleston, "It was the massive garden that really sold me on the house. It was gorgeous, the quintessential setting for a traditional English wedding." Another important location was the estate's boat house, where several key scenes take place. And, though it looks as if it's on the grounds of the country home, it was actually part of an arboretum in another area of Surrey.
"The boat house was the most difficult place to find, as there are very few of them left," recounts Edleston.
"Plus to find something tucked away in the middle of the National Trust woodland took quite a bit of research. But in the end, we found the perfect spot and it looked fantastic." Concurs cinematographer Oliver Curtis, "Our jaws literally dropped open when we saw the boat house. You couldn't have drawn one better. It was exactly as we'd all imagined it, complete with the geese and the swans and the trees. It was beautiful, really beautiful."
Giles Edleston also located the perfect church for the film's wedding ceremony, a 12 th century structure tucked away in one of Surrey's many picturesque towns.
Co-star Holland Taylor, enchanted by the building's history, comments, "Between takes, I'm looking at this Norman arch and then at this slightly later arch. Then I'm studying the bracers in the walls and wondering what a particular niche was there for, and I'm thinking how very privileged we are to be shooting in England."
Many of the film's "pre-wedding" events were shot in and around London, including the "in-town" hotel where the opening cocktail party takes place.
"We had a bit of trouble finding a working hotel that would have us for three consecutive days," recalls Oliver Curtis.
"We were quite lucky to finally land this hotel on Wimbledon Commons, especially because its reception area, lobby and dining room interconnect, allowing us to do a number of Steadicam shots that go from one space through to another, and back again. From a technical point of view, the place worked out perfectly."