Selecting the best swimming pool materials
Select from Gunite, Vinyl, and Fiberglass and more
There are three different types of materials used for in-ground swimming pools: gunite, vinyl, and fiberglass. All offer great benefits depending on what you are looking for in a pool.
When planning a foundation for the pool, consider the type of look each material will produce when the swimming pool is filled with water.
Adding a swimming pool to any backyard will increase property values. It also looks good when viewing your property through satellite maps, such as GoogleMaps and MLS maps. Read more about the benefits of building pools.
Popular Types of Pool Materials
Gunite: Gunite owners choose these for their flexibility, since they can be built into any shape and allow for unique features such as waterfalls and custom steps.
Vinyl: Traditional in-ground swimming pools usually have reinforced walls with vinyl-liners. Owners can choose among the many options for liner shapes, patterns, and colors.
Fiberglass: These pools are one-piece shells that are installed directly into the ground. They come in various shapes and styles. Delivery and swimming pool installation are typically faster than traditional in-ground construction.
Pebble Tiles: For a beach type appearance, PebbleTec is the industry choice. Glass and Quartz tiles are also new options.
In fact, with so many choices in pool styles, and so many new technologies, many homeowners who have always wanted a pool are realizing that issues that may have held them back, are no longer issues at all.
Your po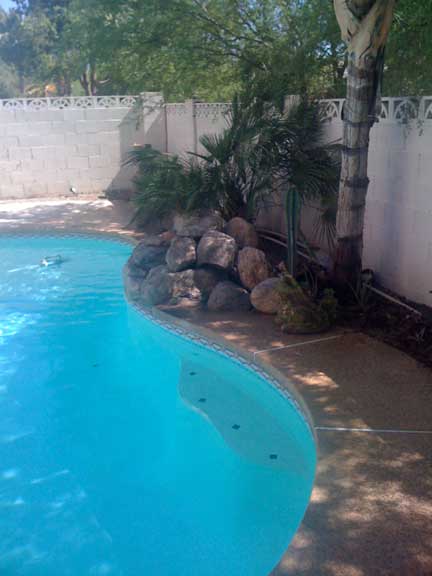 ol dealer will take a close look at your property to determine its size and shape, and to identify possible issues that could affect construction or access for construction equipment.
The dealer will also look at local zoning ordinances to assure compliance, and apply for the necessary permits. Installers are required by law to provide an estimated start and complete date so you will have a good idea of how long the construction will be in progress.
Sources: swimmingpool.com, leisurepoolusa.com, polarpools.com, bhg.com. Photos courtesy of Anthony and Sylvan Pools