The story of the lost mine near Tucson, Arizona has persisted for hundreds of years. The legendary Iron Door Mine treasures may still be deep within the Santa Catalina mountains near the Cañada del Oro ("the Canyon of Gold), north of Tucson, Arizona," according to Arizona prospector William T. "Flint" Carter.
Now Available on Amazon: Flint Carter's The Canyon of Gold, Buffalo Bill Cody, and the Legendary Iron Door Mine Treasure: The Santa Catalina Mountains Story.
Treasures of the Santa Catalina Mountains now available!
A new book, collaborated with Flint Carter, about the legends and history of the Santa Catalina Mountains is now available. Read free chapter samples of "Treasures of the Santa Catalina Mountains."
Purchase Treasures of the Santa Catalina Mountains online for a discount at amazon.com or locally in Tucson at Mostly Books, Oracle Inn, Buzz Café and other locations to be announced.
Flint Carter featured in national magazine
Co-author Flint Carter is profiled in an 8-page spread in the March 2015 edition of Outside Magazine. The article covers his recent expedition deep into the Catalinas with the writer from Outside Magazine and his crew. Follow Flint's mining expedition.
Legends of the Catalinas
Buffalo Bill Cody's Arizona Mining Ventures
William F. Cody (1846-1917) better known as the Wild West Show entertainer "Buffalo Bill," had invested in many mining interests. One mine was near the town of Oracle, 40 miles north of Tucson, Arizona a decade before the Arizona territory entered Statehood. Read about Buffalo Bill Cody's time in Arizona.
Videos of the Catalinas
Watch several videos about the legendary Iron Door Mine and discover the history and legend of the Old West with historian Flint Carter.
From the Santa Catalinas
The Iron Door Mine Quest
"Esmeralda," from an album of songs written and performed by Gary Holdcroft. An original ballad about the legendary Mine with the Iron Door in the Santa Catalina Mountains, north of Tucson, Arizona. Esmeralda is the name of one of the lost mines. The Lost Escalante Mine is another lost mine legend. The CD will be available for sale soon, along with a book on the legends and history of the Santa Catalina Mountains.
---
The Mine with the Iron Door has been one of the most extensively hunted lost mines in North America. Movies and books have glorified the legend.
It's real riches have yet to be revealed. That legend, though, may have some truth buried with those treasures. Some people over the centuries have claimed to discover its location.
The exact spot of this treasure has never been documented.
This is the study of an existing legend that staggers the imagination and dwarfs the scholarly researcher.
In less than a few hours from a bustling million inhabitants of the modern city of Tucson, Arizona, lies slumbering the centuries old legend the Iron Door Mine and its fabulous treasure. Centuries of production in gold and silver bullion still lie concealed in a mine of equal value.
To date, estimated mineral reserves in the general area in the Santa Catalina Mountains alone would pay the national debt twice over.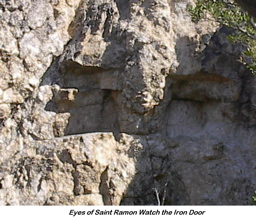 Strange tales of greenish lights for over 40 years, and the still abandoned "Canyon of Gold," leaves plenty of room for imagination and exploration. This is an area in the Catalina Mountains is so rugged, lives have been claimed to its rocky expanses.
Research today alludes to the fact the century of power struggles for wealth and priceless riches of the past still exist and function on very large levels of lawlessness, intrigue and espionage.
Years of dangerous and tiring research have started to pyramid and the puzzle is expanding as it's being pieces together.
So, far, its the most powerful story of a history never taught in any classroom, except the school of "hard knocks." This also has the potential for being another Fort Knox in golden stories and bullion. Read more about the story of the Iron Door Mine.

Flint's new Iron Door Mine Book
Flint Carter plans to release a new book called "The Canyon of Gold: Buffalo Bill & the Legendary Iroon Door Mine Treasure." The release date is scheduled for the first night of the 2016 Cody Days event in Oracle on February 26, 2016 at the Oracle Inn.
In his book, Carter describes his historical fiction version of the legend that has intrigued treasure hunters for centuries.
---
---
Arizona and Southwest Mining historian Flint Carter
William Thomas Carter, "Flint" to his friends, is an artist and author born in 1947 in Danville, Illinois. After attending Danville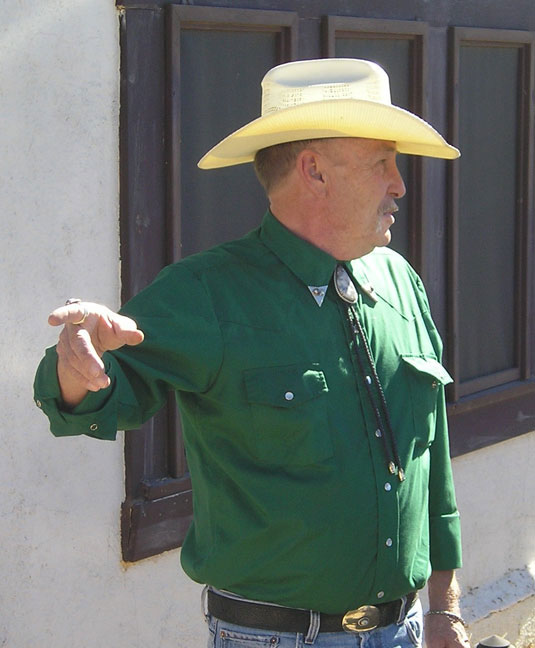 High School, he served in Panama during the Vietnam conflict at the Latin American Headquarters Post. He received the National Defense and Good Conduct medals.
Returning home, Flint attended Danville Junior College and later Southern Illinois University. Special interest in the design department, headed by Buckminster Fuller, inspired the building of Arizona's first solar heated and cooled museum.
Flint Carter is available for presentations
Flint Carter can speak to your organization, community group, school or event for free.
Flint will share the history and stories of the Southwest, Iron Door Mine, mining for gold and other ores around Tucson, the Santa Catalinas, Southern AZ. and many other topics. Flint can also showcase his art, jewelry and artifacts.
For more information, or to schedule a presentation, contact:
Flint Carter
520-289-4566
Email [email protected].
Read more about Flint Carter, Celebrity Stones, art and jewelry and the Iron Door Mine.

"Ballads of the Santa Catalina Mountains" CD
Listen to songs and ballads on CD about the Iron Door Mine, the Santa Catalina Mountains, the Old West by Arizona historian Flint Carter. $9.95. Call 520-289-4566 for more information and to purchase directly.
Mysterious Santa Catalinas Monolith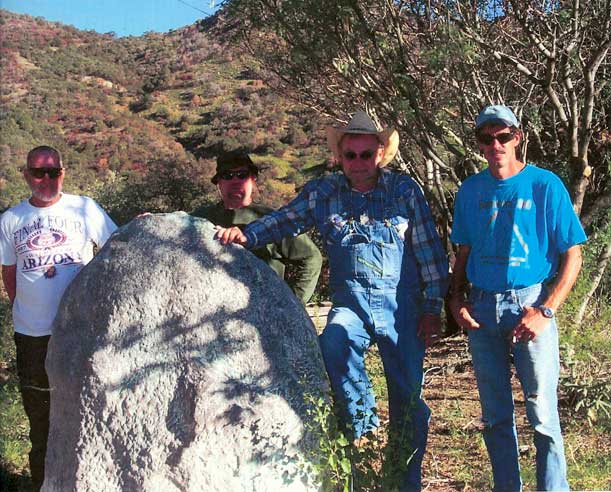 Located at the entrance of the Oracle Ridge Mine in the Santa Catalina Mountains north of Tucson, Arizona, on a small bluff is a huge, ancient monolith with unusual markings. See photos and read about the Oracle Ridge Monolith.
Historic High Jinks Gold Mine Ranch
Preserve history with one of the few gold mines left in Southern Arizona. Once owned by Buffalo Bill Cody it is now on the National Historic Register. Read about the High Jinks Ranch and mining history of Southern Arizona.
Entertainer of the Old West- Buffalo Bill
The base legend has numerous heros of the Old West from Buffalo Bill to Ira Hayes. It has regularly held public print for over a century. Also, it has had an all-star cast of three full length motion pictures with over a half century portraying its grandeur and legendary romance.
AN AUTOBIOGRAPHY OF BUFFALO BILL (COLONEL W.F. CODY) This book is in the public domain and free to own a copy from Project Guttenberg electronic works. Read and download a free copy.
Watch and download free Buffalo Bill movies:
IRON DOOR MINE FOR SALE
FOR SALE: Silver and gold mine located in the Santa Catalina Mountains north of Tucson, AZ.
Jewelry grade gold, silver and silica ore in place, carat weight returns. This historic property is a Federal lease - mineral rights only for sale. A 'Proven' past producing mine.
Last shipment 1959, 36% tungsten, bond in place, operations plan applied for 20 acres (87,1200 square ft.) Unsubdivided Pima County, AZ. Asking price is $120,000,000.
Product placement in 8 museums worldwide and the Mining Hall of Fame. Terms negotiable and reasonable.
Call Flint Carter at 520-289-4566 for more information. emol.org/irondoor/codystone.html.
Treasures of the Santa Catalina Mountains
The Legends and History
By Robert Zucker with
collaboration from Flint Carter
A new book on the legends and history of the Catalinas. Learn the story of the Iron Door Mine, the Lost Mission and the Lost City. Hundreds of pages cover hundreds of years in the search for gold, silver and copper. Was there a Lost Escalante Mine or Mine wth the Iron Door? Who started the legends? Is there still gold in the mountains? Explore the Santa Catalina Mountains in a way you never seen them before with "Treasures of the Santa Catalina Mountains." Available on amazon.com.
Kindle: Treasures of the Santa Catalina Mountains: Unraveling the Legends and History
Buffalo Bill in Arizona
Buffalo Bill Cody in Arizona and his role in Oracle mining history.
Own a Piece of the Legend
---
Iron Door Videos, Books
"MacKenna's Gold" (1969)
Starring Gregory Peck and Omar Sherif
Attempting to do for Westerns what his Guns of Navarone had done for World War II action epics, director J. Lee Thompson crafted Mackenna's Gold as a lavish, absurdly ambitious variation on Erich Von Stroheim's Greed, resulting in a last-gasp Western so eager to encompass the genre's traditions that it turns into a big, silly, wildly entertaining mess. Gregory Peck surely had more serious intentions when he signed on, and he brings prestigious gravitas to his glum role as Marshall Mackenna, who gets shanghaied into searching for the gold-filled canyon of an elusive Apache legend. The rest of the 1969 film labors to undermine Peck's respectable demeanor; how else to explain Omar Sharif as a Mexican villain, Julie Newmar as a hot-blooded Apache temptress (with underwater nude scenes that were celebrated in Playboy magazine), and a jaw-dropping finale that's so ridiculous it's impressive in spite of itself? --Jeff Shannon, Amazon.com
DVD edition of MacKenna's Gold
. Studio: Sony Pictures. DVD format. Release Date: July 11, 2000. Run Time: 128 minutes.
Poster from Mackenna's Gold - Movie Poster - 11 x 17. This poster measures approx. 11 x 17. Rolled and shipped in a sturdy tube. This poster is from the movie Mackenna's Gold (1969).
Printed book edition of Mackenna's Gold
A Five-time Spur Award-winning Author. Somewhere in 100,000 square miles of wilderness was the fabled Lost Canyon of Gold. With his dying breath, an ancient Apache warrior entrusted Glen Mackenna with the location of the lode that would make any man - or woman - rich beyond their wildest dreams. Halfbreed renegade and captive girl, mercenary soldier and thieving scout - brave or beaten, innocent or evil, they'd sell their very souls to possess Mackenna's gold. --This text refers to the Hardcover edition. Avon Books (Mm) (June 1988).
Watch video on-demand from Amazon.com of MacKenna's Gold
.
The Mine with the Iron Door: A Romance (1936)
Movie Poster from the 1936 film The Mine with the Iron Door - Movie Poster - 11 x 17
Poster for the Mine with the Iron Door movie. Stars Richard Arlen, Ceclia Parker and Henry B. Walthall. Poster measures approx. 11 x 17. Rolled and shipped in a sturdy tube. This poster is from The Mine with the Iron Door (1936).
Printed Edition of The Mine with the Iron Door. (The Collected Works of Harold Bell Wright - 18 Volumes) (Library Binding) Library Binding: 338 pages. Publisher: Classic Publishers, Language: English. ISBN: 158201891X.
Digital CD Edition of Mine with the Iron Door: A Romance, The (CD-ROM Edition)
. The CD-ROM contains 338 pages. Publisher: Classic Books; 1923 edition (December 15, 2007).
© 2005-2023 EMOL.org. All rights reserved.