Many exotic stones will come and go, but the precious noble metals in their native quartz embody the natural origin of the two oldest commodities since the dawn of civilization: gold and silver.
The beautiful yellow metal matrix in hard white quartz is the mark of Cody Stone, a special formation of silver and gold embedded in natural quartz. Similar to diamonds, the hard quartz provides a strong and timeless durability, protecting the soft, precious, noble metals.
First popularized by Tiffany in the 1800's, this little-known, extremely valuable commodity of precious noble metals in the natural state could be the Gold Rush of the New Millennium!
Due to thousands of years of mankind's efforts to extract pure gold from the rock by grinding the rock and destroying it, very little remains. Visible gold and silver in quartz is fetching 20 to 100 times the price of pure bullion, and is ever increasing in value.
Hygraders pay huge lease fees to major corporations for specimen collecting on a small scale, but with massive mining procedures the majority of the material is destroyed, as it was in past centuries.
A few small sources offer a variety of colors and types, but with no major amounts available. Usually collectors quickly acquire anything that hits the market. Only two major commercial sources exist today: the 16-to-1 Mine in Califomia and the Gimpie Mine in Australia. Another source for this stone is Tucson, Arizona where it had been mined during past decades and made into fashionable jewelry.
---
Written by Robert Zucker
Collaborated with William Carter.
The detailed history and legends of the Catalinas is told in a 400-page paperback. Buy "Treasures of the Santa Catalina Mountains" online for a discount at amazon.com, or locally in Tucson at Mostly Books, Oracle Inn, Buzz Café and other locations to be announced. Kindle: Treasures of the Santa Catalina Mountains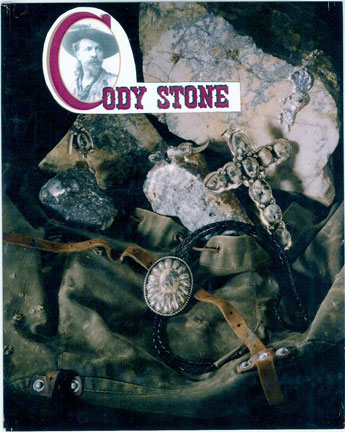 The Cody Stone of the Santa Catalina Mountains

The most popular specimen of the Cody Stone is the beautiful yellow metal matrix in hard white quartz. This unique stone is found in the Santa Catalina Mountains north of Tucson, Arizona.


Similar to diamonds, the hard quartz provides a strong and timeless durability, protecting the soft, precious, noble metals. Read about Oracle, Arizona and the Old West's Largest Gold Legend.


Recent reports by reputable sources state that with increasing demand and availability, prices are becoming almost prohibitive for the average consumer.

Market price fetches $5 per carat ($11,350 per pound), better than twice the price of pure gold bullion.

In Arizona, this stone has been mined, fabricated, and sold exclusively by William "Flint" Carter. Only 500 pieces of this type of jewelry have been produced and 350 have been placed. A Certificate of Authenticity for each Cody Stone was provided with every piece of Cody Stone and kept in permanent company records. With Carter's passing, his collection has been donated to Southwest Alternatives Institute, Inc.

Samples of Gold and Silver in Quartz
CodyStone cabs polished and unpolished. These samples show the detail of gold and silver embedded in the stone.

Historian Flint Carter
Photo: Flint Carter standing by the Campo Bonito mining mess hall near Buffalo Bill Cody's residence during the mining days of the early 1900s. Photo by Bob Zucker, c. 2015.

William Thomas Carter, "Flint" to his friends, was an artist, jeweler and author born in 1947 in Danville, Illinois. In the early 1980s, he moved to Tucson, Arizona and converted an old house into solar use. He also attempted to establish a museum to preserve local history.

Flint mined and designed jewelry-grade gold and silver in quartz that he marketed as Cody Stone. Specimens and hand made items were on display at the Oracle Inn Steakhouse & Saloon in Oracle, Arizona prior to its closure in summer 2020. Flint was an organizer for the annual Buffalo Bill Cody Days in Oracle, held since 2016 and through 2020.

Flint Carter passed away in December 2018. With his death, the recovery, fabrication and marketing of Cody Stone had ended. Read more about Flint Carter.
---
---
© 2005-2020 EMOL.org Entertainment Magazine. All rights reserved.