The Iron Door Mine Quest
"Esmeralda," from an album of songs written and performed by Gary Holdcroft. An original ballad about the legendary Mine with the Iron Door in the Santa Catalina Mountains, north of Tucson, Arizona. Esmeralda is the name of one of the lost mines. The Lost Escalante Mine is another lost mine legend. The CD will be available for sale soon, along with a book on the legends and history of the Santa Catalina Mountains.
---
The Mine with the Iron Door has been one of the most extensively hunted lost mines in North America. Movies and books have glorified the legend.
It's real riches have yet to be revealed. That legend, though, may have some truth buried with those treasures. Some people over the centuries have claimed to discover its location.
The exact spot of this treasure has never been documented.
This is the study of an existing legend that staggers the imagination and dwarfs the scholarly researcher.
In less than a few hours from a bustling million inhabitants of the modern city of Tucson, Arizona, lies slumbering the centuries old legend the Iron Door Mine and its fabulous treasure. Centuries of production in gold and silver bullion still lie concealed in a mine of equal value.
To date, estimated mineral reserves in the general area in the Santa Catalina Mountains alone would pay the national debt twice over.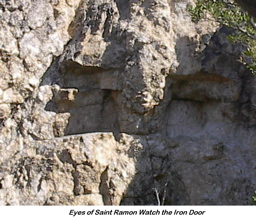 Strange tales of greenish lights for over 40 years, and the still abandoned "Canyon of Gold," leaves plenty of room for imagination and exploration. This is an area in the Catalina Mountains is so rugged, lives have been claimed to its rocky expanses.
Research today alludes to the fact the century of power struggles for wealth and priceless riches of the past still exist and function on very large levels of lawlessness, intrigue and espionage.
Years of dangerous and tiring research have started to pyramid and the puzzle is expanding as it's being pieces together.
So, far, its the most powerful story of a history never taught in any classroom, except the school of "hard knocks." This also has the potential for being another Fort Knox in golden stories and bullion. Read more about the story of the Iron Door Mine.
---
---
Arizona and Southwest Mining historian Flint Carter
William Thomas Carter, "Flint" to his friends, is an artist and author born in 1947 in Danville, Illinois. After attending Danville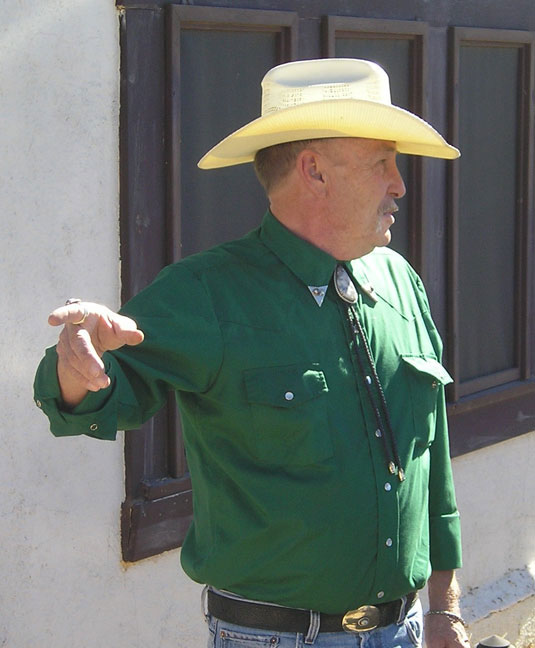 High School, he served in Panama during the Vietnam conflict at the Latin American Headquarters Post. He received the National Defense and Good Conduct medals.
Returning home, Flint attended Danville Junior College and later Southern Illinois University. Special interest in the design department, headed by Buckminster Fuller, inspired the building of Arizona's first solar heated and cooled museum.
Flint Carter is available for presentations
Flint Carter can speak to your organization, community group, school or event for free.
Flint will share the history and stories of the Southwest, Iron Door Mine, mining for gold and other ores around Tucson, the Santa Catalinas, Southern AZ. and many other topics. Flint can also showcase his art, jewelry and artifacts.
For more information, or to schedule a presentation, contact:
Flint Carter
520-289-4566
Email [email protected].
Read more about Flint Carter, Celebrity Stones, art and jewelry and the Iron Door Mine.

"Ballads of the Santa Catalina Mountains" CD
Listen to songs and ballads on CD about the Iron Door Mine, the Santa Catalina Mountains, the Old West by Arizona historian Flint Carter. $9.95. Call 520-289-4566 for more information and to purchase directly.
Legends of the Catalinas
Buffalo Bill Cody's Arizona Mining Ventures
William F. Cody (1846-1917) better known as the Wild West Show entertainer "Buffalo Bill," had invested in many mining interests. One mine was near the town of Oracle, 40 miles north of Tucson, Arizona a decade before the Arizona territory entered Statehood. Read about Buffalo Bill Cody's time in Arizona.
Videos of the Catalinas
Watch several videos about the legendary Iron Door Mine and discover the history and legend of the Old West with historian Flint Carter.
From the Santa Catalinas
Mysterious Santa Catalinas Monolith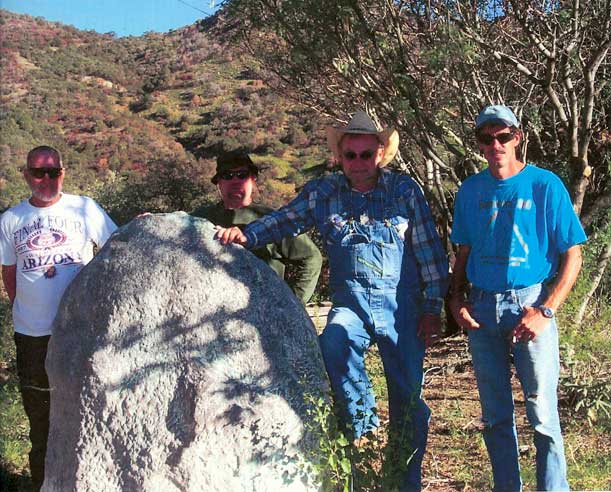 Located at the entrance of the Oracle Ridge Mine in the Santa Catalina Mountains north of Tucson, Arizona, on a small bluff is a huge, ancient monolith with unusual markings. See photos and read about the Oracle Ridge Monolith.
Historic High Jinks Gold Mine Ranch
Preserve history with one of the few gold mines left in Southern Arizona. Once owned by Buffalo Bill Cody it is now on the National Historic Register. Read about the High Jinks Ranch and mining history of Southern Arizona.
Entertainer of the Old West- Buffalo Bill
The base legend has numerous heros of the Old West from Buffalo Bill to Ira Hayes. It has regularly held public print for over a century. Also, it has had an all-star cast of three full length motion pictures with over a half century portraying its grandeur and legendary romance.
AN AUTOBIOGRAPHY OF BUFFALO BILL (COLONEL W.F. CODY) This book is in the public domain and free to own a copy from Project Guttenberg electronic works. Read and download a free copy.
Watch and download free Buffalo Bill movies:
IRON DOOR MINE FOR SALE
FOR SALE: Silver and gold mine located in the Santa Catalina Mountains north of Tucson, AZ.
Jewelry grade gold, silver and silica ore in place, carat weight returns. This historic property is a Federal lease - mineral rights only for sale. A 'Proven' past producing mine.
Last shipment 1959, 36% tungsten, bond in place, operations plan applied for 20 acres (87,1200 square ft.) Unsubdivided Pima County, AZ. Asking price is $120,000,000.
Product placement in 8 museums worldwide and the Mining Hall of Fame. Terms negotiable and reasonable.
Call Flint Carter at 520-289-4566 for more information. emol.org/irondoor/codystone.html.
---
© 2005-2014 EMOL.org. All rights reserved.