Qabalah: Robert Zucker
A digital collection of parapsychology works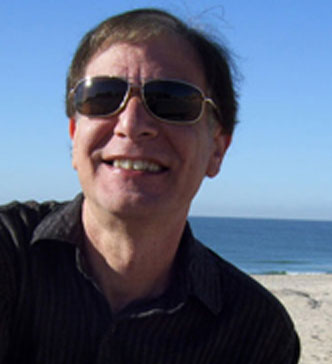 By Robert Zucker
My interest in the occult began while in high school. As I read more from authors like Aryeh Kaplan, Gershom Scholem, Israel Regardie, even Aleister Crowley, A.E. Waite, among others, I expanded my perspective from basic magick into the mystical studies of the Qabalah. Then, my favorite authors became Abraham Abulafia, R. Akiba, Maimonides and other prominent Kabbalistic scholars.
---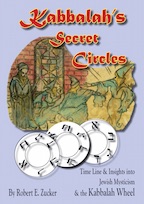 Read excerpts from the new book Kabbalah's Secret Circles, Download a free PDF sample of the book to preview.
Visit Robert Zucker's Author's Page on Amazon.
---
The "Sefer Yetzirah" became a focal point since most of today's knowledge of the occult comes from the principles described in this ancient manuscript. The desire to understand its meaning carried over into my interest in computers. In the late 1980s, I began to collect my files and design an easy way to access the information.
Some of the material on this website was originally written in 1976 as part of a three-year study program while attending college. Now, after 30 years it is updated with new findings and made publically available. Only a small sliver of that information is posted online though.
During those college years three manuscripts, of several hundreds of pages, were produced for college credit in five different University departments (psychology, sociology, anthropology, Judaic studies and journalism) from 1975-77. Instead of attending classes all day, my days were spent reading, studying, writing and gaining insight.
Over the past four decades, I have refined the material, gained new experiences and knowledge. Using a Macintosh computer in the 1980s and software programs like HyperCard and FileMaker Pro, I've slowly molded an enormous software application that studies the various aspects of the Qabalah using the "Sefer Yetzirah" as its base. Read updates on the Kabbalah Keys Project- a database of mysticism.
Anyone interested in the Kabbalah program can keep posted through my website (emol.org/kabbalah/). Either downloadable copies will be available for purchase or mailed on CD.
If you study Qabalah (Kabbalah) in Tucson, Arizona, drop me an email: [email protected]
---
---
Selling Part of My Occult & Kabbalah Library
To downside my collection of thousands of some hard-to-find, rare, out of print and great condition books, copies are for sale on Amazon.com. These books date from the 1980s and earlier- usually in hard cover or early editions. Browse a selection of my available library on Qabalah, parapsychology, Hermetics and other occult topics. New books constantly added. Visit and purchase on Amazon: Robert Zucker's Collection
.
Explore the Kabbalah and make your own Kabbalah Wheel
In "Kabbalah's Secret Circles," learn how the ancient Jewish mystics would combine the letters of the Hebrew alphabet to produce wonderous miracles. Get the instructions to construct a Kabalah (Qabalah) Wheel similar to the description the chapter 2 of the Book of Formation, Sefer Yetzirah. The author is also the publisher of this web site section on Kabbalah. Available on Amazon.com and other international online book distributors in both print and digital formats. Purchase a signed copy by the author directly in the US. Read sample chapters from Kabbalah's Secret Circles.
---
from Amazon.com:
By Aryeh Kaplan
This is the most authoritative text on the study of the "Sefer Yetzirah" or Book of Formantion (Book of Creation) available. Kaplan's explanations are easy to understand and make sense. A must have manual for anyone ready to decifer this ancient manuscript. Paperback: 398 pages
Publisher: Weiser Books; Rev Sub edition (May 1997). Language: English
An ancient inspirational form of Jewish mysticism Kabbalah has now reached cult-like popularity among celebrities and throughout America. But what is behind the new-found fascination with this sacred body of wisdom?Once exclusively reserved for study by ultra-religious male scholars of Judaism Kabbalah has recently become known as a multi-million dollar celebrity-endorsed phenomenon. SECRETS OF KABBALAH strips away the hype and demystifies the writings that have been studied by Jewish scholars for thousands of years. Is the Kabbalah of the stars the same Kabbalah that Jewish scholars have studied for generations? Even as more and more people are seen wearing the red string bracelets associated with Kabbalah the original teachings behind this seemingly new fad are in fact understood by precious few.THE HISTORY CHANNEL® traces Kabbalah from its spiritual foundations to the present-day high-glamour incarnation in this fascinating program that debunks the myths surrounding this awe-inspiring ancient philosophy.System Requirements:Running Time: 50 Mins.Format: DVD MOVIE Genre: DOCUMENTARIES/MISC. Rating: NR UPC: 733961768138 Manufacturer No: AAE-76813. Release February 27, 2007
"Origins of Kabbalah"
By Gershom Sholem
Amazon.com: Gershom Scholem's Origins of the Kabbalah provides a painstakingly detailed history of Kabbalah's rise among medieval French and Spanish Jews, describes the first publication of Jewish mystical texts, and investigates the growth of their influence on Jewish religious life. The book also doubles back to describe secret traditions of Jewish Gnosticism, which describe a Creation story so numerological and esoteric it makes the New Testament book of Revelation look as simple and straightforward as a Saturday-morning cartoon. This book is much denser than Scholem's excellent On the Kabbalah and its Symbolism, but for readers with a basic knowledge of Kabbalah, it shouldn't be rough going. --Michael Joseph Gross.
"Meditation and Kabbalah"
Author: Aryeh Kaplan
Another classic text on explaining how Kabalah and meditation are similar. Many examp,es of kabalistic meditative practices.
• Paperback: 368 pages

---
---
---
© 1995-2017 All contents are copyright 2006-2008. Entertainment Magazine On Line. All rights reserved.
Contents cannot be copied, reproduced or distributed without permission from the author.
This original content is property of Robert Zucker