Entertainment Magazine: New Orleans: Mardi Gras
Mardi Gras Party for Kids
By Chris Molar
themeparty.com/mardi-gras
At first glace, Mardi Gras - first begun as a religious holiday and now used as an excuse to simply celebrate - is not a holiday that screams child friendly.
Upon further examination however, Mardi Gras is full of all sorts of things that kids love to do, including dressing up, eating cake, doing crafts and playing games.
Celebrating the Mardi Gras holiday in the classroom is unique opportunity for kids to have fun and learn in the process about a culturally important holiday.
Mardi Gras Decorations
Decorations for the party can be simple. You already have the colors picked out for you - green, purple and yellow. Get crepe paper streamers and 12 balloons, 4 of each color, in the traditional Mardi Gras colors.
Tape the balloons in bundles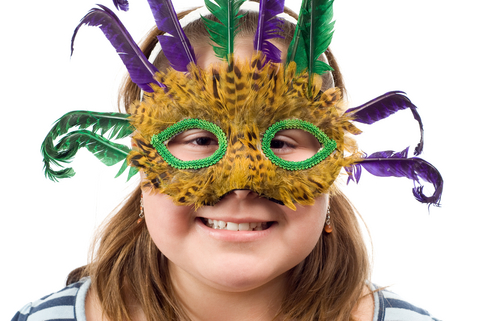 of 3, using one of each color, in each corner of the room. Between the balloons, twist the streamers together and drape them along the wall.
Simply by adding these splashes of color, your room should be sufficiently decorated for this theme party. If you feel like going above and beyond, making a giant mask or two from colored tag board would be more than enough.
Mardi Gras Kids Activities
There are a few in class activities you can do to teach the kids more about Mardi Gras traditions:
Mask Making
Bring in paper plates in white, green, purple and yellow, so the kids can start from any base they want. Once the kids have picked their plates, help them cut the plate in half, cut holes for eyes and staple string or elastic onto them. Then let the kids decorate them to their hearts' content. Be sure to have markers, glitter, paint, glue and construction paper available.
If you don't have the budget for feathers, teach the kids how to make feathers from construction paper by cutting an elongated half circle with pointed ends. Then all they have to do is cut a few fringes into the center here or there and they have a feather!
When they're all done with their masks have everyone show theirs off. During this activity you can present information or pictures relating to Mardi Gras Masquerades.
Float Making
You can also host a float making contest in honor of the grandiose Mardi Gras parades. These floats can either be made in class or at home, depending on your time constraints. Floats can easily be made from shoe boxes, or if the kids are feeling very ambitious, in a toy wagon. Floats should feature Mardi Gras colors and themes.
Have a mini-parade in your classroom or even around the hallways of your school. If weather permits, by all means bring your parade out to the sidewalk and walk around the block.
Allow the kids to bask in the glory of adults who, grumbling on the way to work, will grow smiles as they watch this parade of adorable kids and miniature floats along the sidewalk!
Mardi Gras Food to Serve
The most essential food item to your in class Mardi Gras would be the King Cake. In every region's tradition, this is a part of the ceremony. If you don't want to make it from scratch, and let's face it, for an class party, you probably don't, you can make an easier version.
Get a yellow cake mix, prepare it according to the directions. Bake it in a Bundt pan. Instead of making the sugar paste, corn syrup, food coloring topping, get a can of white frosting and divide it into 3 bowls. Use food coloring to turn one portion green, one portion yellow and one purple. Frost the cake in stripes. Hide a minature baby doll somewhere in the cake.
The kid who gets the piece with the token can win some kind of prize. Be sure to warn the kids that one of the pieces of King Cake will contain this token, and tell them about the origins of the cake and what the token represents.
If you wish to serve drinks, serve virgin versions of some of the Mardi Gras favorites, like an anise spiced milk, club soda with raspberry syrup, or orange and lime juice with a squirt of pomegranate syrup. If this is a bit too extravagant, serve a clear lemon lime soda dyed the Mardi Gras colors with food coloring.
For something completely different, but in the tradition of the Southern spiced milk punches, try mulling a cola like you would a cider.
For 20 servings:
Heat about 16 cups of cola in a large crock pot or stove top pot
Add your favorite mulling spices: 1/2 cup brown sugar or honey, 1/2 cup lemon or lime juice, all spice, cloves, cinnamon, and nutmeg to taste.
Simmer it for about 3 hours, until it is heated through.
A crock pot can be brought into the classroom from your home or that of one of the children. Since this treat should be served warm, bring a ladle and serve the kids or let them dish it out straight from the pot.
Bring in Mardi Gras colored paper plates, cups and napkins. You can use the extra plates from the mask supplies. Letting your kids have a Mardi Gras party in the classroom will be a great opportunity for them to learn about the interesting holiday and its traditions while having some fun!
Return to Mardi Gras Index.
---
---
© 2007-2012 EMOL.org. Entertainment Magazine. All rights reserved.