Entertainment Magazine: Mexico
Vacation in Puerto Peñasco aka Rocky Point
el Periódico de Entretainment
de Puerto Peñasco, Sonora, Mexico
"Rocky Point" is the English name given to the Mexican seaport town of Puerto Peñasco, Sonora, in northwestern Mexico.
While most visitors usually stay north of Puerto Peñasco in an area known as Sandy Beach, almost all of the towns entertainment is held downtown. During the annual Spring Break, Wildcat Invitational and Bike Rally, thousands of people gather for those weekends. Hotel accommodations in Rocky Point sell out months in advance. There are many great Rocky Point restaurants and in nearby Cholla Bay.
---
---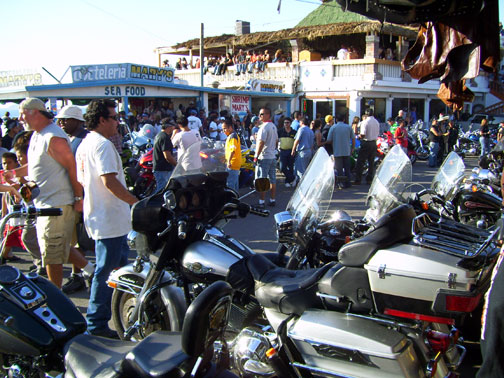 Where is Rocky Point (Puerto Peñasco)?
Puerto Peñasco, also referred to as Rocky Point, is located in the State of Sonora in Mexico- 66 miles from the U.S. border (at Lukeville, Arizona) and on the Sea of Cortez.
Rocky Point is a scenic 4-hour drive from Phoenix and Tucson, AZ. Rocky Point started as a fishing village in the 1930's and gradually developed into one of the major shrimp producing areas in the Sea of Cortez.
Rocky Point offers a variety of activities from parasailing to deep sea fishing to shopping and Pinacate Tours and has an abundance of vacation rentals both on and off the beach.
It recently welcomed a Jack Nicklaus Signature Golf Course (located at Laguna del Mar) as well as the Mayan Palace Resort and Las Palomas Beach & Golf Resort.
The Rocky Point Bike Rally is held in November. Find out what events are planned for this year's bike rally. Read more about this year's Rocky Point Rally.
For more information, visit www.cometorockypoint.com and http://www.gotosonora.com
New Puerto Peñasco convention center
The goal of the new Puerto Peñasco COmmunity Center is to attract more tourism, and bring in more shopping and dining, to the popular tourist destination from the United States and Mexico. The facility is a departure spot for shopping trips into Arizona.
Lukeville port of entry update
The U.S./Mexico entry point at Lukeville, Arizona is in the process of an upgrade. The port of entry, built in the 1970's, is a joint project between the Arizona Department of Transportation and the Rocky Point Convention and Visitor's Bureau and others. The $2.5 million costs is split between the two major groups.
New U.S. border rules- new passport requirements
Border travelers will be required to present a passport on return to the U.S. The wallet size passcard is also now accepted at the international border for citizens to enter the U.S. More US border travel details.
Construction on a massive port that will accomodate cruise ships. The port will be able to receive its first ship in about three years. As many as 200 cruises a year that could dock at the Puerto Peñasco port in the Sea of Cortez within five years from now. Cruises that originate in Puerto Penansco would be four to seven days long from Holland America.

About Puerto Peñasco
Puerto Peñasco is also known by tourists as Rocky Point (easier to spell and remember), although the translation of the name is actually Rocky Port. (wikipedia.org: Puerto Peñasco)
The city of Puerto Peñasco is located on the shore of the Gulf of California (also known as the Sea of Cortez). Puerto Peñasco is popular locally for its fishing and internationally for its tourism. The town has a 2005 population of nearly 45,000 residents. It is a 3 1/2-4 hour drive southwest of the Arizona/California U.S. border.
Puerto Peñasco is located in the 'free zone.' Currently, tourists are not required to obtain immigration papers or a visa in order to visit. However, U.S. Border Patrol agents advise that as of January 2008 a passport may be required to re-enter the United States.
Rocky Point attracts vacationers also for its clearwater scuba diving, deep sea fishing, sea kayaking, to dolphin watching, sailing and off road activities. Rocky Point downtown entertainment, timeshare and ownership investment opportunities, and clean blue water bring people back again and again.
Puerto Penasco is some misspelled as Peurto Penasco, or Peurta (Puerta) Pennasco, Pennasca. It's easier to just remember Rocky Point.
---
Motorcycle Superstore
Motorcycle Superstore caters to all motorcycle enthusiasts: sportbike, off-road and cruiser. The largest variety of motorcycle helmets and apparel on the internet. Model specific parts and accessories to expand product range. Motorcycle Superstore also includes ATV, Snowmobile and Watercraft products. Free Shipping at Motorcycle Superstore
.