Entertainment Magazine: Free Movies: Laurel and Hardy
The Laurel and Hardy Story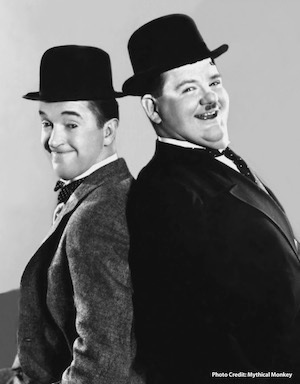 The Hollywood Museum unveils its new exhibit, "100 Years of Hal Roach Studios: Laurel & Hardy, 'Our Gang' and Harold Lloyd" in honor of the Hollywood icon's centennial, opening to the public July 5, 2014.
This exhibit contains authentic photos, costumes and props from the rich history of Hal Roach Studios and the legendary talents that emanated from there in the early 1900s.
Stan Laurel was the thin, British-born straight man. Born on June 16, 1890 as Arthur Stanley Jefferson, he died on February 23, 1965.
His heavier weighing American partner from the U.S. state of Georgia was Oliver "Ollie" Hardy. Oliver Hardy (born on January 18, 1892 and died on August 7, 1957) was born Norvell Hardy.
After they appeared separately in several short motion pictures for the Hal Roach Studio during the 1920s, they began to appear in movie shorts together in 1926. Laurel and Hardy officially became a comedy team in 1927.
Among Laurel and Hardy's most popular and successful films were the features Sons of the Desert (1933), Way Out West (1937), and Block-Heads (1938); and the shorts Hog Wild (1930), Helpmates (1932), and their Academy Award-winning short, The Music Box (1932).
The team left the Roach Studio in 1940. They appeared in 8 low-budget comedies for 20th Century Fox and Metro-Goldwyn-Mayer until 1944, when they retired from films to concentrate on their stage show.
Laurel and Hardy made their last film, Atoll K, in France in 1950 and 1951 before retiring from the screen. More on Laurel & Hardy from wikipedia.
Read about Preserving Silent Movies.