Lullaby from the Ahn Trio
From the moment the Ahn Trio stepped onto the international music scene stage, they have defied categorization, broken musical barriers and revolutionized perceptions of classical music. They have become leaders in diversifying classical music in the 21st Century. Their trendsetting legacy continues with their fifth recording, Lullaby for my Favorite Insomniac, their debut CD on SONY BMG Masterworks (RCA Red Seal).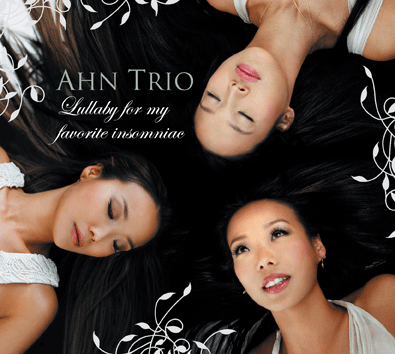 Korean-born and Juilliard-trained, the Ahns are sisters – violinist Angella, pianist Lucia and cellist Maria.
The trio builds bridges between diverse musical genres and transcends any preconceptions that exist in the classical music scene by embracing 21st century classical music as well as utilizing elements of new age, jazz, pop, folk, minimalism, avant-garde, chill, lounge and hip-hop. The trio works with composers who have many diverse influences, and the Ahns also continue to collaborate with many different types of artists.

"Every century has its own distinctive style of classical music," states Angella, "and our album reflects classical music in the 21st Century which, of course, is influenced by all different types of music in this modern era. We live in New York City and can't help but be inspired by all the exciting new music and art around us. Incorporating these elements feels like an entirely organic progression to us. We don't purposely set out to be rebellious."

These musical sisters thrive on dissolving the barriers between art forms. They have fused their music with that of modern dancers (such as the David Parsons Dance Company), pop singers, club DJs, performance artists, photographers, lighting designers, installation artists, ecologists and even kite makers. Ahn Trio tours regularly and has sold out concert venues, from packed clubs to prestigious concert halls, all over the world.
Possessing an enviable combination of talent, style and beauty, the Ahn sisters have long been favorite subjects for the international press. The group initially made a big splash when they were featured early on in Time magazine (the cover heralded "Asian-American Whiz Kids"). They have gone on to be frequently featured on fashion pages in magazines such as Vogue, GQ, Harpers Bazaar, W, Marie Claire and Town & Country. Angella, Lucia and Maria also were named three of People magazine's "50 Most Beautiful People" in 2003, not just for their beauty but also for their outstanding musical accomplishments.

Their first album of trio compositions by Ravel and Villa-Lobos won rave reviews ("This is one of Ravel's best, and never better played" - Audion Magazine). Their second recording won an ECHO Award (Germany's Grammy equivalent) and featured interpretations of pieces by Dvorak and Shostakovich. The trio then recorded two albums that introduced works that were written especially for them and which highlighted living composers. For their new CD on SONY BMG Masterworks, the Ahns planned an album they had been dreaming of doing for several years: their modern classical take on what they call "lullabies fit for 21st Century insomniacs."
"Lullabies are traditionally very simple and beautiful melodies that are small yet powerful in their emotional content. In every culture they are the same. We started by choosing lullaby-worthy material and then did 'modern classical' treatments of them which for us meant creating something edgy but at the same time minimalistic since lullabies should always be simple," explains Maria Ahn. "Primarily our ingredients were our acoustic instruments with some very, very subtle electronica elements and a few non-classical singers."

In addition to the title track by Kenji Bunch, they chose his "Dies Irie" and "Magic Hour" (the latter the fifth movement of his "Swing Shift" suite), and also had him arrange the classic Rodgers & Hart standard "My Funny Valentine." "We met Mary Rodgers, Richard Rodgers' daughter, while at Juilliard so we chose this tune as a tribute to her."
Also on the CD are two compositions by acclaimed-film-composer Michael Nyman – "Big My Secret" and the famous theme from the score for the film "The Piano" ("The Heart Asks Pleasure First") – with special transcriptions created by Nyman for the Ahn Trio. According to Lucia, "Nyman is one of our absolute favorite composers of our time. He is truly the innovator of a brand new approach to the modern soundscape." Nyman, equally enthusiastic about working with the Ahns, calls them "my all-time favorite piano trio with a rare passion for new music."

On the new recording, the Ahn Trio also perform "Song On The Land" by piano prodigy and composer Ronn Yedidia (another who attended Juilliard), whom they enlisted to transcribe two other tracks – an instrumental version of the Korean pop hit "Dream" by JY Park (considered to be the Korean "P. Diddy") and the classic folk song "Solitary Singer" (written by folk icon and Disney film composer Terry Gilkyson for his 1948 Armed Forces radio show). "We fell in love with Laurie Lewis' version, so we used her arrangement as our starting point," Angella explains.

The album contains eight pieces new to the group's recorded repertoire including Susie Suh's "All I Want," arranged by the Ahn Trio with Susie singing. The CD also includes newly-recorded versions of four compositions that appeared on previous CDs: "Magic Hour" by Kenji Bunch, "The Heart Asks Pleasure First" by Michael Nyman, Astor Piazzolla's "Oblivion" and their instrumental transcription of the David Bowie-Pat Metheny hit "This is Not America." Club-mix versions of four tunes are included as bonus tracks. "The remixes were pure fun," states Lucia. "We wanted international sound designers to take our music and make something completely new out of it."

Lullaby for my Favorite Insomniac was recorded in Prague in the Czech Republic. The trio had recently traveled there to perform at the Czech Angel Awards (that country's Grammys) with one of the country's top rock bands, the Tata Bojs, and two of the best Czech music producers – Dusan Neuwerth (also a member of Tata Bojs) and Jan P. Muchow (who plays in the experimental rock duo The Ecstasy of Saint Theresa). The Ahn sisters then asked Neuwerth and Muchow to co-produce the album with the trio.

The Ahns feel that Lullaby for my Favorite Insomniac is "a reflective yet impulsive album" acknowledging who they are at this moment in time. "It's a concept we wanted to explore at this time in our career, and it is very personal because it is the first album that we were involved in the production," Maria explains.

The Ahn Trio is already looking ahead to the future. Their next album will consist of all original works written especially for the trio. They are waiting with great anticipation a new Triple Concerto being written for them by Mark O'Conner. Upcoming plans include a recording collaboration with the Tata Bojs; performances in New York City, Mexico and Chicago, a new recording of their Christmas EP, and a tour in China and Korea that will include the premiere of Kenji Bunch's Hardware Triple Concerto in China.
Lullaby for my Favorite Insomniac can be purchased in stores nationwide as well as at online sales outlets including the Sony-BMG Music Entertainment Store (shop.myplay.com) and Amazon.com, or digital download locations such as iTunes. For more information on the Ahn Trio, visit sonybmgmasterworks.com, ahntrio.com or myspace.com/ahntrio.
© 2008 EMOL.org Music Entertainment Magazine. All rights reserved.
Music Entertainment Magazine
The internationally acclaimed ensemble Ahn Trio makes its Sony BMG Masterworks debut with Lullaby for my Favorite Insomniac. Sisters Angella (violin), Lucia (piano) and Maria (cello) continue their commitment to modernize and reinvent the standard piano-trio repertoire and structure on this new album. Lullaby for my Favorite Insomniac is a fusion of established works with material specially commissioned for the trio. Included on the record are several tracks that build on the music of fellow Julliard-graduate and award-winning composer Kenji Bunch, a variety of commissioned works by Michael Nyman and Astor Piazzolla and innovative arrangements of music by Pat Metheny and David Bowie. The trio is joined vocally on the record by singer-songwriter Susie Suh. As a special addition, four bonus tracks are included with the new album, which features remixes by Tao of Sound, DJ Spooky, Superdrive and Ra.D.
Audio CD (April 1, 2008)
Number of Discs: 1
Label: SONY CLASSICS
Watch video from Lullaby for My Favorite Insomniac
Ahn Trio Music CDs
Napster
Free trial period. Napster Subscription ($9.95/month) offers access to over 5 million songs with unlimited downloads, and Napster To Go ($14.95/month) let's Napster Subscribers transfer unlimited songs to their compatible MP3 player.
Napster.de: Music-Flatrate 7 Tage kostenlos testen!