Music: Scott August
THE LOST CANYONS OF THE SOUTHWEST IMMORTALIZED ON NEW SCOTT AUGUST CD
Throughout the western United States, there still are remote, uninhabited wilderness areas of serenity and great beauty, especially forsaken canyons where native tribes once lived, some of them thousands of years ago. Musician Scott August, a multi-instrumentalist best-known for his artistry in playing Native American wood flutes, has crafted a recording, Lost Canyons, that captures the experience of spending a day surrounded by nature in one of these secluded locations.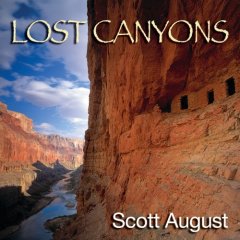 "There are thousands of seldom-visited canyons, especially in the American Southwest area centered at the Four Corners where Arizona, New Mexico, Utah and Colorado come together," explains August. "Many of these have Native American ruins, and some have rock art paintings or drawings, from the Hopi, Zuni and other Pueblo tribes as well as the Navajos who all lived in the region a few hundred years ago, or even from the ancient Anasazi culture that was around from 650 AD to 1250 AD. If you have the privilege to visit one of these locations, it is a special experience. When I play my flute there, and the sound mingles with the wind and reverberates back off the canyon walls, there is a deep connection to the past.
August (A Native American Music Award winner) plays a wide variety of native-style wood flutes from the common "fipple-style" (similar to a recorder) to the more rare and difficult-to-play Anasazi rim-blown flute (he is one of only a small handful of musicians to master this tricky instrument). He also plays clay flutes similar to those used in ancient Mexico. In addition, while August keeps the flute in the foreground, he also is known for his subtle-yet-always-intriguing backing instrumentation that gives his music a "tribal-techno" or "ethnic-fusion" sound. Scott incorporates piano, guitar, synth and numerous ethnic world-music instruments including kalimba, (African thumb piano), udu (West African clay-pot drum), tabla (a double-drum from India), oud (Mid-Eastern fretless lute), kenong and saron (Indonesian gamelan kettle gongs), charango (tiny South American guitar from the Andes Mountains), and cuatro (Latin American guitar).
The Lost Canyons CD emotionally and aurally paints a picture of a day spent admiring nature's majesty. The album begins by spotting the "Morning Star" preceding sunrise, and the CD ends with the appearance of the "Evening Star" (a lullaby signifying approaching night). In between the listener can appreciate the environment of the canyon. Two compositions celebrate birds ("Raven Dance" and "Swallows & Nighthawks"). "Many times when I play flute music outdoors, whether at a concert or alone in the wilderness, I have noticed how it seems to attract birds. I have seen ravens lock their talons together and fall hundreds of feet before breaking free and soaring off just before hitting the ground." Another pair of tunes focus on the weather ("Thermals" and "Thunder on the Mesa"). "Thunderstorms in the Southwest can be incredibly dramatic with the sound of thunder and the intense bolts of lightening. Sometimes it is so hot the rain evaporates as it falls."
August also captures the grandeur of the multi-hued "Desert Skies" and the whispering and lonely sounds of the wind on the Hopi-named "Huukyangw (Wind)." In addition, the title tune, "Lost Canyons," has the epic sweep and monumental glory of the colorful Southwest. Although Scott has visited many Indian ruins over the years, "Where Spirits Dwell" was specifically inspired by the House of Many Hands pueblo ruin in Mystery Valley where hundreds of hand prints and outlines of hands are on the rock wall. He says, "When you sit next to an ancient ruin, you can't help but feel you are in a sacred place." The recording approaches conclusion with the driving "Chasing the Sun" ("trying to find the best place to watch the sunset") featuring a double-drone flute, and "Twilight Canyon" ("that short transitional special time, hovering between day and night").
Lost Canyons is August's fourth CD, preceded by Distant Spirits (nominated for a Native American Music Award, NAMMY), Sacred Dreams (a NAMMY winner!), and New Fire (another NAMMY nominee and a winner of the prestigious Indian Summer Music Award). August also has released Ancient Light, a DVD of 450 stunning photographs he took while exploring the Southwest, with the soundtrack selected from the first three CDs plus one new piece. August also headlined the Zion Native American Flute Festival in 2006 and 2007, and the Central Coast Flute Festival in 2007.
Scott's interest in music began as a small child. He was born in Los Angeles and raised in Fullerton in Southern California. Scott's father played numerous instruments informally, Scott's grandfather was a professional classical violinist with a radio show in Los Angeles and concerts at the Hollywood Bowl, and Scott's great-grandfather led a folk band. One of Scott's earliest musical memories is a Stan Getz-Joao Gilberto bossa nova album.
At age seven, Scott began studying cello and playing in school orchestras. When he was nine he got a kalimba for Christmas which awakened his love for ethnic sounds. His senior year in high school he started to play piano and began practicing classical music at least six hours a day for the next few years. He played in a few bands, but primarily studied music which took him to the University of Southern California as a composition student where he graduated with a Bachelor of Music degree.
As a child he grew up listening to both classical music and popular music such as The Beatles, but as he got older he explored progressive rock (Emerson Lake & Palmer, Yes, Genesis, King Crimson, Tangerine Dream and Klaus Schulze).
At USC, August spent most of his free time in the electronic-music lab where he learned to use synthesizers, sound sampling and processing, and music interfacing with computers. His musical taste moved to cutting-edge ambient and atmospheric artists such as Brian Eno, Harold Budd and Steve Roach, "and their music became the roots of my inspiration."
In college Scott began making recordings using piano, synths, autoharp, kalimbas and guitar. At first he made cassettes and later pressed a vinyl album of this music to submit it to radio stations. It got airplay in Los Angeles on KCRW's "Morning Becomes Eclectic" show and KXLU's "Alien Air Music" program, and on the New York station WNYC. He met and spent time talking about music with Steve Roach. In addition, August's musical influences expanded to include Steve Tibbetts (an eclectic fusion guitarist), Jon Hassell (a trumpeter who merged electronics with world music sounds) and Peter Gabriel.
Brian Eno listened to some of August's early recordings, told him how visual the music was, and suggested Scott consider scoring. So August submitted music to an ad agency and soon became an in-demand composer for films, videos, commercials and TV shows. His clients have included NASA, Lexus, Chevrolet, HBO, Nabisco and Minolta. One of many projects he has done for The Discovery Channel was the soundtrack for the film they showed repeatedly at an IMAX-style theater in the Olympic Village in Atlanta.
August discovered Native American flute music while visiting pueblos in New Mexico in 1996. He fell in love with the scenery and culture of the Southwest, bought his first flute in 1998, and started recording flute music the next week. In 2004 he began researching Anasazi flutes.
"The ones I play are a re-creation of several flutes that were dug up in Arizona in the late 1920s, and historians believe these types of flutes were played by the Anasazi Indians 750 to more than 1300 years ago. These flutes have a different construction and are played differently than more modern Native American flutes."
"The Lost Canyons concept for the new CD has several meanings. Some canyons are lost because no one goes there. The meaning can include ancient cultures that lived there thousands of years ago. The title also can be symbolic of places on our planet we have lost to encroaching civilization. That, in turn, makes you realize how humankind has become out-of-touch with nature, and how much we have all lost in the process."
August's four CDs and DVD can be purchased online at CDbaby.com, amazon.com, digital download locations such as iTunes and Napster, and at his own website (cedarmesa.com). Lost Canyons is already Top 5 in airplay on the national New Age Reporter radio charts.
© 2008 EMOL.org Music Entertainment Magazine. All rights reserved.
Music Entertainment Magazine
Track Listings
1. Morning Star
2. Raven Dance
3. Desert Skies
4. Where Spirits Dwell
5. Swallows & Nighthawks
6. Thunder on the Mesa
7. Thermals
8. Lost Canyons
9. Huukyangw (Wind)
10. Chasing the Sun
11. Twilight Canyon
12. Evening Star
• Audio CD (October 9, 2007)
• Original Release Date: 2007
• Number of Discs: 1
• Label: Cedar Mesa Music
Napster
Free trial period. Napster Subscription ($9.95/month) offers access to over 5 million songs with unlimited downloads, and Napster To Go ($14.95/month) let's Napster Subscribers transfer unlimited songs to their compatible MP3 player.
Napster.de: Music-Flatrate 7 Tage kostenlos testen!