Cher is too marvelous for words
The beat goes on for this supreme pop diva as she marvels audiences with her show at the Colosseum at Caesars Palace.
Cher exploded on the Las Vegas scene with her own over the top Las Vegas extravaganza and has landed her own Las Vegas residency along with the likes of Bette Midler and Elton John. (Elton's engagement concludes at the Colosseum in April).
Her engagement began in May of 2008 and she is scheduled to perform 200 shows over the span of three years.

Cher's Las Vegas show is packed with extraordinary costume changes; I lost count of her outfits at number 13. She definitely has a sense of humor.
At one point in the show she joked about her outfits stating that she crossed the line forty years ago and was "naked" when she met Bob Mackie, whom designed all of her outfits throughout her lustrous career. The 62 year old has gotten more attention with her costumes/outfits over the years then her vocal ability, but her voice was solid.

She takes audiences through a trip down memory lane, excerpts from each movie, all her old hairdo's and clips from her days with the late Sonny Bono. Her 90 minute performance is unstoppable and flawless. The set complements her forty years in the business.

Cher joked with the audience at one point of the show and said she was asked what does her closet look like, "the Grand Canyon with a lot of clothes in it," she laughs and disappears from the stage for another glorious costume change.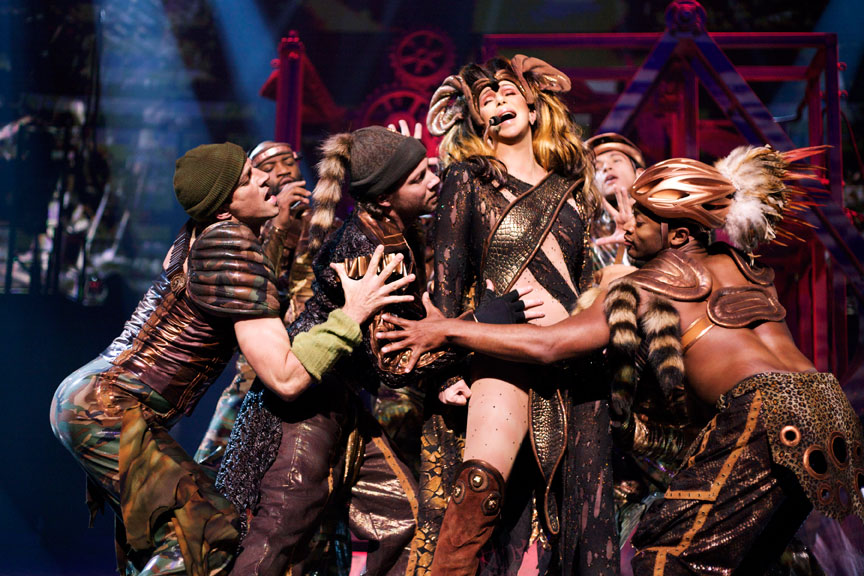 Her rollercoaster ride of a career has attracted much media attention. She came to prominence in 1965 as one half of the pop duo Sonny & Cher.
She subsequently established herself as a solo recording artist, a television star in the 1970's and a film actress in the 1980's with a string of hit films including Moonstruck, for which she won the Academy Award for Best Actress.
Cher is also the only female recording artist to have a Top 10 hit in every decade beginning in the 1960's.

Cher performs as if she could turn back time; well she did turn back time, and is better than ever.
Read more about Cher