UK Artists: CUSHH
(Creative, Unusual, Sensual Hot and Happening)
'GET ON THE DANCEFLOOR'
The latest single available July 2007. Full story...
CUSHH MAKES CHART HISTORY BY BECOMING THE FIRST SELF-RELEASED AND SELF-MANAGED ACT SINCE THE NEW DOWNLOAD RULES TO CHART AS HIGH AS NUMBER 26 ON THE DOWNLOAD CHARTS AND 31 ON NATIONAL CHART "BASED ON DOWNLOADS ONLY SALES" (ON WEEK COMMENCING 26/02/2007)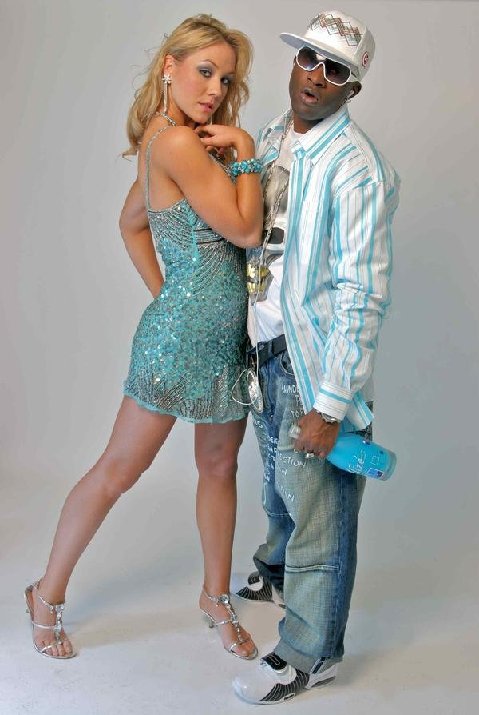 By Tina Rees
Following the footsteps of Lily Allen and Arctic Monkeys, Cushh is another poster act for the MySpace generation having built up a health fanbase on myspace.
Cushh have been on the road touring for the past 2 years, doing more than 300 shows up and down the UK as well as performing on 3 different occasions at prestigious venues such as Wembley Arena, Manchester MEN Arena, Birmingham NEC, Cardiff CIA, Sheffield Arena and Newcastle Arena while supporting acts such as Shayne Ward and Westlife.

Described as the UK's own answer to 'The Black Eyes Peas', Cushh - comprised of South Londoners Miss Nic'ola and E? - have successfully produced a unique blend of Pop and R&B, and an edgy and original debut single with 'Do It 2 Me' which is already receiving lots of TV and media attention. After digital release, Do It 2 Me was one of the most downloaded ring tones on the T-Mobile network.

There has already been good UK press support for Cushh. There was a story regarding Miss Nic'ola and Colin Farrell featured on Joe Mott's 'Hot' page in The Daily Star on 19th of Feb, 2007. Daily Star have already done an exclusive story on Miss Nicola and will be published next week w/c 22/02/2007.
There was story again about Miss Nic'ola and Colin Farrell featured on Mirror. There has already been a story regarding their stunning video shoot in The Daily Record. Closer Magazine will be doing an exclusive story on Miss Nic'ola, TV Hits will be doing a "Shiny and New" feature on Cushh, Girl Magazine will be doing the Next Big Thing feature, and information piece in the gossip section of Shout Magazine is also confirmed. Also confirmed are information pieces in Oink (financial paper for kids) and on Funday Times (the youth sister paper to the Times).

Cushh who wrote and arranged 'Do It 2 Me' is currently putting the finishing touches to their highly anticipated debut album scheduled for release in Spring 2007 - it's already creating a massive buzz throughout the industry. So much so that Cushh have already caught the attention of hit music video director Daniel Zirilli. Zirilli insisted Cushh jet out to LA so that he could direct the accompanying video – not bad since he has also shot videos for The Rolling Stones, Three Six Mafia, Scarface, Master P and 2Pac to name but a few.

Within a month of inception on Myspace (www.myspace.com/cushh) Cushh was listed as a top 5 act and to date have received over 140,000 plays, have over 17,000 friends and over 100,000 views. Having already performed at various venues in the UK, Ireland and Asia Cushh is currently touring the UK – inspiring existing fans and awakening new ones with their heart-felt lyrics, their passion and their unwavering drive.

E?'s rapping lends itself perfectly to Miss Nic'ola's stunning vocals, which she delivers with an effortless sensuality and with a depth and quality reminiscent of greats like Christina Aguilera and Kelly Clarkson. E? says, "When Miss Nic'ola came on board, it was like she was the missing piece of the puzzle – the puzzle is now complete and Cushh are ready to take on the world."

Cushh is currently working on their next single titled "Get on the dance floor" which has already received support from DJ's.
Cushh Web Sites:
Music Entertainment Magazine
U.K. Merchants Hosted by EMOL.org



The London Pass - the modern way to experience the capital in the new millennium
In den Ferien nach London? London-Pass bietet FREIEN Eintritt zu den Top Attraktionen und vieles mehr!