Music: Daylights
Do you like to have a good time and listen to some awesome feel great music??
By: K.Kirker
Well if you answered yes, then these guys are for you. I would like to introduce The Daylights to those of you who haven't heard their music. These guys opened for Katy Perry last year but are going solo and I for one can't wait!!
I first heard these guys back in April 2009, when they opened for Katy Perry at the Fillmore in NYC. I am always skeptical about opening bands because they usually turn out kind of lame, but definitely not these guys!!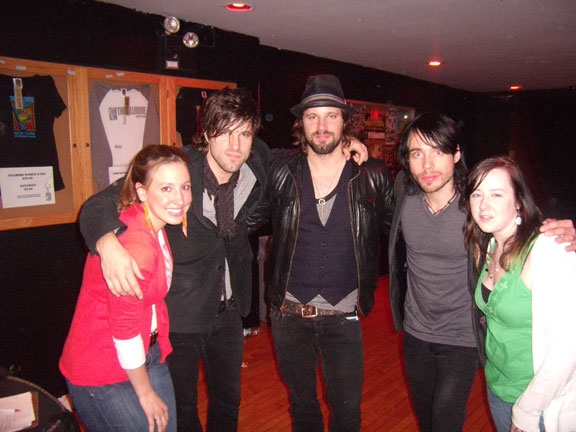 Ran Jackson, Ricky Jackson and Svend Lerche are The Daylights. These guys totally rock out and are down to earth guys you can just grab a drink with. Ran and Ricky Jackson are not just brother's but twins and yes, if not careful they will try to fool you ;).
These guys come to you from Cali, and have a sound similar to One Republic mixed with Coldplay and a little of their own seasoning.
I was able to catch up with the guys after the Katy Perry show, so take a look at my interview with the guys and get to know them, then go give them a listen and see what you think! I think you will add them to your iPod instantly!!
Lets start with where are you guys from, how long have you been together, and where did you guys get started…??
Svend: Well we live in LA. We all live in Los Angeles but I am from Denmark and they are Texans…The Daylights have been a round for a long time and I have been with them for about 3years.
Okay so lets go down the line, name, age, girlfriends anything like that??
Ricky: My name is Ricky and no comment no comment. lol
Svend: Svend Lerche.
Ran: Svend has a girlfriend…(and they all start laughing) I'm Ran.
How has it been for you three guys to be on the Katy Perry tour??
Ricky: It has been pretty amazing, I mean Katy has a great crowd and it's a younger crowd with a lot of energy and a lot of her shows are sold out, which is fun for us because we get to come in and since it was sold out before we came on the tour, it's not necessarily our fans, so our job is to come in and get people excited, have a good time and try to make fans out of nowhere, so it's a challenge but at the same time it's a lot of fun.
I think you guys pretty much succeeded that, I mean everyone went crazy and I didn't hear any booing so…
Ricky: no booing…? No rotten vegetables being thrown?
No booing everyone was like whoooo, so you guys have a new fan following… I think
Svend: The fan club the Katy Kats are now divided into the Day Kats as well.
Exactly there you go…
So when can we see you guys on a solo tour??
Ricky: Actually, we are talking about booking it right now. Nothing is set in stone because we have been touring with bigger bands for the last year or two. We toured with One Republic last year and some other bands. Now we are thinking about doing a tour just on our own, but with the industry and the market the way it all is right now, it's always fun to come in with a bigger band and play, but we may do a tour of our own this summer.
Ran: Hit all the places that we just went and bring some bands along that are buddies of ours, you know should be fun…
That would be good, and I think that I would definitely come and bring some friends, if we could be in the front row and be like whoo and cheering you guys on that would be awesome…
Ricky: So what is it that you do??
Turning the table on me okay. Well, I am a Freelance writer/reporter and I was here to do a review of the Katy Perry show, which includes the opening act, but you guys really sold me, so I picked up a CD and wanted to get to know you guys..
Ricky: So at first you were like "who are the schmucks". lol
No, I was like who is this new band lol
Ricky: That's really cool and that's kind of the go of it all, you know, to make believers out of people that didn't know who you were and didn't care.
Exactly…
Ricky: all of a sudden you had a good time and you had fun and that's the goal of it.
Svend: and that happens a lot you know where…
Ricky: (jumping in jokingly) We steel fans..
Ran: Yea we steel people…
You steel fans…
Svend: I believe they can be fans of Katy and us at the same time. (as he gives a huge smile)
Well, Katy is pretty awesome as you can tell. She's not the ordinary girl, she rocks it out, so that's always a plus
Ricky: She's not the ordinary girl…
No she's not…
So tell people why they should go out and buy your album, sell them on it right now..
Ricky: Why go out and buy our album??
Yes
Ran: Do you like rock and roll??
Ricky: Do you like feeling good??
Svend: If you like big and good songs that you can sing along to right.
Away…then you'll like these songs.
How about this thing I heard, if you buy your guy's album you get a kiss?? I mean Katy Perry herself said so…
Ricky: That's not true, we never said that.
Ran: Katy said that??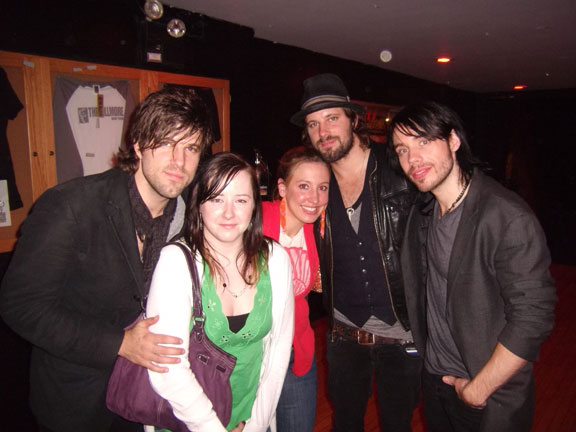 Ricky: It's not like we're out to prove something, and act like something we're not. We just want to go out and make music that came from within us. The songs are about everything from sadness to happiness. It's just kind of life like it is and I think that connects with people.
Ran: And another thing for us is we're not trying to be another band, I mean we have a lot of influences and stuff, but we just want to make our music and hope people dig it.
Ricky: We like making friends out of fans. We really do stay in touch with a lot of the people at this point and it's really cool to be able to do that. We would love to always be able to do that…where we meet and we talk and when we meet we shake your hand. Then, they write you and before you know it, it becomes a kind of a relationship. I feel like we have thousands of friends all over the world.
Svend: Friends are the best!!
That is really great…
(Here are a couple new fan questions for the boys coming from Lyndsey in NY…)
What's it like to be brothers and performing does it ever get competitive??
Ran: Oh very competitive! (as he laughs)
Svend: That's why I am standing in the middle. (as they all laugh)
Ricky: no it's really fun!
Ran: Well it's a healthy competition you know, for him (pointing to Ricky) but he's always loosing. (with a big smile )
Who is older??
Svend: (pointing to Ran), he's three minutes older than this one. (pointing to Ricky)
Well that is all we have time for, so great performance guys, can't wait to see you on your solo tour and good luck!! Thanks for taking time out to hang out, answer some questions, and have a good time. I will catch up with you guys for part two of this interview on your headlining tour!! J For now, you can go to their websites and/or iTunes and pick up their EP Shift and Blur for songs like "Outsider" and "Little Girl", and their Sans Radio EP for songs like "Little White Lies", and "Slow Down", just to name a few of my top picks. Look out for their new debut full length self-titled album coming out soon including songs like "Rogue Machine" and "Weapons". If you want to pre-order the album before it comes out, head over to: http://www.pledgemusic.com/projects/288 you can also bid on some cool stuff from the boys and also take a listen to their new songs, as well as download "Rogue Machine".
If you want to go check out The Daylights for yourself, you can head over to their website at http://thedaylights.com, or their Myspace page at www.myspace.com/thedaylights, their twitter page at http://twitter.com/thedaylights, and last but not least their facebook page at http://www.facebook.com/TheDaylights.
© 2010 EMOL.org Music Entertainment Magazine. All rights reserved.