Music: Linda Eder
Cabaret songstress Linda Eder returns to her roots
By: Lynn Marie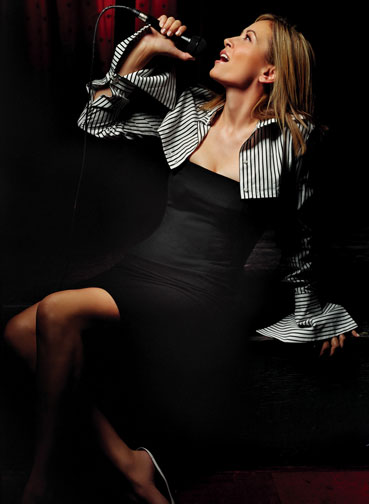 Once you hear Linda Eder for the first time, you will never forget her voice, ever.
She possesses one of the most supreme contemporary solo voices of our time. This Minnesota farm girl has mesmerized audiences across the country with a multitalented style and repertoire.
Since the debut of her self-titled first Album, Linda has recorded and produced nine solo albums, a blend of standards, pop hits and original songs showcasing her elaborate vocal gifts. With nine solo CDS and five cast records to her credit, Eder continues to expand her range, and just completed her tenth and most ambitious album to date, "The Other Side of Me."
Her past shows have included Standards and Broadway tunes which have become a fixture and favorites with fans at venues across the country. The musicians who back her are some of the finest in the business.
She has recently began her new concert show which features songs from her latest CD "The Other Side of Me." She clearly loves what she does and puts her heart and soul into her performances and recordings and her talent goes far beyond her singing.
Some highlights of the show is a duet with Shawn Barker of the classic favorite "Both Sides Now" and "Lifted."
Presently Linda is working on a movie themed CD which will be released sometime later this year.
"Everyone likes different things so it's fun for an artist to perform different styles", explains Eder.
Eder ironically got her start on "Star Search" in 1988 and won with the song "Theme from Ice Castles."
When asked what she thought about the American Idol and America's Got Talent phenomenon shows she stated, "I would love to be a judge on one of the shows. I think it's great," explains Eder "We didn't have anything like that back in the days, and it's so wonderful as it gets so much exposure to the individual, although I don't think certain judges have to come across as brutal as they do," explains Eder. Linda will be performing at the acclaimed Feinstein's at the Lowes Regency in New York City next month. For more information please visit www.lindaeder.com
Linda Eder is perhaps the most popular new interpreter of theatrical songs to emerge during the 1990's.
Over the years Eder has established her own vocal style, and branched out from show tunes to include pop standards, light swing and adult contemporary in her repertoire. Her premier talent is unquestionably showcased on her newest release.
Eder just completed her tenth solo recording at the end of last year Entitled "The Other Side of Me," the single CD, which was produced and arranged by Eder and Billy Jay Stein, is available now on the Verve Music Group label.
This cd is very different from her last couple of recordings. Her other recordings included in 2006 "By Myself," a tribute to Judy Garland and "Broadway My Way" in 2005.
"This is a very pop cd, explains the singer. It's adult contemporary with a country feel to it and hopefully very radio friendly. I'm not the persona I've created on stage, with the long gowns etc, I'm actually the most casual person you would meet. I'm also hoping this cd recording will allow me to perform at different venues then I have in the past," explains Eder.
She produced the entire record. "I'm very excited about it, explains Eder. "It's something I've always wanted to do. You learn and grow and you learn what works for you as an artist and you want to do it your way."
Ms. Eder has a great rapport with her audience during her performances, often conversing with them as if they were dear friends. Her talent is rare. She knows how to pierce the deepest meaning of a song, and sings with the purest power and clarity.
She has extraordinary vocal power. In addition to having an impressive three-octave range, she possesses the acting skills that have enabled her to make a splash in musical theater; she played Lucy in "Jekyll and Hyde." back in 1997 on Broadway.
Eder just performed in Austin, Texas with Composer Marvin Hamlisch at the Long Center for the Performing Arts Center first anniversary. This was Eder's first performance in Austin, Texas.
One of the highlights of the evening is when Hamlisch and Eder performed the "Theme from Ice Castles," a composition written by Hamlisch and was the song Eder performed and won on the competition "Star Search" in 1988 which launched her career.
Linda doesn't traditionally do a regular touring schedule. She performs all year round as she juggles a professional singing career along with caring for her nine year old son, Jake.
She also enjoys performing with her friend, Michael Feinstein. The two of them perform a show "Two for the Road" together in between their solo engagements.
For more information on Linda Eder please visit www.lindaeder.com
© 2009 EMOL.org Music Entertainment Magazine. All rights reserved.