Entertainment Magazine: Music: Michael Feinstein
Michael Feinstein continues to keep the flame alive and The Great American Songbook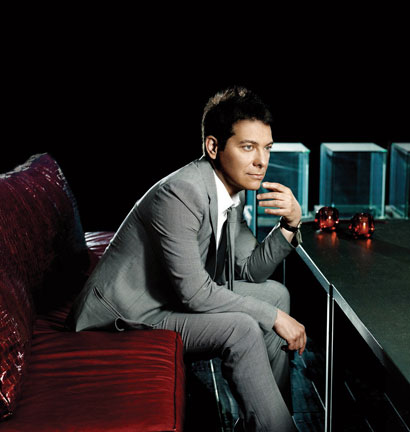 His whole stage persona is vibrant and he does it in a way no other artist has achieved. He puts his own spin on classics that are such a significant piece of American culture.
These classics deserve strong singers, such as Feinstein, to breathe new life into them and keep them alive for another generation to enjoy, beyond CDs.
Michael Feinstein is truly the "hardest working man in show business." He visited Dallas last month to promote his new CD and his tour, which brought him to the 2,200 seat Winspear Opera House.
The musician began the Feinstein Foundation with the mission of educating and preserving the music from the early half of the 20th century, which included the likes of Gershwin, Irving Berlin, and Cole Porter.
Carrying on in the tradition of Ella Fitzgerald and Rosemary Clooney (Feinstein's favorite vocalist) vocalist/pianist Michael Feinstein is widely recognized for his recordings of tunes from the "Great American Songbook" by such composers as George Gershwin, Cole Porter, Irving Berlin and others.
A five-time Grammy Award nominee, Feinstein has been performing for more than three decades and has recorded 27 albums of classic popular songs.
In 2010, Feinstein, at age 54, is dedicated to collecting and preserving as much American music as he can. His house in Los Angeles is filled with not just records but also with reel-to-tapes, rare kinescopes and piles of ephemera, as paper items not meant to be preserved are known.
Michael Feinstein is known as the "The Ambassador of the Great American Songbook" for his commitment to American popular music through a 30-year career of live performances, recordings, and broadcasts.
In addition to performing more than 150 shows a year in the U.S. and abroad in major concert halls, with symphony orchestras and big bands, in intimate jazz clubs, and on college campuses, Feinstein is a passionate collector and preservationist with an encyclopedic knowledge of the history of 20th century music and popular culture.
Michael serves on The Library of Congress' National Sound Recoding Advisory Board, a group of artists and industry leaders charged with safeguarding America's musical heritage; he also is Director of a new popular music series for Jazz at Lincoln Center in New York City.
In 2007, he created the Michael Feinstein Foundation for the Preservation of the Great American Songbook, currently headquartered in Fishers, Indiana, dedicated to celebrating the art form and preserving its legacy for the next generation through Master Classes, educational programs, and exhibitions.
His Manhattan nightclub, Feinstein's at Lowes Regency, one of New York's swankiest hotels, is where you can see Michael currently in his Holiday show "Swing..In the Holidays" with Michael Feinstein and his Winter Wonderland Big Band through December 31, 2010.
Starting in 2011, Feinstein also will serve as the Artistic Director of the new Carmel (Indiana) Performing Arts Center, which will host an annual Great American Songbook festival and house an archive of Feinstein's collection of musical memorabilia, sheet music, and manuscripts.
The mission of the Michael Feinstein Foundation is to bring the music of the Great American Songbook to young people today, and to preserve it for future generations.
The Grand Opening celebration for the Palladium, the spectacular centerpiece of The Center for the Performing Arts, is scheduled for the week of January 22-30, 2011. This new landmark will become the new home for the Michael Feinstein Foundation and the location of the Great American Songbook Archive & Museum.
The celebration week includes a gala and fundraising concert featuring artistic director Michael Feinstein with jazz instrumental artist Chris Botti and legendary recording artist Neil Sedaka.
The 10-day opening celebration will run the gamut – from community days and public lectures to classical concerts to a black-tie fundraiser gala.
For more information regarding the Michael Feinstein Foundation please visit the official website at www.michaelfeinstienfoundation.org and to learn more about Michael's performance schedule, new recording projects and releases visit www.michaelfeinstein.com.