IRENE AND HER LATIN JAZZ BAND
"Summer Samba"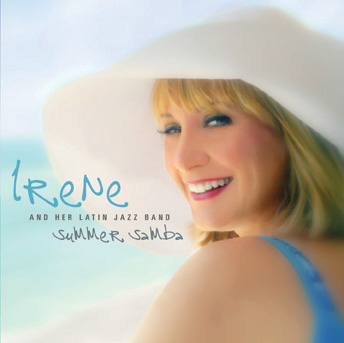 Picture a white sand beach, the shade of a palm-frond, crystal-blue skies and ocean, a citrus-flavored drink in hand, and a singer who slides up to the microphone in front of a group of top-flight Latin jazz musicians to provide the perfect smooth, silky, sultry entertainment.
On their debut album, Summer Samba, Irene and Her Latin Jazz Band play music that feels like a free ticket to the Caribbean, Central or South America, or even the South Seas.
Although Irene Nachreiner started out as a traditional jazz vocalist singing classic standards out of the Great American Songbook, Latin music took over her repertoire a couple of years ago when she met the core members of her band who are from Brazil and Argentina – bassist Daniel Groisman, acoustic guitarist Marco Tulio and percussionist Cristiano Novelli.
When they began performing and recording together, the chemistry worked so well, Irene decided to put together an entire album of smooth Latin jazz using this band and a few special guests on piano, saxophone and flute.
Irene brings many experiences to her passionate musical performances. She has performed for audiences from Los Angeles to Paris to Martinique to Bora Bora. She has studied singing, piano (for ten years), acting (B.A. cum laude at UC Irvine), modern jazz dancing (for 15 years), screenwriting and comedy troupe improvisation. Irene's strong sense of visual style and presentation was strengthened during the time she worked in the television industry as a video editor.
For the music on Summer Samba, Irene chose some of her favorite Latin tunes that she has heard over the years, and then did extensive research to not only get accurate lyrics, but occasionally uncover seldom-sung verses that are virtually unknown to today's audiences. She chose three compositions by the Brazilian legend Antonio Carlos Jobim, music penned by Sergio Mendes (an early influence) and numbers written by Latin masters such as Roberto Menescal and Pablo Beltran Ruiz. Irene also has the ability to shape jazz and pop standards into Latin showcases as she demonstrates with Cole Porter's "My Heart Belongs to Daddy," Irving Berlin's "Let's Face the Music and Dance," and the humorous film tune "Whatever Lola Wants."
In addition, she shows how she can take a Latin standard, "Besame Mucho," and bring new warmth and feeling to it. Her version of "Sway" has been nominated for a Los Angeles Music Award in the category for "Female Latin Vocals." She phrases freely, sometimes emphasizing the band's rhythms. She primarily sings in English, but shows her versatility by singing one song each in Portuguese, Spanish and French.
Latin music entered Irene's consciousness at an early age. She was born in East Los Angeles, California's heartland of Latino culture. She remembers watching Tito Puente on television and loving the rhythms. Every morning at breakfast her mother turned the radio on and they alternated listening to the classical music station or another station which played all kinds of Latin jazz, bossa-novas, sambas and rhumbas. "That was when I first heard the song 'One Note Samba,' which I dearly loved, so when I sang it on this album, it brought back fond memories of my childhood," she explains. Her version bends genres by combining a Cuban piano montuno with a samba rhythm.
"I only work with musicians who can improvise because, after all, this is jazz," states Irene. Daniel Groisman (bass), who was born in Buenos Aires, Argentina, has become an in-demand session player for both studio and stage work, and has performed with Enrique Iglesias, Apollonia, Alejandro Sanz and Joan Sebastian. Marco Tulio (acoustic guitar), a winner of the prestigious "Virtuosi Award" from the Ministry of Culture in Brazil, was called "one of the most promising musicians of the new generation" by legendary Brazilian singer Flora Purim.
As a member of the band Klezmer Juice, Tulio recorded a song for the soundtrack of the hit comedy film "The Wedding Crashers." Cristian Novelli (percussion), who is a native of Rio de Janeiro, Brazil, has toured extensively and has performed with Milton Nascimento, Antonio Adolfo, Kiko Furtado, Katia Morales and Diego Torres.
Summer Samba also spotlights special guest saxophonist and flutist Scott Martin on four tunes. Martin, a member of Grammy Award-winning Poncho Sanchez Latin Jazz band for 13 years, also has played with Tito Puente, Cela Cruz, Francisco Aguabella, Ray Charles, Chick Corea and Eddie Palmieri. Playing flute on one song is Brice Martin (John Tesh, David Benoit), known for recording "Picard's Flute Theme" for the Star Trek series.
Seven numbers on the CD feature pianist Ron Snyder (Rain Pryor, Rita McKenzie, Jim Bailey), who has won L.A. Weekly Awards for "Musical Director of the Year" and "Musical of the Year." Rich Wenzel (2000 lbs. of Blues, Porterhouse Bob) played piano on three tracks and also engineered the recording. Adding keyboards to one tune is Latvian (Russia) native Alex Varden, a former member of top Soviet bands such as Vec-Riga, Folk Rock Ensemble, Spirditis and Sigulda.
Irene came out of a musical family (her mother from Ireland and her father from Russia) with aunts singing on the radio in Los Angeles and numerous musicians among her relatives. The most noteworthy was her uncle, Frank Youkstetter, a concert pianist who performed concerts in Los Angeles and with top orchestras nationwide, and who had his own radio show. Irene began learning piano on her own when she was four, but started formal lessons with her uncle Frank when she was eight and those continued until she graduated from high school. At age seven Irene joined her mother in their church's adult choir.
In high school Irene also played piano for stage plays, sang in a musical, and had the Lady Macbeth role in a Shakespeare production. In addition to classical music, her early musical influences included Frank Sinatra, Barbra Streisand and The Beatles as well as the Latin sounds of Sergio Mendes & his Brasil Bands and Herb Alpert & The Tijuana Brass.
During college Irene became fluent in French, went to Paris for six months in a "study abroad" program, wrote a play in French and had it performed at a theatre in the city of Versailles, and spent several months in London before returning home. She graduated with honors from the University of California, Irvine with a Bachelors degree in Drama. She began taking dance lessons (ballet, modern jazz and tap), wrote scripts and got a literary agent, performed in local Southern California theater productions, studied screenwriting at UCLA's graduate school, and performed regularly with a longform comedy improv troupe.
"That helped prepare me for the improvisational aspects of jazz." She became an editor at CBS-TV working on game-shows, soap operas and "The Evening News with Dan Rather, Western Edition." Irene also was the associate producer on several television documentaries. Her musical influences broadened to include Linda Ronstadt, Diana Krall, Michael Buble and Al Jarreau.
In the late Nineties, Irene began studying singing. At first she sang classic tunes by Peggy Lee and Ella Fitzgerald as well as big band numbers. On a 2003 trip to the Club Med resort in Tahiti, Irene performed in a guest talent show. She sang one song and the manager immediately hired her to sing in their theater for three weeks. This led to an open invitation to perform there several times each year, and to sing at other Club Med locations.
She also performs regularly in clubs throughout the Los Angeles area. She was chosen as a "Fabulous Find" by the listeners of radio station KLAC in Los Angeles for her recording of "Besame Mucho." As her love of Latin music has deepened, she has been inspired by Jobim, Elis Regina, Flora Purim, Gloria Estefan, Astrud Gilberto and Pancho Sanchez.
"Every Latin country has different styles of music," Irene explains. "Many people don't realize the wide variety of Latin music available in the world. One common denominator is that the rhythms make you want to get up and dance. I also find all Latin music to be passionate and seductive."
The CD Summer Samba by Irene and Her Latin Jazz Band is available at her website (www.IreneSings.com), Amazon.com
and numerous digital download locations on the web including iTunes and Napster.
2007 EMOL.org Music Entertainment Magazine. All rights reserved.